What is a Plumber?
A plumber is someone who installs and maintains pipes in our homes and businesses. These pipes need to be installed and maintained for potable water, drainage, irrigation and sewage, as well as other uses. Plumbers can be involved in hands-on work or may work in a design capacity, drafting blueprints and helping make the installation process more efficient. This is a profession with an extensive number of possible career paths. Some of the best paying jobs are in the more unusual specialities, since there is less competition.
This can be a very rewarding career, as evidenced by survey data that indicates that licensed professionals in the field tend to remain in the profession for their entire career. Many even continue part-time, well past the usual retirement age, helping the next generation by providing apprenticeships and learning opportunities.
Get online training through our partner:
What does a Plumber do?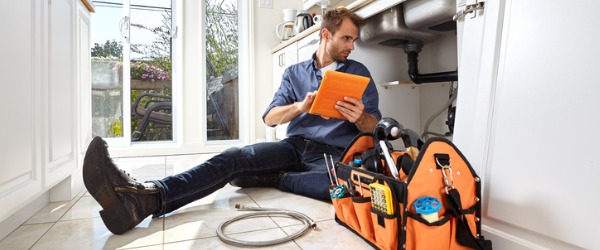 Someone interested in becoming a plumber would be interested to know that the stereotypical job as a residential plumber is only a small portion of the available career opportunities for an experienced professional.
An expert in plumbing is aware of building regulations and safety standards and works to make sure these standards are upheld. Legal expertise can also be an aspect of plumbing, since the laws regulating this trade vary depending on where you live, and can be difficult for a layperson to understand. Testing pipes for leakage using air pressure and other gauges, and also the ability to construct new pipe systems by cutting, fitting, measuring and threading pipes are some of the other more involved aspects of plumbing.
Plumbers often work right alongside architects, as they can contribute valuable knowledge about the best positions for wall passage and fixture locations, saving the architect valuable time and avoiding expensive mistakes.
What is the workplace of a Plumber like?
Job security tends to be good in this field, because people will always need plumbing. A day in the life of a plumber might include fielding midnight phone calls from a frantic customer with a broken pipe, or it might involve working for an architectural firm or on a construction site.
Many plumbers are self-employed or work for a small business employing less than ten people, though some might find working for larger entities or the government is more desirable. Many large buildings employ their own staff, including school districts, college campuses, airports, and municipal buildings. The military is another large employer of plumbing professionals, though past experience as a member of the armed forces may be a prerequisite.
Simply put, anywhere that has or needs to have running water is an opportunity for potential customers. Even motor vehicles such as buses, recreational vehicles, large airplanes, yachts, and cruise ships all need the installation of plumbing and will need repair work from time to time.
Frequently Asked Questions
Are Plumbers happy?

Plumbers rank among the least happy careers. Overall they rank in the 19th percentile of careers for satisfaction scores. Please note that this number is derived from the data we have collected from our Sokanu members only.

While no specific data accounts for this strikingly low happiness quotient, it may be partially attributable to the trade's physical demands, its propensity for irregular hours and overtime, the potential dangers associated with the work, and the sometimes negative public perception of public service workers as a whole.
How long does it take to become a Plumber?

It takes between four and seven years to become a journeyman plumber.

• Trade School Diploma or Associate's Degree – one or two years (not mandatory, but generally preferred for admittance to an apprenticeship program) • Apprenticeship – four or five years
Should I become a Plumber?

There are several factors that aspiring plumbers should consider:

Essential Qualities and Skills • Physical fitness • Excellent hand-eye coordination • Attention to detail • Listening and communication skills • Critical thinking and problem-solving abilities • Customer-service oriented; approachable and patient • Able to work under pressure and to strict deadlines • Mechanically, technically inclined • Mathematically inclined • Able to work independently

Working Conditions • You may have to work irregular hours, including evenings, weekends, and public holidays • You may have to work overtime (but, if you do, you will probably be well compensated, especially if you have a union job) • You may have to be on call to respond to plumbing emergencies • You will have to work at heights and outdoors in all weather conditions • You will have to work in confined spaces, often around electrical work, natural gas lines, and human waste • You will be susceptible to injuries, including burns, cuts, and falls

Insights from an Experienced Plumber

The best part of the job is knowing that we've built a reputation of fairness… we are building the company on the foundation of thousands of customers we've served faithfully.

By the far, the worst part of the job is the potential for contact with human waste. Clogged or broken sewer lines still require hands-on attention. A broken sewer line in a crawl space or basement can be pumped out and treated before repair is made, but the conditions are still foul.

The biggest misconception that people have about being a plumber is probably that we're all ill-educated, poorly spoken, uninformed rednecks. I've known plumbers who are wonderful artists and musicians. They're from all walks of life. They are adept and mentally strong people that keep their dignity in a culture that sometimes diminishes the value of service industry workers.
Steps to becoming a Plumber

The core requirement to become a licensed journeyman plumber is successful completion of a four-to five year apprenticeship.
What are Plumbers like?

Based on our pool of users, plumbers tend to be predominately investigative people. This finding is supported by the primary responsibilities of these tradespeople. Indisputably, they must frequently employ their investigative and troubleshooting abilities to properly install, repair, and replace water and gas pipes, drainage systems, and waste disposal systems.
Plumbers are also known as:
Journeyman Plumber Drain Technician Residental Plumber Service Plumber Commercial Plumber