What is a Tile and Marble Setter?
A tile and marble setter is someone who applies hard tile, marble, and wood tiles to walls, floors, and other surfaces. Installing tile and marble is labour intensive, and workers spend much of their time bending, kneeling, and reaching.
Get online training through our partner:
What does a Tile and Marble Setter do?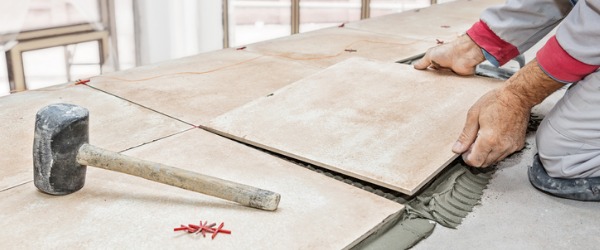 Tile and marble setters typically do the following:
Clean and level the surface to be tiled
Measure and cut tile and marble
Arrange tiles according to the design plans
Prepare and apply mortar or other adhesives
Install tile and marble in the planned area
Apply grout with a rubber trowel
Wipe off excess grout and apply necessary finishes, such as sealants
Tile installers, tile setters, and marble setters install materials on a variety of surfaces, such as floors, walls, ceilings, countertops, patios, and roof decks. Because tile and marble must be set on smooth, even surfaces, installers often must level the surface to be tiled with a layer of mortar or plywood. If the area to be tiled is unstable, workers must nail a support of metal mesh or tile backer board to create a stable surface.
To cut tiles, workers use power wet saws, tile scribes, or hand-held tile cutters to create even edges. They use trowels of different sizes to spread mortar or a sticky paste, called mastic, evenly on the surface to be tiled. To minimize imperfections and keep rows straight and even, they put spacers between tiles. The spacers keep tiles the same distance from each other until the mortar is dry. After the mortar dries and the tiles are set, they apply grout between tiles using a rubber trowel (called a float).
Marble setters may cut marble to a specified size with a power wet saw. After putting the marble in place, marble setters polish the marble to a high luster, using power or hand sanders.
What is the workplace of a Tile and Marble Setter like?
Tile and marble are usually installed after most of the construction has been completed, so the work area for installers is typically clean and uncluttered. Still, mortar, adhesives, or grout may be sticky and messy. Installing tile and marble is labour intensive, with workers spending much of their time reaching, bending, and kneeling. As a result, workers must wear kneepads for protection. They must also wear safety goggles when using grinders, saws, and sanders.
Most tile and marble setters work full time. In commercial settings, tile setters may work evenings and weekends, often for higher wages, to avoid disturbing regular business operations.
Tile and Marble Setters are also known as:
Tile Layer Tile Setter Marble Setter Tile and Marble Installer Tile Installer Marble Installer Ceramic Tile Setter Tile Finisher Marble Mason Tile Mason