What is a Rigger?
The term 'rigger' originated in the days of sailing ships when sailors were responsible for raising and maintaining a complex system of sails and rigging.
In modern usage, it generally refers to someone who sets equipment up and prepares it for use. According to the U.S. legal worker definition, a rigger is "anyone who attaches or detaches lifting equipment to loads or lifting devices".
Get online training through our partner:
What does a Rigger do?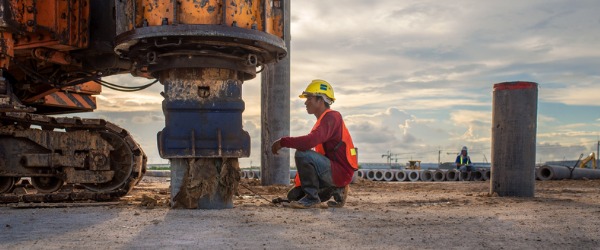 There are a number of different categories of riggers working in several industries. In the military, riggers are responsible for maintaining and setting up things like parachutes or airdrop equipment. In the theater industry, riggers manage pieces of a stage set, moving props and changing production scenes. Riggers in the marine industry are involved with setting up the pieces of equipment necessary to keep the ship functioning: ropes, pulleys, winches, and cables.
Most commonly, however, jobs are found within heavy construction, often in the oil or mining industry. This type of rigger is also referred to as a rig technician. In the oil industry there are several levels of rig technicians, ranging from motorhands to derrickhands to drillers, depending on skill level and job duties. Riggers in this industry are responsible for attaching pieces of heavy machinery, connecting the parts together and anchoring pieces to fixed structures with bolts and clamps. They also control and manage all the movement of the machinery while it is operational, and then take it all apart when the job is finished.
A rigger in the oil extraction industry usually works on drilling rigs. Equipment on the rig is used to bore a hole deep into the earth with the drill pipe. The rigger manages all aspects of the machinery used and monitors the rig operation. His responsibility is to ensure that the oil is being pumped out at a safe level so pipes do not burst. When oil is transported to a tanker, the rigger fits and links all the pipes together.
Some other specific job duties include:
maintaining drilling rig engines and motors, including the fluid systems
managing hydraulic and mechanical systems for the whole drilling assembly
ensuring proper fluid and fuel balance and making sure pressure is always maintained at a safe level
controlling and monitoring the safe movement of heavy equipment
mobilizing the rig by setting it up
tearing the rig down when the job is finished
making sure all safety regulations are followed
Heavy construction riggers also work with cranes, and are responsible for setting up all the pulleys and cable systems that are used to move large and heavy objects. They must communicate with crane operators to guide them in moving objects and depositing them in the correct location. This can involve hand signals, radio operation or other communication. Working in a mine might involve setting up scaffolding and assembling equipment. Riggers are in particular demand during the shutdown and mobilization period, assisting with the safe tear-down of all the equipment and making sure it is all safely put back together again when operation resumes.
What is the workplace of a Rigger like?
Riggers work around the world in many locations, and travel is often part of the job. Rig work is often seasonal, with certain times of year busier than others, and workers may work shifts around the clock.
Riggers frequently work outdoors and may be exposed to extreme weather in remote locations. Drilling rigs are loud, dirty, and workers may be exposed to hazardous chemicals. Safety is paramount and the workplace will generally have precise and detailed safety rules that must be followed.
Riggers are also known as:
Heavy Lift Rigger Gantry Rigger Marine Rigger Rig Technician