What is a Sheet Metal Worker?
A sheet metal worker is a skilled tradesman who creates, installs, and repairs sheet metal products. Most commonly these products include elements of heating, cooling, and ventilation systems, although sheet metal workers also fabricate and repair products for drainage and roofing applications. Some sheet metal workers are skilled tradesmen, while others work on assembly lines performing less skilled tasks of metal assembly.
Get online training through our partner:
What does a Sheet Metal Worker do?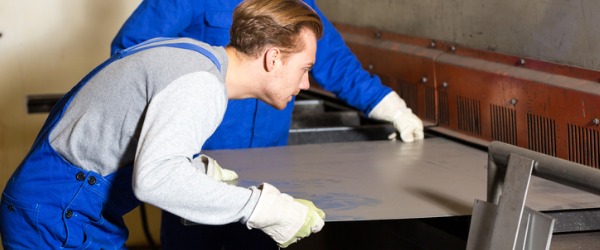 Sheet metal workers are typically employed at construction sites, in metal shops, or at manufacturing plants. They can specialize in fabrication, installation, or maintenance, though most are skilled in all three areas. Sheet metal workers employed by a factory, however, are traditionally unskilled, performing only one repetitive task. All sheet metal workers make use of specialized equipment where they cut, form, or weld sheets of metal to create useful products for both commercial and industrial applications.
In order to fabricate sheet metal, the worker must first create or study given plans, blueprints and specifications. They determine what processes, equipment, and type of metal will be needed to create the product or part. They then measure and cut the materials according to specifications laid out in the plans. Measuring is done with tapes, rulers, or stamping equipment. Saws, plasma cutters, and drills are then used to create the precise cuts. Sometimes sheet metal workers perform this work by hand; in other cases, they use computer-controlled equipment to perform detailed and accurate work. After the metal is cut, workers bend the metal if necessary. Before assembly, workers use calipers, micrometers, and other measuring equipment to ensure accuracy. When all pieces of the part or product are ready, they are joined together with screws, rivets, bolts, or welds.
At construction sites, sheet metal workers install the products created in the factory or sheet metal shop. If the product is in pieces, workers perform further assembly work, joining ducts, seams and tubes. The pieces are joined end-to-end, and then lifted or dropped into place. The worker must then secure the pieces with metal hangers and brackets. Often, they are required to make adjustments or alterations at the site. They use tools like punches, drills, hammers, and welding equipment to make alterations and ensure equipment is installed safely, functionally, and correctly. In some cases, pieces are fabricated on-site, then installed and welded, interlocked, or bolted in place.
Many sheet metal workers specialize in maintenance. They service existing roofing, air-conditioning, ventilation, and heating systems to ensure they are energy-efficient and work properly. If repair is necessary, sheet metal workers use hammers, drills, and other equipment to fix the product, and then test and adjust the system to ensure it functions correctly. Workers who specialize in maintenance of heating, ventilation, and air-conditioning (HVAC) systems are often called HVAC technicians.
What is the workplace of a Sheet Metal Worker like?
Sheet metal workers typically work 40 hours per week, though a small percentage of workers who are self-employed may work nights or weekends to complete time-sensitive projects on a construction site or inside a sheet metal shop. Those working at construction sites typically work inside the structure, usually near the end of the structure's completion and usually don't need to adjust their schedules due to inclement weather. However, those employed in applying metal products to roofs or outdoor structures often work around unfavourable weather conditions.
Sheet metal working is labor-intensive. Workers must lift heavy materials and equipment, stand for long periods of time, bend over, and sometimes crawl into small spaces to install products. Because of the risk of burns, cuts from sharp metal, and falls at construction sites, sheet metal workers employ rigid safety practices on the job. The environment, in addition to being dangerous, is often noisy or allows exposure to toxic fumes from chemicals used in construction and metal preparation.
Sheet Metal Workers are also known as:
Sheet Metal Mechanic Journeyman Sheetmetal Worker HVAC Sheet Metal Installer Sheet Metal Apprentice Sheet Metal Fabricator Sheet Metal Installer