What is a Brickmason?
A brickmason uses bricks, concrete blocks, structural tiles, and natural and man-made stones to build walkways, fences, walls, patios, buildings and other structures.
Brickmasons also repair older brick structures, repairing and replacing old mortar which has loosened or fallen away over the years, while retaining the structural integrity of the building.
Brickmasons typically specialize in either doing residential projects, or large-scale projects.
Get online training through our partner:
What does a Brickmason do?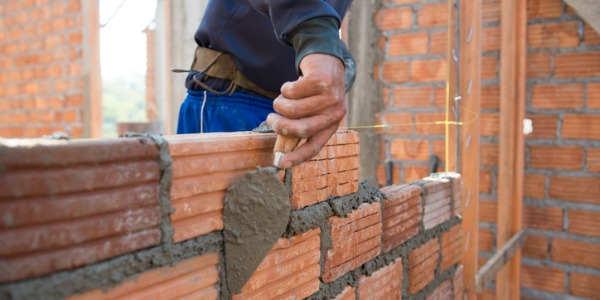 A brickmason's duties are many and varied. They read drawings and blueprints to calculate the needed materials for a structure, use straight edges to design foundations and patterns, and accurately resize bricks by breaking or cutting them.
Brickmasons also mix mortar or grout for spreading on a slab or foundation, lay bricks, blocks, or stones according to plans, and without error build corners with corner pyramids or a corner pole. Measurements must be precise for a structure to be sound, so levels and plumb bobs are also used to make sure a structure is accurately vertical or horizontal.
When a structure is complete, the mason must also clean and polish the surfaces with power tools or by hand, correct contracting and expanding joints with the use of caulking materials once settling has occurred, and clean and maintain the tools and equipment.
A specific type of brickmason, called a refractory mason, installs refractory tile and firebrick in furnaces, ladles, soaking pits, boilers and cupolas which are used in factories and mills. These are high-temperature structures which handle molten materials. Refractory masons are also employed by glass furnaces, oil refineries, incinerators and other industries which use heat and high-temperatures as part of the manufacturing process.
What is the workplace of a Brickmason like?
The work is physically demanding because brickmasons lift heavy materials and often must stand, kneel, and bend for long periods.
They usually work outdoors, so poor weather conditions may reduce work activity.
Brickmasons are also known as:
Brick Mason Bricklayer Brick Layer Blockmason Block Mason