What is a Housekeeper?
A housekeeper does general cleaning tasks, such as dusting, vacuuming, making beds, cleaning bathrooms and kitchens, and mopping floors. This can be done in either private homes or commercial establishments.
A more heavy duty version of a housekeeper is a janitor, who keeps office buildings, schools, hospitals, retail stores, hotels, and other places clean, sanitary, and in good condition.
What does a Housekeeper do?
Housekeepers do light cleaning tasks in homes and commercial establishments, such as hotels, restaurants, hospitals, and nursing homes.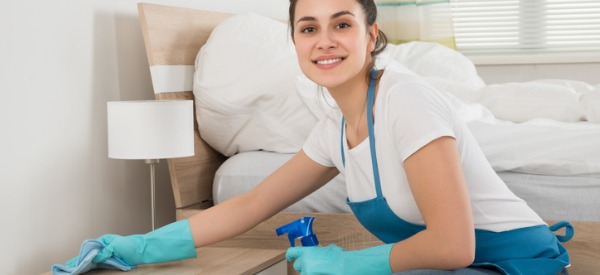 Those who work in hotels, hospitals, and other commercial establishments are responsible for cleaning and maintaining the premises.
They may also share other duties. For example, housekeepers in hotels may deliver ironing boards, cribs, and rollaway beds to guests' rooms. In hospitals, workers may have to wash bed frames and disinfect and sanitize equipment with germicides.
A housekeeper typically does the following:
Cleans rooms, hallways, and other living or work areas
Changes sheets and towels; makes beds; washes, folds, and irons clothes
Empties wastebaskets and takes trash to disposal areas
Replenishes supplies, such as soap and toilet paper
Dusts and polishes furniture and equipment
Sweeps, waxes, or polishes floors using brooms, mops, and other floor-cleaning equipment
Vacuums rugs, carpets, and upholstered furniture
Cleans or polishes windows, walls, and woodwork
Lifts and moves lightweight objects and equipment
What is the workplace of a Housekeeper like?
Housekeepers can work part or full time. They mostly work indoors in private homes, hotels, restaurants, hospitals, or nursing homes. The work can be physically demanding.
Housekeepers are also known as:
Housekeeping Cleaner Cleaner Maid