What is an Investment Banker?
Are you good with numbers? Are you also competitive, love to strategize, and have a high stress threshold? You may want to consider a career as an investment banker!
An investment banker works in a financial institution or in a large bank's division that is involved in raising capital for companies, governments, and other entities.
What does an Investment Banker do?
Investment bankers offer a variety of banking services, similar to what other bankers offer. The difference is they specifically work with only business professionals, entrepreneurs, and investors.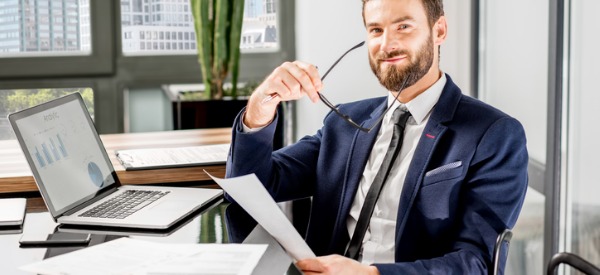 Investment bankers raise money by issuing and selling securities in the primary market and assist public and private corporations in raising funds in the capital markets (both debt and equity). They may also provide strategic advice to their clients on specific transactions such as mergers and acquisitions and other types of financial transactions.
Duties range from raising money, advising, underwriting, brokerage services, forex services, research, and asset management.
There are typically three areas of operation:
Corporate Finance
Gives corporate clients advice with mergers and acquisitions; also helps them raise money from the debt and equity market
Helps a company save time and money by determining the best strategy and the best place to raise debt or equity capitol — most companies don't know how to go about this on their own
Prepares necessary documents in order to protect the company and the investor; accurately presents the proposition for funding (called a 'private placement memorandum')
Ensures all government regulations have been followed properly — there are rules that many entrepreneurs are not aware of
Trading
Buys and sells securities and commodities
Research Analysis
Analyzes and predicts the movement of stocks
What is the workplace of an Investment Banker like?
Work is exhausting with 80-100 hour weeks and sometimes nights spent back in the office.
An investment banker receives bonuses at the end of the year. For example, a starting salary of $60,000 USD could get $40,000 in bonuses. The bonuses increase by approximately $15,000 per year.
Frequently Asked Questions
How long does it take to become an Investment Banker?

Getting to the top of the investment banking field is a multi-step process that requires a combination of education, ambition, hard work, experience, networking, and sometimes a little bit of luck.

Aspiring investment bankers can generally obtain an entry-level position in the field after completing a Bachelor's Degree in Business, Business Administration, Business Management, Finance, Economics, Accounting, or International Finance.

Graduate-level education, however, is very common in investment banking. The most common degree earned is a Master's Degree in Business Administration (MBA).
Should I become an Investment Banker?

When most investment bankers are asked to offer advice to someone who wants to enter the profession, they typically say something like this: Don't become an investment banker because it can be a lucrative profession. Do it because you love what investment bankers do.

This is wise advice. When thinking about investment banking as a career, it is extremely important to recognize that huge pay commands huge commitment. While a first-year analyst can earn an annual salary of $100,000 or more, the job can be all-consuming. Work-life balance is difficult to achieve when working upwards of 100 hours of the 168 hours in a week.

And the pressure really starts if you make it to very senior roles, like managing director. Your revenue targets are higher. You have to navigate an increasingly political environment. You will be leading teams of highly ambitious people who want your job.

So, perhaps needless to say, it takes a certain kind of person to get into, stay in, and advance in the world of investment banking. Of course, the profession calls for analytical and interpersonal skills, and an ethical stance. But before diving in, consider, too, the following habits and traits identified by practising investment bankers as vital to succeeding in the industry over the long term:

Be adaptable
Surviving in investment banking means adapting. Different phases of your career will call for different approaches. Graham Ward, the former head of equities at Goldman Sachs and now adjunct professor of leadership at the European Institute of Business Administration, says: At inception you need to fit in and be a team player, with a strong willingness to learn from all the big egos around you. Next, you need to demonstrate a sharp commercial acumen and an innovators' mindset. Create something unique. Finally, no successful investment banker, even in trading, was ultimately successful if they do not have an eye on the needs of clients. Once you make clients your friends you become less dispensable.

Be dogged and persistent
Most pitches for new business, despite the hours of work they entail, won't be successful. You need to be prepared for this. You cannot lose your enthusiasm or focus. You must remain constantly determined to find and bring in new business.

Be more informed than the competition
Successful investment bankers are always thinking about how they can bring more value to their clients. Staying informed is paramount. Read up on your clients and their companies. Read company reports and letters to shareholders. Learn as much as you can any way that you can.

Know how to delegate
As investment bankers move up the ranks, they need to strike the right balance between doing and teaching those that work with them how to do it. This is key because it accomplishes two mainstay objectives. It allows individuals in more junior roles to learn and progress. And it allows their teachers to leverage their time to serve clients.

Take career risks
Career paths in investment banking are rarely linear. They seldom happen in one single location. They often cross sectors. For these reasons, investment bankers tend to take opportunities as they arise. Winning in the long term generally requires flexibility and open-mindedness.

Have an outlet from work
Investment banking and long hours go hand-in-hand. You need to have an outlet, something that will keep you from becoming unmotivated or burning out.

Be relentless
The most successful investment bankers never assume that they have made it. They never rest on their laurels. In their eyes, even if they are at the top of their game, there is room for improvement. They move the target and set another goal.

Mix work with pleasure
In the world of investment banking, client relationships need to run deep. Focusing on a single deal over a long-term relationship generally proves to be costly. Investment bankers need to be passionate about their clients. This almost invariably means giving up some weekends to socialize with them and their families.

Be ruthless
This is a field in which you need to be enormously disciplined and current. You need to develop a thick skin to run the competitive career marathon. Many around you will fall. You need to accept this and continue to follow your game plan.

Be detached
A study conducted by a Swedish university in 2015 suggested that emotions and investment banking don't mix. Clients will be demanding; managers will be unreasonable; job security will be shaky. You must not get emotionally involved.

Be impeccably dressed
This may sound trite. But investment bankers work with, and for, some of the world's richest people. Therefore, they care about wearing the right – expensive – clothing and know how to dress at all times. If you're not part of that crowd, it can be tough to break in. It's just the way it is. There is a certain veneer that is required to work in this industry.
What are Investment Bankers like?

Based on our pool of users, investment bankers tend to be predominately enterprising people. This finding is as it should be. When corporations and municipalities turn to investment bankers to raise capital by finding buyers for securities likes bonds or stocks, they are literally counting on the expertise of an entrepreneur, of an ambitious, industrious, intrepid, venturesome, enterprising professional.
Are Investment Bankers happy?

Investment bankers rank among the least happy careers. Overall they rank in the 8th percentile of careers for satisfaction scores. Please note that this number is derived from the data we have collected from our Sokanu members only.

While this is a remarkably low happiness quotient, it can perhaps be partially explained by some characteristics of the investment banking profession:
- It is brutally competitive
- It demands exceptionally long working hours
- It is stressful
- It can be cutthroat
- Since the 2008 financial crisis, there has been a stigma attached to it
- The post-2008 backlash against bankers has brought calls for tighter industry regulations and controls on the industry's bonus culture
Investment Bankers are also known as:
Investment Underwriter Corporate Investment Banker Institutional Banker