What is a Locksmith?
A locksmith specializes in the installation, repair, and maintenance of locks and security systems. Locksmiths possess extensive knowledge of various types of locks, including mechanical locks, electronic locks, and keyless entry systems. They are proficient in key cutting, key duplication, and rekeying locks to provide enhanced security. They can also troubleshoot and fix issues with malfunctioning locks or keys.
In addition to their technical expertise, locksmiths often provide valuable services in emergency situations. They are commonly called upon to assist individuals who are locked out of their homes, vehicles, or businesses, using specialized tools and techniques to gain access without causing damage. Locksmiths may also offer security consultations, where they assess the existing security measures, identify vulnerabilities, and recommend appropriate solutions to enhance the overall security of a property.
What does a Locksmith do?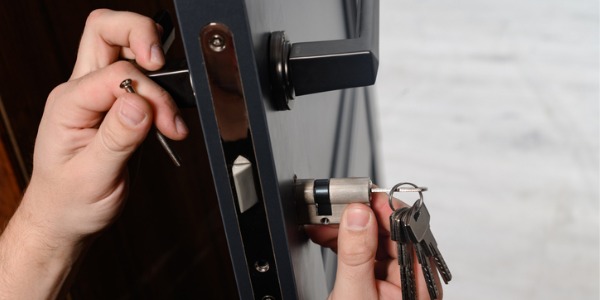 Locksmiths ensure the safety and security of individuals, businesses, and their possessions. Their combination of technical skills, practical knowledge, and problem-solving abilities allows them to address a wide range of lock and security-related needs, providing peace of mind to their clients.
Duties and Responsibilities
Here are some common duties and responsibilities associated with the role of a locksmith:
Lock Installation and Repair: Locksmiths are responsible for installing new locks on doors, windows, safes, and other entry points. They also repair or replace damaged or malfunctioning locks to ensure proper functioning and security.
Key Cutting and Duplication: Locksmiths have the expertise to cut keys accurately based on specific lock requirements. They can duplicate keys for clients who need extra copies or have lost their original keys.
Rekeying Locks: Locksmiths can rekey locks, which involves changing the internal mechanism of a lock so that it works with a new key. This is often done to enhance security after a change in occupancy or to prevent unauthorized access.
Emergency Lockout Assistance: One of the primary responsibilities of locksmiths is to provide emergency lockout assistance. They help individuals who are locked out of their homes, vehicles, or businesses by using specialized tools and techniques to gain entry without damaging the locks or doors.
Security System Installation and Maintenance: Some locksmiths specialize in installing and maintaining advanced security systems, such as electronic locks, access control systems, CCTV cameras, and alarm systems. They ensure that these systems are functioning properly and provide the desired level of security.
Security Consultations: Locksmiths may offer security consultations to assess the existing security measures in residential or commercial properties. They identify vulnerabilities, recommend appropriate security solutions, and suggest measures to enhance overall safety and protection.
Keyless Entry Systems: With advancements in technology, locksmiths may also be responsible for installing and programming keyless entry systems, such as electronic keypads, biometric locks, or smart locks that use mobile applications or access cards.
Safe Opening and Servicing: Some locksmiths specialize in opening and servicing safes. They possess the knowledge and tools required to open locked safes, repair or replace safe components, and provide advice on safe selection and maintenance.
Types of Locksmiths
There are several types of locksmiths who specialize in different areas based on their skills and expertise. Here are some common types of locksmiths:
Residential Locksmith: Residential locksmiths primarily focus on providing services for homes, apartments, and other residential properties. They specialize in tasks such as lock installation, lock repair, rekeying, key duplication, and assisting with home lockouts. Residential locksmiths help homeowners enhance the security of their properties and ensure the safety of their families and belongings.
Commercial Locksmith: Commercial locksmiths specialize in serving businesses, offices, retail stores, and other commercial establishments. They are equipped to handle the security needs of larger-scale properties, such as installing high-security locks, access control systems, master key systems, and CCTV surveillance systems. Commercial locksmiths may also provide services related to safe installation, servicing, and combination changes.
Automotive Locksmith: Automotive locksmiths focus on locks and security systems related to vehicles. They are skilled in handling car lockouts, key replacements, key programming, ignition repairs, and transponder key issues. Automotive locksmiths can work with a wide range of vehicles, including cars, trucks, motorcycles, and even boats or recreational vehicles.
Emergency Locksmith: Emergency locksmiths specialize in providing immediate assistance during lock-related emergencies. They are available 24/7 and can respond quickly to situations such as home, vehicle, or business lockouts. Emergency locksmiths are trained to efficiently and safely gain access to locked properties without causing unnecessary damage.
Safe Locksmith: Safe locksmiths are experts in working with various types of safes, vaults, and secure containers. They are skilled in safe installation, combination changes, safe lock repair, and safe opening in case of lockouts. Safe locksmiths may also provide maintenance services to ensure the proper functioning of safes and security vaults.
Institutional Locksmith: Institutional locksmiths primarily serve government buildings, schools, hospitals, and other institutional settings. They focus on ensuring the security of these facilities by installing and maintaining locks, access control systems, and other security measures.
Forensic Locksmith: Forensic locksmiths possess specialized knowledge and skills related to investigating locks and security systems in legal and investigative contexts. They assist law enforcement agencies, private investigators, and legal professionals in analyzing locks, determining tampering or forced entry, and providing expert testimony in court cases.
What is the workplace of a Locksmith like?
The workplace of a locksmith can vary depending on their specific role and specialization. One common work environment for locksmiths is mobile work. These locksmiths travel to their clients' locations to perform their work. Whether it's a residential home, a commercial building, or an automotive setting, mobile locksmiths have a well-equipped vehicle that serves as their mobile workshop. They carry the necessary tools, equipment, and supplies needed to complete the job on-site. This mobile setup allows them to provide convenient and efficient locksmith services, especially during emergency lockout situations.
Another work environment for locksmiths is locksmith shops or storefronts. These establishments serve as a central hub for clients to seek locksmith services. Locksmith shops may have a display of various locks and security products, allowing customers to make informed choices. Clients can bring their locks, keys, or security systems to the shop for services such as key duplication, lock repairs, or security consultations. Locksmiths in these settings may work on multiple projects simultaneously and interact directly with customers, providing expert advice and recommendations.
Locksmiths who specialize in commercial or institutional locksmithing may find themselves working in specific settings such as government buildings, schools, hospitals, or corporate offices. In these environments, they focus on installing and maintaining locks, access control systems, and other security measures tailored to the specific needs of the facility. They may collaborate with facility managers or security personnel to ensure the overall security and integrity of the premises.
Regardless of the specific workplace, locksmiths require a well-organized workspace. They need a wide range of tools, such as lock picks, key cutting machines, pinning kits, and specialized equipment for handling different types of locks and security systems. Depending on their specialization, locksmiths may also use computer software or electronic devices for tasks like programming electronic locks or accessing digital security systems.