What is a Medical Transcriptionist?
A medical transcriptionist takes voice recorded doctor's reports and converts them into formal reports. They can also edit medical documents, interpret medical abbreviations and terminology, and discharge summaries.
Insurance companies have now made transcribed doctor's notes a mandatory requirement. There is a large demand for medical transcriptionists, given the growing volume of healthcare services, and with the baby boomers now reaching their senior years.
What does a Medical Transcriptionist do?
Medical transcription is the way a physician clearly communicates to other healthcare providers, advising them on the state of a patient's health and treatment, ensuring continuity of care.
After a health practitioner performs a procedure on a patient, they will use a voice-recording device to record the information about the patient encounter. Some physicians use speech recognition software. They 'train' the program to recognize their speech pattern; the program continuously 'learns' their spoken words and phrases.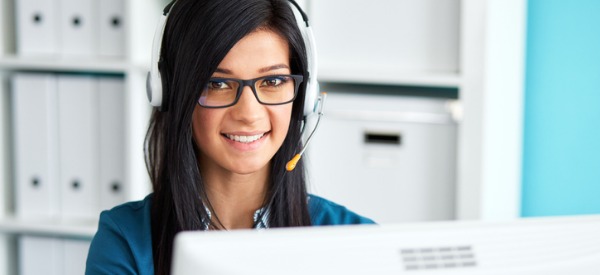 The medical transcriptionist will then transcribe this confidential patient information, using specific formats depending on the physician's specialty. A medical transcriber is used, which is essentially an electronic device operated by the medical transcriptionist for playback and transcription. The dictation is converted either into a formal physical document, or into an electronic format.
The reports may be kept in their electronic format, or printed and placed in the patient's file. Each transcribed record is merged and becomes part of the patient's medical history, or medical chart. There are still a few private practice family doctors that choose not to use a medical transcriptionist however, preferring to keep their patient's records in a handwritten format.
Due to the sheer volume of patients and paperwork, hospitals often prefer electronic storage of their medical records. This gives other departments or providers immediate access to the patient's care and shows certain details, such as past or present medications and any allergy alerts.
Establishing patient history facilitates healthcare performance, and medical transcriptionists play a big part in this process. Important to note is that a written report has now become a requirement for documentation of a medical bill or an application for Workers' Compensation insurance benefits.
Duties and responsibilities of a medical transcriptionist:
Transcribes patient information, such as name, social insurance number, and medical record
Transcribes accurately and edits any inconsistencies
Looks at references for terminology and medical procedures
Keeps a transcription log
Follows up on physicians' dictation, and returns reports in a timely fashion
What is the workplace of a Medical Transcriptionist like?
A medical transcriptionist may work directly for clinics, physician's groups, and hospitals. They can also work for corporations that provide transcription services.
Many medical transcriptionists work from home as a telecommuting employee (working as an independent contractor), for a firm, or a doctor's office.
Frequently Asked Questions
Are Medical Transcriptionists happy?

Medical transcriptionists rank among the least happy careers. Overall they rank in the 26th percentile of careers for satisfaction scores. Please note that this number is derived from the data we have collected from our Sokanu members only. The low happiness quotient may be attributed to two factors, in particular:

Pay rates in the field have remained relatively stagnant for about a decade
The emergence of electronic medical records created directly by doctors is impacting the amount of dictation that needs to be transcribed. This is in turn influencing the number of jobs available.
Should I become a Medical Transcriptionist?

There is a lot of misinformation floating around about the ins and outs of medical transcription work. Therefore, before considering a career in the field, it is important to dispel some of the myths and misconceptions about the occupation.

Myth #1 Medical transcriptionists can work and take care of the kids at the same time.

It is not possible to transcribe medical reports and take care of children at the same time! MT work requires intense concentration and undivided attention.

Myth #2 Medical transcriptionists just need to type really fast.

The ability to type at warp speed is a valuable asset, but it is by no means an automatic ticket to success as a medical transcriptionist.

Myth #3 Medical transcriptionists need little or no training.

Without formal, recognized, and reputable training from an established school, the resume of an aspiring medical transcriptionist will never make it to the 'interview' stack.

Myth #4 Speech recognition technology will make medical transcriptionists obsolete.

Speech recognition technology (SRT) is, in theory, a way for medical facilities to cut transcription costs. Working MTs refer to it as 'speech wreck,' because the results it yields sometimes have more in common with a multicar car pileup than a quality healthcare document. Under ideal dictation conditions, SRT can produce a decent transcription, but it takes very little to send things awry.

Despite its substantial shortcomings, SRT seems to be here to stay. However, because SRT results are unreliable and demand human intervention and constant review, they now figure into what medical transcriptionists do on a daily basis. In other words, speech recognition has added another facet to the ever-evolving MT profession. It has not made the profession obsolete.

Having dispelled the misconceptions around medical transcription, individuals wishing to enter the field need to know that it calls for an inquisitive mind; a love of language; the ability and motivation to concentrate intently for extended periods of time; and an independent, pressure-resistant mindset.

Specifically, the accomplished medical transcriptionist possesses the following skill set and characteristics:

Attention to detail
Voice recordings can be replete with inconsistencies. The ability to identify inaccuracies ensures that transcribed reports are free of errors.

Excellent command of the English language
MTs in the U.S. must be fluent in English and proficient in the use of correct grammar and punctuation rules.

Typing speed and computer skills
This is crucial because typing is what medical transcriptionists do. They type reports using word-processing computer software. Transcriptionists may also need to know how to operate electronic health records (EHR) systems.

Listening skills and an ear for accents
The fact that doctors come from all cultures can result in dictations that are challenging to hear correctly. The ability to understand each word, omit unnecessary text, edit sometimes disorganized information, and correctly interpret intended meaning will result in accurate and concise reports.

Critical thinking skills / Willingness to consult reference materials and resources
In medicine, mistakes can have dire consequences. Transcriptionists must be able to think critically when researching information and verifying accuracy.

Time management skills
Because medical reports are by nature time-sensitive, MTs must be comfortable working under often tight schedules and deadlines. The ability to manage time may be especially important for transcriptionists who face additional distractions working from a home office.

Finally, it should be noted that because they must sit for long periods of time while transcribing reports, medical transcriptionists are susceptible to eye, neck, wrist, back, and joint problems. These potential issues can be diminished by taking breaks during the workday and by having regular massages to reduce their occurrences.
Steps to becoming a Medical Transcriptionist

After graduating from high school or obtaining a GED diploma, aspiring medical transcriptionists can choose between two educational paths. They can complete an accredited certificate program, which typically takes between six months and a year. Alternatively, they can earn an accredited two-year or accelerated one-year associate degree.

Having a certificate from an accredited medical transcription training program does not permit an MT to use the title 'Certified Medical Transcriptionist.' Certification credentials are the property of the Association of Healthcare Documentation Integrity (AHDI) and are conferred following the fulfillment of requirements established by the Association.
What are Medical Transcriptionists like?

Based on our pool of users, medical transcriptionists tend to be predominately investigative people. This is not surprising, given that the work of MTs consistently involves interacting with doctors to identify discrepancies and inconsistencies in voice recordings; consulting medical resources to ensure use of correct terminology; and performing quality checks on the reports they transcribe.
Medical Transcriptionists are also known as:
Healthcare Documentation Specialist Clinical Medical Transcriptionist Medical Language Specialist Medical Transcriber Transcriptionist