What is a Meter Reader?
Meter readers work for companies that provide utilities or services to customers. They are responsible for traveling to various residential and commercial locations on assigned routes, and gathering accurate data regarding the amount of utilities used. Many meter readers work for gas, electric, and water companies.
What does a Meter Reader do?
Gas, electric, steam consumption, and water meters all must be read with electronic devices, or written down in a route book and entered into the computer at the end of the collection route. Meter readers drive or walk down specific routes to gather information from each customer on that route.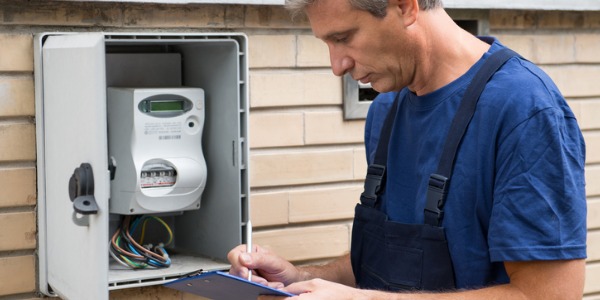 Meter readers check meters on properties for defects and damage as well as for signs of utility theft with unauthorized connections to any systems. Readers must report all lost or broken utility keys to their supervisors immediately. Reports must also be made regarding any problems with the meters or with not being able to read them properly. This includes reporting aggressive dogs to the proper authority.
Meter readers are responsible for recognizing an abnormal output of utilities, such as extremely high electricity, gas, or water usage, and for finding the source of the utility leak or problem before repairing it.
Customer service plays a large role in this position. Meter readers must be able to keep a cool disposition in situations where customers are extremely unhappy about disconnection due to non-payment. Meter readers will direct customers to the proper customer service or collections representatives via telephone, and answer pertinent questions whenever possible.
Meter readers may also have the opportunity to collect past due bills instead of disconnecting service. In the case that meters aren't accessible at the time of connection, disconnection, or reading, meter readers make arrangements with the customer for a time to be able to access the equipment to get an accurate read.
Once meter readers are finished with their route, they must take their route books back to the utilities office and enter the findings into the computer, or hand the books off to another employee that is responsible for data entry. If this is the case, the meter readers must neatly transcribe and record the information into their route books so that their writing can be easily read without error.
What is the workplace of a Meter Reader like?
Meter readers spend the majority of their hours on the clock, driving from location to location and on customer's properties reading the physical meters. They spend quite a bit of time outdoors and interacting with customers.
There can be many positive aspects to this type of work; working in a solitary environment is a job benefit for many people, as well as spending a lot of time in the open air. Meter readers have to be self-motivated workers since they primarily work alone, with a specific itinerary that must be completed.
However, disconnecting utilities can be demanding work due to the level of patience and good customer service the meter reader must have. It can be difficult work as well when trying to get around people's dogs to gather information.
Meter Readers are also known as:
Meter Reading Clerk Utility Meter Reader Water Meter Reader Meter Reader Inspector