What is a Midwife?
A midwife is a healthcare provider who gives care to women during the childbirth process. Midwifery is an ancient and respected career that dates back to biblical times. In ancient times, midwifery was thought of as one of the few career options for women, and the practitioners of this art were venerated by many different societies. In many ancient cultures it was assumed that these female medical practitioners had a spiritual connection that gave them special powers.
What does a Midwife do?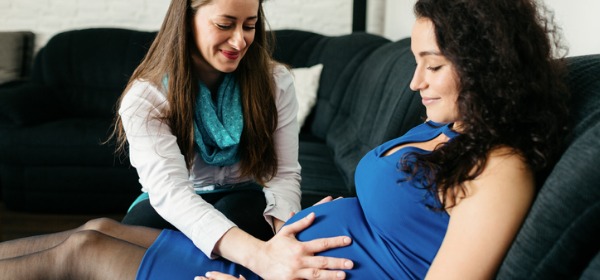 Today midwives offer assistance to their clients all over the world, during the entire process of giving birth. Many midwives continue to work with and educate new mothers during the postpartum period. Most midwives specialize in low-risk pregnancies, especially for those prospective mothers who choose home childbirth. If a pregnancy carries complications or is considered high-risk, the practitioner will refer the woman to an obstetrician. Many prospective mothers choose to have a midwife attend their birth because their services are often less expensive, yet more personal, than traditional medical care. Other women who are expecting a child choose midwifery as a calming and spiritual alternative to modern western methods of childbirth.
As a healthcare provider, the midwife attends every aspect of a woman's pregnancy including prenatal care, labor, childbirth and postpartum recovery. She will generally meet with a woman during the early stages of her pregnancy to answer any questions about childbirth and address any concerns the mother may have.
During labor, the midwife will assist the mother with finding a comfortable birthing position and may encourage such activities as showering, rocking, leaning on birthing balls, and walking around, to make the woman more comfortable. Midwives are trained to speak to the woman in labor and to understand their needs and the needs of their family members who are present.
There are some midwives who are certified as nurse-midwives, and can offer certain medical interventions. Some certified nurse-midwives are trained in electronic fetal monitoring, and can administer labor-inducing drugs and pain medications like an epidural. Certified nurse-midwives are also often trained to give episiotomies in birthing situations that call for them. It is essential for the pregnant mother to understand in advance what kind of training her midwife has, and what type of medical services she (or he) can perform.
What is the workplace of a Midwife like?
Many midwives report that one of the most satisfying parts of their job is being able to assist people in giving birth at home. Because midwives often travel from home to home to help their clients, the workplace can be a transient one.
The workplace for a midwife is generally the homes of clients, but some practitioners also assist doctors with live births in a hospital setting. When working in a hospital, midwives work under a physician's orders and often collaborate with a medical director in order to provide care to patients.
Midwives are also known as:
Certified Professional Midwife Certified Midwife Certified Nurse-Midwife