What is a Museum Conservator?
A museum conservator documents, restores, and preserves artifacts that are on display in museum exhibits. They use chemical and physical tests to determine the age and make up of different artifacts, and determine how to restore and preserve the objects as well as estimate how much it will cost to make those necessary preservations.
Conservators also train and teach museum curators and technicians, as well as give tours and provide research assistance to museum visitors.
What does a Museum Conservator do?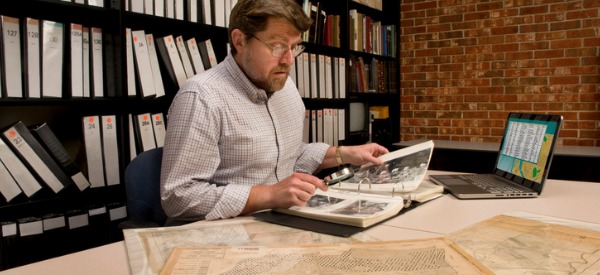 Museum conservators put together exhibits at galleries and museums by selecting, installing, and assembling pieces to be put on display in exhibitions. Conservators design the layout of the exhibitions and carefully find and correct any problems with the exhibit before it is opened to the public. When it is time for the objects to be taken off display at the museum, conservators are responsible for ensuring each item is accounted for and packed carefully for shipping or storage.
Museum conservators work with artifacts within the areas they specialize in. Some may work to preserve and prepare a collection of books and documents, while others may restore and preserve valuable paintings from around the world. For conservators who work in museums of natural science, a major part of their position is to create and construct precise skeletal mounts for fossils and life-sized replicas of specimens.
Conservators preserve their artifacts by ensuring the light, temperature, and humidity stay at the proper levels. They also clean the artifacts with carefully chosen cleansers that are best for each material, whether they are made of fabric, metal, paper, glass, pottery, wood, or stone. Conservators have the knowledge to make educated decisions about the care and preservation of even the most delicate, ancient artifacts, and when there are questions about these techniques, they test different temperature settings and other conditions to ensure the artifacts are safe in the display environment.
When restoration and preservation are necessary for artifacts before they can be shown within the museum walls, conservators must be able to accurately estimate the total cost of these tedious projects. The estimates are based upon examinations of the artifacts. Museum conservators carefully study the artifacts to determine their age, as well as precisely what they are made of. This often involves testing of the physical or chemical nature.
Museum conservators are responsible for supervising curators and other museum technicians. They assist their subordinates in properly displaying artifacts within the exhibits. Museum conservators carefully document each item and its whereabouts as they are the professionals that are responsible for the artifacts – no matter how many other hands have touched them. Conservators assign each artifact with a number, and document the condition of each item with great precision.
When they are not testing artifacts or restoring them to their original splendour, museum conservators often give tours of the exhibits, and present special programs to the public. They also spend time teaching and training subordinates with programs they have created themselves after evaluating their educational needs. Museum conservators also take charge of scheduling, from the work schedules of curators and technicians, to the scheduling of public events.
What is the workplace of a Museum Conservator like?
Museum conservators can work in museums, archives, educational institutions, and other places that house important artifacts for the researchers and members of the public. Some conservators spend a lot of their time in an office doing research projects on various additions to the museum's inventory. Other conservators work with the general public teaching museum visitors about the different artifacts and answering questions about the exhibits.
Traveling to other places can be a large part of the job for those employed by large museums and institutions. They may be required to travel to meet with collectors of artifacts and conservators from other museums to organize exhibits their museums have an interest in showing.
Museum conservators who spend much of their time restoring artifacts will be in a work environment that involves a great deal of lifting, climbing, and physical exertion. Larger institutions, such as outdoor museums, will require the conservator to do a great deal of walking.
Museum Conservators are also known as:
Conservator Objects Conservator Exhibit Conservator Conservator-Restorer Collections Conservator Cultural Heritage Conservator Artifacts Conservator Museum Technician