What is a Nail Technician?
A nail technician is a beauty specialist who is responsible for the grooming and appearance of a client's fingernails and toenails. He or she provides manicures, pedicures, nail shaping, cuticle grooming, callus removal, synthetic nail treatments, and application of nail polish for their clients.
What does a Nail Technician do?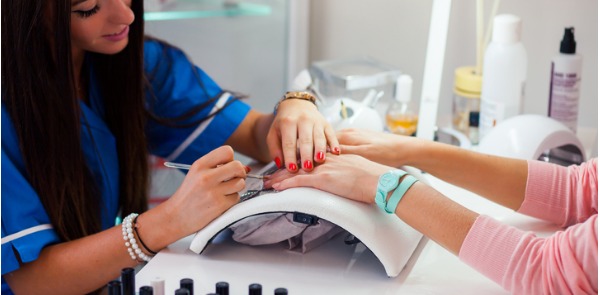 A nail technician is trained in the techniques of cleaning, filing and grooming fingernails and toenails which includes the trimming and removal of the cuticle, moisturizing the skin of the hands and feet, removal of dead skin in both areas and a light massage to improve circulation and relaxation.
Nail professionals can treat the natural nails of the hands and feet as well as add on acrylic nails, gel coverings, or a silk strengthener. After these treatments, the nails can have a simple polish, a French manicure or a decorative airbrush design applied. Small jewelry and decals can also be added if the customer is so inclined.
What is the workplace of a Nail Technician like?
Nail technicians usually work at a nail salon where there are several other nail technicians. There are typically several manicure and pedicure stations, and each technician working at the salon usually rents out a station of their own. Rent would either be a set amount each month or a percentage of what the nail technician earns, and each person would be responsible for building and maintaining their own clientele. Nail technicians can also work within a spa atmosphere, a hairdressing salon, or from home.
The atmosphere of a nail salon, whether it be at a proper shop or at home, should be one of cleanliness and professionalism. Technicians should wear white lab coats to promote a professional attitude, and they must always observe the local health codes and regulations. It is vital to also give the impression of relaxation and pampering, as clients go to a nail salon not only for grooming purposes, but to also take a break from their hectic lives.
Nail Technicians are also known as:
Manicurist Pedicurist Certified Nail Technician Artificial Nail Technician