What is a Pediatrician?
Derived from the Greek words pais, meaning child, and iatros, which means doctor or healer, a pediatrician is a medical professional who specializes in providing medical care to children.
Although there are surviving manuscripts devoted to pediatrics from earlier times, it was not until the middle of the 19th century that it was recognized and developed as a new medical specialty. Known for his many contributions to the field, Abraham Jacobi is considered as the father of pediatrics. He was born in Germany where he received his medical training, but later went to the United States to practice. It was there that he opened the first children's clinic in New York.
What does a Pediatrician do?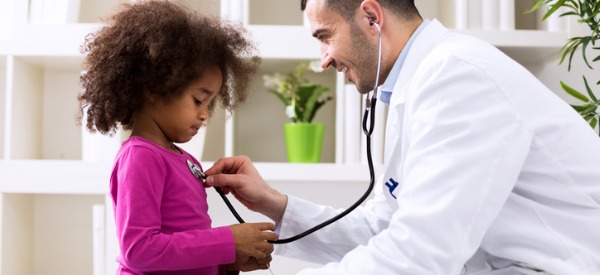 Providing physical, mental and emotional care for their patients, pediatricians are concerned with the health of infants, children and teenagers. They perform diagnostic tests to obtain information of the patient's medical condition and administer treatments, therapies, medications and vaccinations to treat illness, disorders or injuries. They also treat children who are suffering from minor injuries, acute and chronic health problems, and physiological and psychological growth and developmental concerns.
Pediatricians counsel and guide children and their parents or guardians concerning diet, hygiene and disease prevention. The field of pediatrics is a collaborative specialty - primary care pediatricians may refer patients to a medical specialist if they manifest symptoms of a serious medical condition, in order to efficiently address the issue.
Pediatrics is an exciting and challenging field to be in. It is also an incredibly broad field and can provide many options for doctors to choose from. After finishing a three-year pediatric residency program, about a third of pediatricians decide to train for an additional three years in a fellowship program. This enables a pediatrician to train for a career in a pediatric subspecialty, which can include:
Adolescent Health Specialist
Adolescents between the ages of 11 and 21 years can be taken care of by an adolescent health specialist. These pediatricians are specifically trained to help teens and young adults with emotional, behavioural, and physical care needs, including life-threatening illnesses. Certain health care issues related to reproductive and mental health can be treated confidentially.
Today's adolescents face many social and academic pressures, and can be treated for a variety of problems and conditions, such as: growth and development issues; school, learning, and attention problems; drug, alcohol, and tobacco use; nutrition, obesity, and eating disorders; acne and skin conditions; physical exams required for driver's permits; orthopedic problems such as scoliosis; acute or chronic illnesses, from strep throat to asthma, diabetes, or cerebral palsy; headaches; chest pain; depression; stress; anxiety; self-esteem; sleep problems; and gynecologic and reproductive health/sexuality issues.
Pediatric Allergist/Immunologist
Children can often suffer from allergies or other health issues associated with their immune system. If a child has allergies, it means that their immune system is incorrectly reacting to things that are usually harmless (such as dust, pollen, pet dander, food, insect bites, and mold spores). This reaction can cause health issues such as hives, asthma, rashes, eczema, hay fever, diarrhea, anaphylaxis, sinusitis, pneumonia, thrush, or abscesses.
A pediatric allergist/immunologist's primary goal is to offer relief to the child. This is done by using specialized testing for diagnosing the condition and then deciding on the appropriate treatment. Treatment may involve pinpointing and avoiding things that cause the allergic symptom(s), administering allergy shots (immunotherapy), or prescribing medication.
Pediatric Cardiologist
A pediatric cardiologist is a specialist in diagnosing and treating children with heart conditions and heart diseases. They work closely with other specialists (such as heart surgeons, heart rhythm specialists (electrophysiologists), medical geneticists, anesthesiologists, nurses, dieticians, and therapists) in order to assess and arrive at an accurate diagnosis. Each child's specific condition needs a comprehensive and individualized treatment plan.
Pediatric cardiologists are able to work with patients before they are even born, throughout their childhood, and into adulthood. There are a variety of conditions that can be treated, such as: arrhythmia (irregular heartbeat); congenital heart disease; circulatory disturbances; chest pain or fainting; cardiac transplantation; supraventricular tachycardia; inherited long QT syndrome; heart murmurs; cardiovascular collapse; cardiac failure; cardiovascular abnormalities in neonatal intensive care; fetal cardiac abnormalities; transposition of the great arteries; and the management of critically ill children with cardiac problems.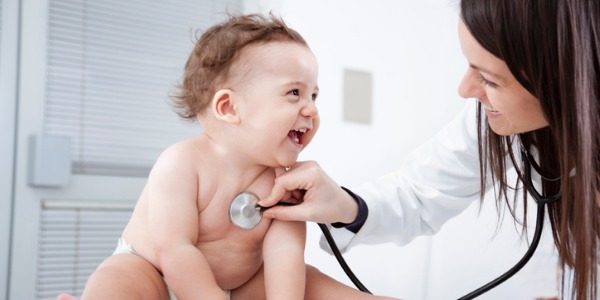 Pediatric Emergency Physician
A pediatric emergency physician cares for infants, children and adolescents who require urgent and immediate medical attention and assistance due to being injured or acutely ill (these injuries or illnesses can often be serious or life-threatening).
Pediatric emergency physicians usually treat the following types of emergencies: high or persistent fever; severe infections; difficulty breathing; severe pain; dehydration; seizures; severe allergic reactions; fractures; head injuries; burns, poisoning; overdoses; asthma; diabetes; sickle cell disease; and animal bites.
These types of medical emergencies often require special procedures, equipment, and techniques that pediatric emergency physicians are educated in using. Pediatric emergency physicians work in emergency departments of children's hospitals, teaching hospitals, community hospitals, and pediatric urgent care centres.
Pediatric Endocrinologist
Endocrinology is the science that studies hormones (chemicals that affect how other parts of the body work) and glands (organs that release hormones into the bloodstream). A pediatric endocrinologist deals with problems or disorders related to children's hormones and the glands that produce them.
Hormones determine how a child will grow and mature, therefore problems seen by pediatric endocrinologists are quite different from those seen by endocrinologists who care for adults. Issues related to growth and development can cause issues for a child's sexual development, which can then have significant effects on their physical and emotional well-being.
Examples of hormonal disorders that pediatric endocrinologists can treat: low blood sugar (hypoglycemia); enlarged thyroid gland (goiter); ovarian and testicular dysfunction; obesity; diabetes; early or delayed puberty; underactive or overactive thyroid gland; rickets; hypocalcemia; pituitary gland hypo/hyper function; growth problems; and adrenal gland hypo/hyper function.
Neonatologist
Neonatologists are trained to handle the most complicated and high-risk situations relating to newborns. They work mainly in the newborn intensive care units or special care nurseries of hospitals. If there is a problem identified before the birth of the baby, a neonatologist can team up with an obstetrician and assist in the baby's care during pregnancy. For babies that are born premature, or have serious illnesses, injuries, or birth defects, a neonatologist can be there at the time of delivery and in the ensuing care of the newborn.
Premature babies are babies that are born before their bodies are ready to leave the mother's womb. Critical organs such as the lungs, heart, stomach, and skin may not be mature enough to function without help. Neonatologists have specialized training and are able to evaluate and treat a newborn's medical problems, using equipment that is designed specifically for the tiniest of patients.
Neonatologists can handle conditions such as birth defects, breathing disorders, and infections, and help to coordinate care and management of premature newborns, newborns with critical illnesses, or newborns in need of surgery. They consult with pediatricians, obstetricians, and family physicians regarding conditions affecting newborns, and in some cases, may even provide short-term follow-up care on an outpatient basis.
Other sub-specialties:
Pediatric Nephrologist
Treats children with kidney or urinary tract disease, bladder problems, kidney stones
Pediatric Pulmonologist
Treats children with breathing and lung diseases
Pediatric Rheumatologist
Treats children with joint, muscle, and bone disorders, arthritis, etc.
Pediatric Gastroenterologist
Treats children with digestive system, liver, or nutritional problems
Pediatric Hematologist/Oncologist
Treats children with blood diseases and cancer
Developmental-Behavioral Pediatrician
Treats children with dyslexia, writing difficulties, and other school-related issues
Pediatric Infectious Diseases Specialist
Treats children with a recurring or persistent disease caused by bacteria, a fungus, a parasite, or other rare infection
What is the workplace of a Pediatrician like?
Pediatricians can work in a number of environments, such as hospitals, private practice offices, health maintenance organizations, community health centers, public health clinics, schools, or the military and government. They are less likely to enter solo practice and more likely to work as salaried employees of group medical practices.
In a typical setting, pediatricians enjoy a pleasant working environment as they are generally assigned to offices and examination rooms most amenable to children. Offices and rooms are equipped with children's books, toys and activities to occupy children during waiting periods and distract them when undergoing painful procedures. Working with children has its drawbacks, however. They can be unruly patients, often restless and sometimes hysterical and frightened by doctors and medical procedures. The utmost patience must be exercised when dealing with children, which is where pediatrics training is invaluable.
What is the difference between adult and pediatric medicine?
A common adage in the medical field is that 'children are not simply little adults.' In other words, there are significant differences between treating adults and children. The smaller body size and less mature internal organs of an infant or child are physiologically substantially different. These variances can present congenital deficiencies or defects and developmental issues very specific to young patients. A pediatrician's interpretation of symptoms, diagnosis, and prescribing of medications and other treatments are all influenced by the age of the patient.
The fact that the pediatrician's patients often cannot independently advocate or make decisions adds another aspect to pediatric practice: that of communicating with parents and family; and considering the concerns of potentially many people, not only the patient. This part of the pediatrician's work can be particularly demanding in the face of a painful procedure or poor prognosis.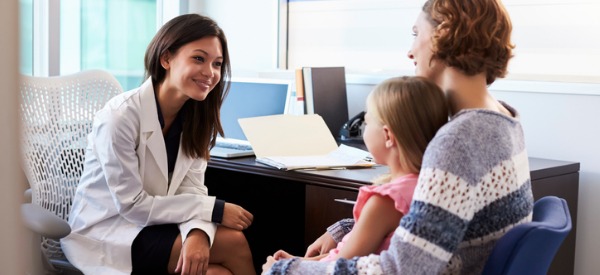 Can a Pediatrician treat adults?
Pediatric training is composed of four years of medical school and a minimum of three years of residency in pediatrics. The discipline is a very specialized one and its practitioners are specially qualified to treat babies, toddlers, children, and adolescents up to the age of eighteen, perhaps as old as twenty-one. Unless they are trained in both pediatrics and adult medicine, it is rare for pediatricians to step outside of their specialty to treat adults.
Does a Pediatrician require a specially trained Pediatric Nurse?
While a pediatrician is a licensed physician who is specifically trained in pediatrics or children's medicine, nurses receive a bachelor's degree to become a Registered Nurse or RN. Only by doing most of their work and gaining extensive practical experience in the pediatric field do they become labeled as 'pediatric' nurses. This experience includes administering immunizations, keeping developmental records, and often being patients' first point of contact before they see a pediatrician. As they gain experience in the field, pediatric nurses may choose to specialize in a particular sub-discipline, such as anesthetics, oncology, or neurology.
What are some common pediatric health care issues?
Among the most common issues facing pediatricians today are:
Fetal origins of adult disease
Smoking among youth
Neonatal Encephalopathy – a syndrome in newborns which disturbs neurological function, causing respiratory problems, depressed reflexes, sub-normal consciousness, and potential seizures
Early-life origins of cardiovascular disease
Type 1 diabetes
Brain tumors in children
Autism spectrum disorders
Environmental Chemical Exposure
Common childhood bacterial infections
Nutrition and celiac disease
Where and in which specialties are Pediatricians most needed?
In both the United States and Canada and in fact worldwide, there is a shortage of pediatricians serving rural and less populated areas. Also in the U.S., while the total number of primary care doctors for children across urban areas is appropriate, there is an uneven distribution of these doctors throughout the fifty states.
As for the kinds of specialists in demand, the lists are varied. A recent study revealed that in Canada medical schools are training too many doctors in some pediatric specialties, and insufficient numbers in other areas of child health care. For example, the study showed that twice as many neurologists as needed and only half the number of required neonatologists – doctors who treat premature or ill newborns – are being trained. The Canadian Pediatric ('Paediatric') Society http://www.cps.ca/ and the American Academy of Pediatrics https://www.aap.org are the most reliable sources from which to obtain updated statistics regarding job opportunities in the field.
Pediatricians are also known as:
Paediatrician General Pediatrician Infant Care Pediatrician Infant Care Physician Child Physician Adolescent Physician Primary Care Pediatrician