What is a Perfusionist?
A perfusionist is a highly trained member of the cardiothoracic surgical team who is an expert in using the heart-lung machine (also called the cardiopulmonary bypass machine) during cardiac surgery.
This machine is necessary during surgery where a cardiopulmonary bypass is needed in order to manage the patient's physiological and metabolic needs, and enables the cardiothoracic surgeon to operate on a still, unbeating heart.
Perfusionists work alongside cardiothoracic surgeons, anesthesiologists, physician assistants, surgical technologists, and nurses.
What does a Perfusionist do?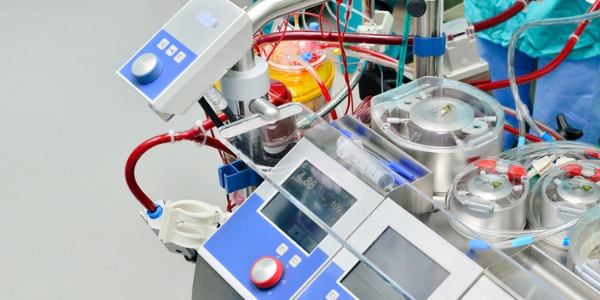 Perfusionists are very important members of the cardiovascular surgical team. They are responsible for running the heart-lung (cardiopulmonary bypass) machine and are responsible for the management of circulatory and respiratory functions of the patient.
The heart-lung machine diverts blood away from the heart and lungs. It also adds oxygen to the blood, then returns the blood back to the body. This is all done without the blood having to go through the heart. The perfusionist and heart-lung machine allow the cardiothoracic surgeon to focus on the actual surgical procedure, and less on the immediate needs of the patient.
During surgery, perfusionists regulate levels of oxygen and carbon dioxide in the blood, and use the heart-lung machine to maintain blood flow to the body's tissues. Perfusionists are also responsible for measuring blood cell count and monitoring circulation.
They may at times administer medicines through the cardiopulmonary bypass circuit under the direction of the anesthesiologist and surgeon. Some other responsibilities include: blood collection and processing; implementing and managing the intra-aortic balloon pump; adult and infant extracorporeal membrane oxygenation (ECMO); as well as monitoring of anticoagulation, electrolyte, acid-base balance and blood-gas composition.
In some hospitals, perfusionists place and manage patients on ventricular assist devices as a bridge to recovery or heart transplantation, and support patients receiving lung or liver transplants. They can also be involved in obtaining cardiothoracic donor organs for transplantation.
Adult surgical procedures that purfusionists are involved in may include:
Coronary Artery Bypass
Aortic Valve Replacements
Mitral Valve Repair/Mitral Valve Replacement
Tricuspid Valve Repair
Aortic Root Replacements
Atrial Myxomas
Dissections/Aneurysms/Trauma Of The Aorta (Ascending, Arch & Descending)
Renal Cell Carcinoma/Obstructive Vena Cava
Veno-Venous Bypass (eg During Liver Transplants)
Cardiac/Lung Transplants
Implants Of Ventricular Assist Device And ECMO
What is the workplace of a Perfusionist like?
Perfusionists typically work in operating rooms in hospitals and surgical centres during heart and lung surgery, but they also work in ICUs. Perfusionists are responsible for monitoring patients both before and after a procedure. Their hours can vary from week to week due to fluctuations in schedules and surgical and medical emergencies.
Some perfusionists choose to work for medical product manufacturing companies, developing the perfusion equipment or working in the marketing and sales divisions of those businesses.
Perfusionists are also known as:
Clinical Perfusionist Cardiovascular Perfusionist Perfusion Technologist