What is a Personal Chef?
A personal chef provides customized meal preparation and cooking services to individuals or families. The role of a personal chef is to provide a tailored and personalized culinary experience, catering to the unique tastes, dietary requirements, and preferences of each client. Personal chefs are typically hired to provide regular meal planning and preparation services for clients who have busy schedules, specific dietary needs, or who simply want to enjoy the convenience and quality of having a professional chef prepare their meals.
Personal chefs may work independently or as part of a larger culinary team. They are skilled in menu planning, grocery shopping, meal preparation, and cooking, and are often well-versed in a wide range of culinary styles and techniques. Personal chefs typically work closely with clients to understand their preferences and needs, and to develop customized meal plans that meet their dietary requirements and taste preferences. They may also provide cooking classes, host private events, and offer other culinary services to their clients.
What does a Personal Chef do?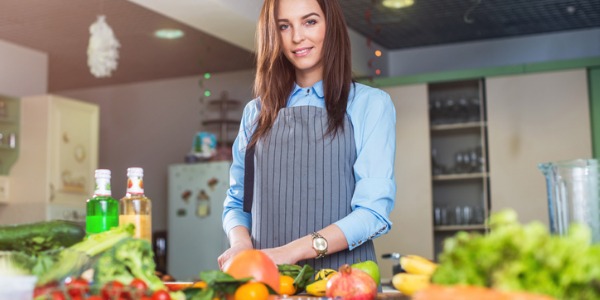 Personal chefs provide individuals or families with healthy, customized meals, saving time and effort by taking care of grocery shopping and meal preparation, and accommodating dietary restrictions and food preferences.
For busy professionals, having a personal chef can be a lifesaver, allowing them to focus on their work and other responsibilities without sacrificing nutrition or taste. For those with specific dietary needs or restrictions, such as allergies or intolerances, a personal chef can ensure that meals are safe and enjoyable. Additionally, personal chefs can introduce clients to new foods and cooking techniques, expanding their culinary horizons and encouraging healthier eating habits.
Duties and Responsibilities
Here are some of the duties and responsibilities of a personal chef:
Menu Planning: The personal chef will work with the client to create a menu that meets their dietary needs and preferences. This may include developing recipes, selecting ingredients, and creating a shopping list.
Grocery Shopping: The personal chef will typically be responsible for purchasing all necessary ingredients for meal preparation, either by shopping for groceries themselves or coordinating with a grocery delivery service.
Meal Preparation: Once the menu has been created and the necessary ingredients have been purchased, the personal chef will prepare the meals in the client's home kitchen. This may include prepping ingredients, cooking, plating, and storing the finished dishes.
Kitchen Clean-Up: After the meal is prepared, the personal chef will be responsible for cleaning up the kitchen and leaving it in the same condition as they found it.
Special Dietary Needs: A personal chef may be required to have specialized knowledge of dietary restrictions and preferences, such as gluten-free, vegan, or kosher diets.
Time Management: A personal chef must be skilled at managing their time effectively to ensure that meals are prepared and served on time and that all tasks are completed within the allotted time frame.
Inventory Management: The personal chef will be responsible for managing the inventory of food and supplies in the client's kitchen and ensuring that there is always enough food on hand to prepare meals.
Client Communication: A personal chef must have excellent communication skills and be able to communicate effectively with clients to ensure that their needs are being met and their expectations are being exceeded.
Professionalism: Personal chefs must maintain a high level of professionalism at all times, including dressing appropriately, being punctual, and conducting themselves in a manner that is respectful to the client.
Types of Personal Chefs
There are different types of personal chefs, and their roles may vary depending on the needs and preferences of their clients. Here are some of the most common types of personal chefs and what they do:
Private Personal Chef: This type of personal chef is typically employed by a single client or family and is responsible for creating customized menus, shopping for groceries, preparing meals, and cleaning up the kitchen. They may work full-time or part-time, depending on the client's needs.
Event Personal Chef: Event personal chefs specialize in preparing meals for events such as weddings, corporate events, and private parties. They may work independently or for a catering company and are responsible for creating menus, cooking food, and serving guests.
Vacation Personal Chef: Vacation personal chefs are hired to cook for clients while they are on vacation. They may work for clients who are staying in vacation homes, villas, or resorts and are responsible for preparing meals, stocking the pantry, and cleaning up the kitchen.
Specialized Cuisine Personal Chef: Personal chefs who specialize in specific cuisines, such as French, Italian, Asian, or Mediterranean, focus on creating authentic dishes representative of their area of expertise. They possess in-depth knowledge of the flavors, techniques, and ingredients associated with their chosen cuisine.
Health and Wellness Personal Chef: Health and wellness personal chefs specialize in preparing meals that are healthy and nutritionally balanced. They may work for clients who have specific dietary needs or are trying to lose weight and are responsible for creating menus, shopping for groceries, preparing meals, and providing nutrition counseling.
Celebrity Personal Chef: Celebrity personal chefs work exclusively for high-profile individuals, celebrities, or public figures. They provide personalized culinary services tailored to the preferences and dietary needs of their clients. Celebrity personal chefs often travel with their clients, coordinate meals with demanding schedules, and maintain strict confidentiality.
What is the workplace of a Personal Chef like?
The workplace of a personal chef can vary depending on the type of chef and their specific job duties. However, the most common workplace for a personal chef is the client's home kitchen. Personal chefs typically work in the homes of their clients, preparing meals in their client's kitchen using their equipment and supplies. This means that personal chefs need to be comfortable working in different types of kitchens and using different types of equipment.
In some cases, personal chefs may also work in commercial kitchens, especially if they are catering for events or preparing meals for delivery. This may involve working in a restaurant kitchen or a shared kitchen space, which can offer access to a wider range of equipment and supplies. However, working in a commercial kitchen can also be more fast-paced and high-pressure than working in a client's home.
Regardless of where they work, personal chefs must be organized and efficient, as they often have to juggle multiple tasks at once, such as menu planning, grocery shopping, meal preparation, and kitchen clean-up. They also need to be able to work independently and make decisions quickly, as they are often the only chef in the kitchen.
One of the benefits of being a personal chef is that it can be a very flexible career. Personal chefs may work part-time or full-time, and their schedules can vary depending on the needs of their clients. They may work early in the morning to prepare breakfast, or late at night to prepare dinner. They may also work on weekends or holidays, especially if they are catering for events.
Personal Chefs are also known as:
Private Cook Certified Personal Chef