What is a Pharmacy Technician?
A pharmacy technician is someone who works under the direct supervision of a licensed pharmacist to process prescriptions, dispense medication, perform pharmacy-related functions, and provide information to customers. The pharmaceutical industry is steadily expanding, and as the number of pharmacies increases in the coming years, pharmacy technicians will be in ever-higher demand.
What does a Pharmacy Technician do?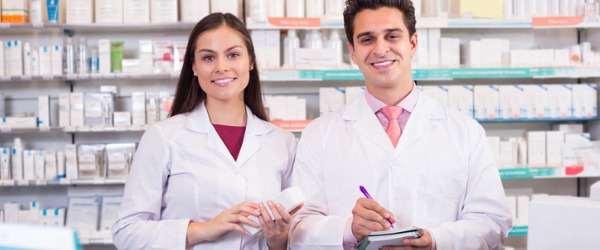 One of the most challenging aspects of being a pharmacy technician comes down to maintaining knowledge on all the changes that occur within the field, since pharmacy practice changes on a weekly basis with new generics and new drugs. Job duties include dispensing prescription drugs and other medical devices to patients, instructing on their use, performing administrative duties in pharmaceutical practice, and reviewing prescription requests with doctor's offices and insurance companies to ensure correct medications are provided and payment is received.
In many countries, both developed and developing, the importance of pharmacy technicians within the pharmacy workforce has grown in recent years due to pharmacist shortages, resulting in an increase in their numbers and responsibilities.
Duties and Responsibilities of Pharmacy Technicians:
Retail Pharmacy Technicians
- work in a retail pharmacy where they work with the general public on a daily basis. They are responsible for greeting customers, following the store's customer service protocol, submitting prescription claims to insurance providers, resolving customer issues, managing transactions and retrieving patient information.
Hospital Pharmacy Technicians
- work in a hospital pharmacy. This requires extensive training and experience working with parenteral drugs and, in some cases, potentially hazardous medications. They are responsible for filling medication orders for doctors, prescriptions for patients and pharmacists, are involved with pre-packaging medications for patient use, conducting drug evaluations, and counselling patients when they are discharged from the hospital.
Rehabilitation Centre Pharmacy Technicians
- work in private pharmacies onsite rehabilitation centres to take care of patient medications and prescriptions. They must be comfortable working with patients with mental health problems or substance abuse issues, and are typically responsible for preparing and dispensing medication for nurses or rehabilitation specialists.
Community Pharmacy Technicians
- work in a community pharmacy and are responsible for assisting community pharmacists with prescription orders and helping patients on the phone or from behind the counter. They may also be responsible for stocking shelves, managing inventory and taking care of day-to-day administrative tasks.
Central Pharmacy Operations Technicians
- are responsible for refilling and replenishing prescription requests in a central fill centre or central pharmacy location. This position requires a deep understanding of pharmacy operations and distribution activities to different pharmacies. These pharmacy technicians may also be responsible for managing inventory, labeling shelves, and organizing pharmaceutical products.
What is the workplace of a Pharmacy Technician like?
Pharmacy technicians work in a variety of locations (usually behind a counter at a drugstore, grocery store, hospital, nursing home or hospital pharmacy), but can also work for long-term care facilities, pharmaceutical manufacturers, third-party insurance companies, computer software companies, in government, or in teaching. This position involves working with pharmacists, patients and occasionally with pharmaceutical reps.
Pharmacy Technicians are also known as:
Certified Pharmacy Technician Pharmacy Tech Compounding Technician