What is a Pump Operator?
A pump operator is someone who works with stationary or portable pumps. He or she will transfer liquids, gases, and powdered materials in and out of vessels and processes, perform inspections and maintenance on various machinery, and troubleshoot issues with systems and processes.
There are various areas where pump operators can work. Pump operator positions include pipeline operators, day light relief operators, chemical operators, pump station operators, purification operators, and tank car loaders. There are also blend technicians, cable maintainers, process operators, and utility operators. All pump operators need to obtain specific training in order to work in their chosen area.
What does a Pump Operator do?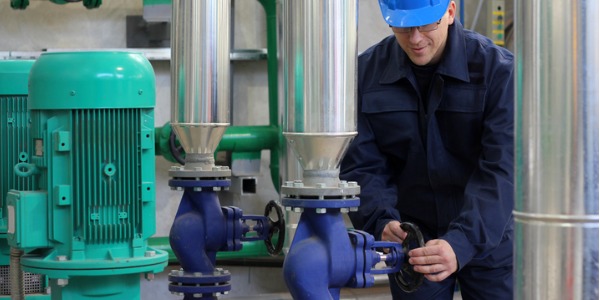 A pump operator performs various tasks, depending on the specific job they are assigned to. This may include monitoring various tanks and flowmeters to ensure they are working properly. Pump operators are also required to report any data that may be abnormal. They turn on start pumps and valves in order to start the flow or regulate the flow of any substance such as a gas or liquid. They record data that includes operation times, specific products and quantities that are pumped, and end results.
Pump operators communicate with other workers via radio and telephone in order to confirm when to start and stop flows. They repair and clean various pumps and vessels using special hand tools, and they collect samples for labs that may need to be analyzed. They receive orders on what substances need to be pumped, as well as the specific amount of liquid or powdered material that is required. They also connect pipelines and hoses to the designated pumps before transfer can take place.
Pump operators inspect equipment, structures, and material in order to ensure that they are safe and functional, and they also handle a variety of moving objects during installation and removal procedures.
What is the workplace of a Pump Operator like?
The workplace of a pump operator will vary from job to job. Many pump operators work on construction and job sites, and yet others work in factories and warehouses. Some operators work on loading docks and move materials off ships and trucks. Others work in the inspection area where they inspect equipment and perform maintenance work.
Pump operators are required to follow specific safety guidelines and wear protective clothing including vests, gloves, work boots, safety goggles and masks. They are a must on specific job sites in order to protect pump operators from hazardous fumes and eye irritants. It is very important for pump operators to possess a positive attitude and respect their coworkers, as proper communication is of the utmost importance in this field. There is a definite opportunity for advancement, which means more pay and more responsibility.
Pump Operators are also known as:
Pipeline Operator Day Light Relief Operator Chemical Operator Pump Station Operator Purification Operator Tank Car Loader