What is a Radiologic Technologist?
A radiologic technologist is someone who works under the supervision of a physician, called a radiologist, and helps them with specific tasks. The technologist will complete tasks like operating MRI machines, taking X-rays and CAT scans, and assisting patients. They will also perform various other duties throughout the work day as requested by the radiologist.
What does a Radiologic Technologist do?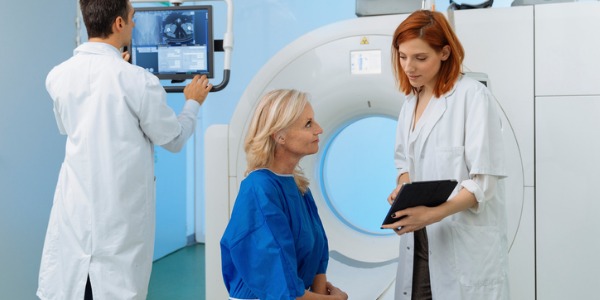 A radiologic technologist must complete a wide variety of tasks every day, such as setting up MRI machines, X-ray machines, CAT scan machines, ultrasound machines, and a variety of other radiologic equipment. The technologists also operate these machines; however, radiologic technologists do not make any judgements based on the images they obtain. They simply report these images to the radiologist. The radiologist, not the radiologic technician, is the one who analyzes the data.
Radiologic technologists are required to gather high-quality images and data. They are trained to recognize a clear, high-quality image versus one that is not. They are also able to answer simple questions that patients may have about the procedure, and help patients prepare for the procedure. For example, they make sure that patients remove all of their jewelry prior to a CAT scan, and also warn patients about potential risks and dangers to their health. They must work to protect patients from any unnecessary risks to their health by providing a lead sheet, when necessary, and taking any other appropriate measures.
What is the workplace of a Radiologic Technologist like?
All radiologic technologists work in medical offices, hospitals, or community colleges. Radiologic technologists are an important part of the medical support staff that keep hospitals and private medical offices functioning from day to day. Overall, polls show that most radiologic technologists enjoy their jobs and like knowing that they are helping people.
Over the next decade it is expected that 61,000 new radiologic technician jobs will be added into the economy due to the rising age of the baby boom population. This is a 28% increase based on the amount of current jobs available, which is a faster growth rather than the national average for all jobs.
Frequently Asked Questions
What is the difference between a radiologist and a radiologic technologist?

Both radiologists and radiology technologists work in a clinical or hospital setting, and are both health-care professionals.

A radiologist is a physician that will interpret diagnostic tests and prescribe a course of treatment for the patient. They begin their education with a bachelor's degree, then attend medical school. After a two year internship, they take a residency in radiology for four to seven years.

A radiologic technologist is the person performing the imaging tests on the patients (CT scans, MRI's, x-rays, and ultrasounds), who then hands them over to the radiologist for interpretation. The technologist needs to have earned either an associate's or a bachelor's degree before practicing, and must be licensed.
Radiologic Technologists are also known as:
Radiographer Diagnostic Radiographer Medical Radiography Technologist Medical Radiographer