What is a Scuba Diving Instructor?
Scuba is an acronym for Self Contained Underwater Breathing Apparatus. Scuba diving instructors are trained professionals who teach individuals how to safely, competently, and confidently dive underwater using scuba gear. They are experts in diving techniques, equipment operation, and emergency procedures. Their job encompasses teaching classes, supervising and guiding students during open water dives, and assessing students' skills.
Scuba diving instructors play a vital role in preventing diving accidents and injuries and promoting ethical diving and conservation of marine life and marine environments – and in enabling people to explore the fascinating underwater world.
What does a Scuba Diving Instructor do?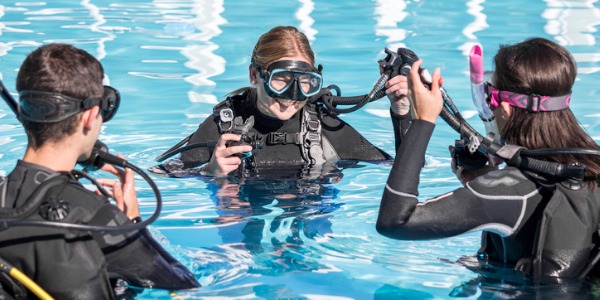 The primary responsibility of the scuba diving instructor is to teach scuba diving skills to students, from beginners to advanced divers. Instructors' duties, however, will vary depending on their specific job and the level of scuba diving instruction certification they have earned. Here is a snapshot of the scuba diving instructor's most common duties:
Conducting scuba diving classes – Instructors lead classes that include both classroom instruction and practical training in the water. They teach students about dive theory, equipment maintenance, safety/emergency procedures, dive planning, and proper diving techniques, such as buoyancy control, navigation, communication, and regulator use.
Providing guidance and support – Scuba diving can be a challenging and sometimes intimidating activity. Instructors need to help students overcome any fears or obstacles and develop confidence in their skills. This part of the job demands communication skills and patience.
Supervising diving activities – During open water dives, instructors are responsible for overseeing the diving activities of their students, ensuring that they follow proper safety procedures and have an enjoyable experience.
Certifying divers – Once students have completed the required training and demonstrated the necessary skills, instructors are responsible for certifying them as competent and safe divers.
Maintaining equipment – Instructor are responsible for maintaining their own scuba diving equipment and ensuring that all student equipment is in good working condition. They may also need to perform minor repairs to equipment.
Continuing education – Scuba diving instructors are required to complete ongoing training and education to maintain their certification and stay up-to-date on the latest diving techniques and safety procedures.
Marketing and administration – Instructors may also be responsible for marketing their classes and handling administrative tasks such as scheduling, billing, and record-keeping.
What is the workplace of a Scuba Diving Instructor like?
Scuba diving instructors work in a variety of sectors, from recreation and tourism and hospitality to scientific research and military operations. Here is an overview of their most common employers:
Dive Centers – These are businesses that offer scuba diving courses, certifications, and guided dives to customers. Scuba diving instructors are often the backbone of these operations, teaching courses and leading dives, but also managing customer relations.
Liveaboard Operations – These are boats that offer multi-day scuba diving trips to remote locations.
Resorts – Many beach resorts offer scuba diving as an activity for their guests.
Cruise Lines – Cruise lines that visit tropical locations frequently offer scuba diving programs for their guests.
Military and Government Agencies – These agencies may employ scuba diving instructors to train their personnel in specialized diving techniques, such as search and rescue or underwater demolition.
Universities and Research Institutions – Universities and research institutes may employ scuba diving instructors to support marine biology and other research projects that require underwater data collection, or to provide related technical diving instruction.
Scientific or Scuba Diving Publications – Scientific journals or scuba diving magazines may hire dive instructors to conduct underwater photography or videography.
While the typical workplace of the scuba diving instructor is, of course, outdoors and in warm, clear waters of tropical locations, this is not constantly the case. Dive instructors may also spend time in classrooms and offices, preparing lesson plans, grading assignments, or handling clerical duties. They may be required to work irregular hours, including evenings, weekends, and holidays, to accommodate the schedules of their students and customers.
Scuba Diving Instructors are also known as:
Diving Instructor Dive Instructor