What is a Seamstress?
A seamstress is a female version of a tailor. Seamstresses mend all types of clothing and anything else made of fabric. They also create their own patterns and clothing, sometimes decorating them with detailed embroidery work.
A seamstress may work in a factory, or in a shop that does alterations and repairs. Some seamstresses are highly skilled and go on to create their own clothing designs. These seamstresses sometimes become fashion designers, often commanding high prices for their pieces.
What does a Seamstress do?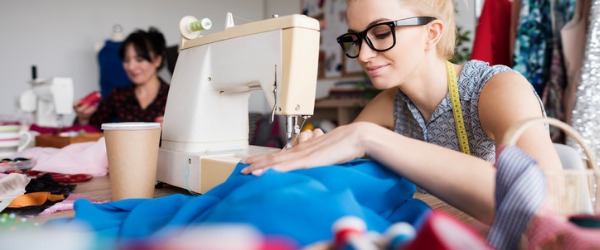 The responsibilities of a seamstress depend on which category of the profession she belongs in. The types, or categories, are named for her counterpart, the tailor, and include local tailoring, distance tailoring and traveling tailoring.
Local tailors and seamstresses, as the name indicates, serve their local community with sewing services. Typically, they work in a small independent shop, where customers come in to purchase custom tailored clothes or have garments repaired. Seamstresses are able to take measurements of their clients to ensure the final product will fit perfectly. They not only assess measurements, but the client's posture and body type as well.
Usually, these shops will have a front showroom where customers can also browse through fabrics and sample work from the seamstress. Having a local shop allows clients to easily return garments for alterations and serves the local community with repair services. In some cases, local shops with the right clientele and reputation have achieved worldwide recognition. Most seamstresses will work in this type of environment.
Distance tailors and seamstresses offer their services to out-of-town customers. Typically, there is no store front since most sales are made through the internet. Services from a distance are often much cheaper because inexpensive labor can be obtained, there is less overhead in maintaining a storefront, and customers are responsible for taking their own measurements. Services to the client, however, are also reduced since customers are often limited to viewing photos for their fabric selections and must return garments by mail for alterations, prolonging the process.
Online tailoring is becoming much more common due to the easy accessibility and widespread presence of the internet. Experienced seamstresses can set up their own online storefronts and offer their services to customers around the world.
The less common traveling seamstresses are a mix of both distance and local work. These seamstresses operate in a local or regional area, but travel to accommodate client needs. They usually have a travel case, with all the tools for taking measurements of their client, along with a book or packet of sample fabrics for the client to peruse. This limits the problems associated with distance or online work in the initial assessment phase, but clients will still receive the final product by mail.
Additionally, if any alterations are necessary, they must ship the garment back to the seamstress. She must then make her best assessment of where the garment should be altered before sending it back to the client.
Whatever the type they choose to be, seamstresses must fulfill several core responsibilities. They must alter or repair garments according to their customers' specifications, be able to operate a variety of sewing equipment and interact professionally with their clients. In addition, they may be responsible for tagging or marking garments and keeping accurate records of supplies used in each creation.
Sometimes, seamstresses may be given creative or artistic challenges by the client, which might include a dress that is appropriate for both indoor or outdoor wear or a suit that's breathable in the summer but can adapt to cold weather climates.
What is the workplace of a Seamstress like?
Seamstresses typically work a regular 40-hour work week, though they may work some evenings and weekends to accommodate customers.
Local seamstresses tend to work in their own stores and shops, while distance and traveling seamstresses typically work out of their homes. Their jobs are physically demanding, requiring long hours of intense work with their hands, often bending over sewing machinery.
Seamstresses are also known as:
Alterations Specialist Dressmaker Custom Dressmaker Modiste Sewing Professional Custom Clothier Alterationist Sempstress Sewist Alterations Expert