CareerExplorer's step-by-step guide on how to become a singer.
Step 1
Is becoming a singer right for me?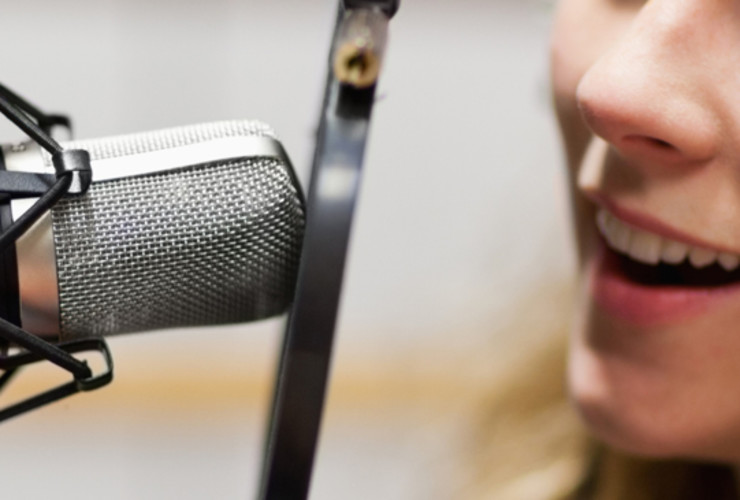 Step 2
High School
The U.S. Bureau of Labor Statistics reports that many singers begin practising their craft at a young age. Here are some ways to do so:
• Start learning about different singing styles.
• Learn to read music.
• Learn to play an instrument.
• Try writing songs.
• Join the school choir.
• Audition for drama club musical productions.
Step 3
Formal Singing Education
Singers typically begin working with a voice coach when they reach vocal maturity. These are the objectives of this training:
• Discover your vocal range – soprano, alto, tenor, baritone, or bass – and preferred musical genres and styles.
• Learn to identify different rhythms, scales, harmonies, and melodies.
• Learn a variety of voice exercises that loosen and strengthen your vocal chords.
• Learn about proper posture and breathing techniques.
• Learn how to read sheet music, including how to sight read so that you can sing the right notes by looking at the sheet music only, without musical accompaniment.
In addition to taking private voice training and singing lessons, some aspiring singers pursue an undergraduate degree in vocal performance:
Associate's Degree programs comprise seminars, clinics, and coaching sessions in the following areas:
• Ear training and development
• Fundamentals of music and recording
• Practical music
• Musical genres
• Voice training
• Performance skills
• Solo recitals
• Participation in choir and ensembles
Bachelor's Degree programs expand on the above topics and also include the following components:
• Acoustic training
• Singing in choirs
• Basics of musical directing
• Philosophy of music
The Master of Music in Vocal Performance is considerably less common among singers than are Associate's and Bachelor's Degrees. Graduate programs are often completed by students whose goal is to teach singing at the secondary or postsecondary level. Coursework focuses on:
• Performing, expression and movement for singers
• Isolated voice techniques
• Song selection
• Stage performance
• Various singing styles
• Auditory conception
• History of music
• Group and concert performances
• Music cataloging, research, and philosophies
• Vocal ranges
Here is the U.S. Department of Education 2019 ranking of the Best Colleges for Performing Arts in America.
Step 4
Experience & Marketing
While formal education – voice training and postsecondary schooling – provides essential foundational knowledge and skills, singers are performers, who to hone their craft must perform.
Just as professionals in other fields rarely find the perfect job at the outset of their career, singers, too, must endure a sometimes arduous process involving performing for little or no compensation, in less than desirable venues, and under less than ideal circumstances. The key is to remain passionate about singing and recognize that each early experience probably teaches something valuable. In other words, when you start out, set small, specific goals. 'I want to be a world famous singer' can certainly be your dream. It most definitely should not be the first goal you set. Start with something achievable in the shorter term, such as, 'I want to perform for an audience of more than 50 people within the next three or four months.'
Setting increasingly ambitious goals, of course, requires dedication to both the art of singing and the business of singing professionally. Here are some tips:
Sing as much as possible
Singing regularly exercises your voice. Sing outside your comfort zone – different genres, acapella, solo, with a choir, with a band. These experiences may reveal different nuances in your sound.
Write your own songs and create a demo
If you are both songwriter and singer, you have an advantage, another way to impress industry experts and potential future promoters. Use a program like Audacity to record live audio and convert your tracks into several formats, change the speed and pitch, and edit the audio so that you sound your best. Alternatively, work with a professional sound engineer to ensure that your recording is of exceptional quality.
Build an online and social media presence
In today's world, it is imperative for singers to have an online and social media presence. Build a website that promotes both your work and your personality. Record and release covers and songs on YouTube, Facebook, Twitter, and Instagram. Use social media to publicize upcoming performances.
Hire a manager/agent
A registered and/or licensed talent agent can help you make industry connections, find work, and negotiate contracts.
21 Ways to Get Your Singing Career Started, by Hollywood Talent Manager Wendy Alane Wright
Frequently Asked Questions
Are Singers happy?
Singers rank among the happiest careers. Overall they rank in the 99th percentile of careers for satisfaction. Please note that this number is derived from the data we have collected from our Sokanu members only.
This finding may be partially based in the fact that singing releases dopamine, serotonin, oxytocin, and endorphins in the brain. These hormones are responsible for happiness and mental health.
What are Singers like?
Based on our pool of users, Singers tend to be predominately artistic people. They are, in fact, creative and artistic by definition, whether they have a distinct and recognizable sound or mold their voice and overall sound to the song or genre they are singing.
Should I become a Singer?
Discipline, perseverance, a likeable personality, charisma, and stage presence. These qualities define most prosperous singers. Most also have stories of criticism and rejection and luck and serendipity. In deciding to pursue this career, it is essential to realize that worldwide fame and fortune are not the norm and not the only barometers of success. The profession is full of people who make a good living singing and who are not famous. With that important caveat in mind, let's look at some facts about the career that may help you to determine if it's for you.
The best singers do more than sing well.
They can write songs.
They are passionate about music and lyrics and have the discipline required to spend long days in studio and rehearsing.
They know how to network and market themselves.
They know that building a singing career is challenging and they are prepared to make sacrifices along the way. In the words of Katy Perry, 'It was five years of living in L.A. with no money, writing bad checks, selling my clothes to make rent, and borrowing money.'
They accept that singing is most certainly not a nine-to-five job.
They know that working as a singer can be as grueling as it can be exciting.
Steps to becoming a Singer
Most singers start humbly. The seemingly instant fame presented on televised national and international competitions is the exception, not the rule. This means that while the steps taken by those who want to make singing a career can certainly vary, the nonnegotiable constants are passion, dedication, and patience.
How long does it take to become a Singer?
There is absolutely no concrete answer to this question. Some now famous singers struck lightning in a bottle and were quickly discovered via social media. Others – the majority – spent years doing shows wherever they could, busking, posting their work online, and refining their talent before they got their break. It is also important to distinguish between having a singing career and having fame. With talent, and usually with some luck, the two may intersect. It is also true that they may not.
Many aspiring singers choose to take voice lessons. Some pursue a four-year Bachelor's Degree in vocal performance. Some do both. And some do neither, relying solely on performing whenever and wherever they can. So, how long does it take to become a singer? It takes – as long as it takes.
How to become a Singer
There is no typical path to becoming a singer. But singing is a performance based career, so getting on stage in front of an audience is fundamental. Getting a start in the field can happen in many different ways:
• Talent competitions like The Voice and The X Factor • Auditioning for singing parts in theatre productions • Joining a choir • Becoming a back-up singer for a band • Open Microphone Nights at clubs • Residencies at restaurants, lounges, or bars • Residencies on board cruise ships • Demos sent to Music Executives • Singing at weddings and events • Being discovered via online video sharing platforms like YouTube and SoundCloud
While none of these potential entry paths guarantees stardom or professional success, they all provide valuable experiences for the aspiring singer. And in some cases, with a combination of natural talent and some luck, they lead to a lucrative singing career. It should also be noted that some of today's most successful artists chose to pursue formal vocal training, in the form of private singing lessons or a degree in vocal performance, music theory, or music performance.
It is not uncommon for prospective singers to relocate to entertainment industry hub cities like New York, Los Angeles, or Nashville, to enhance their chances of being discovered and launching their professional careers.