What is a Sports Manager?
Sports managers are business managers. They are responsible for handling the business matters of professional and collegiate sports teams, as well as individual professional athletes. While these are the most recognized roles associated with sports management, it is important to note that the field extends beyond them, and includes areas such as recreation and sports facility management. In other words, sports managers operate in a variety of capacities, all of which are aimed at promoting the goals and profitability of a sports organization.
Because of the wide scope of sports management, not all jobs in the field are the same. Depending on their employer and their role, sports managers may be data analysts, decision makers, accountants and budgeters, contract negotiators, business strategists, financial asset managers, public relations specialists, marketers, facility managers, or a combination of two or more of these. Wherever they land professionally, sports managers are invariably called upon to be communicators, problem solvers, and leaders.
What does a Sports Manager do?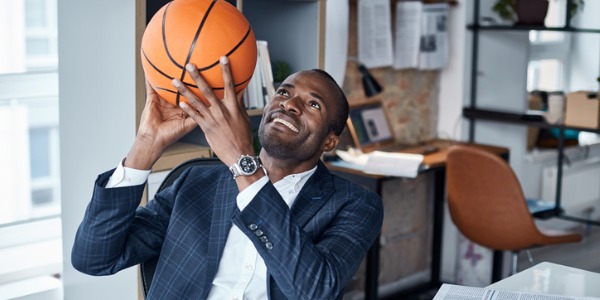 The tasks of sports managers might vary substantially, not only from position to position, but also from day to day. Large sports operations typically divide responsibilities among various management tiers and specializations. Therefore, the following responsibilities could be handled by one or by multiple managers, depending on the level at which the organization exists.
Communicating with team owners and other stakeholders regarding the state and direction of the team
Meeting with players being pursued by the team
In the role of individual player manager / agent, acting as their client's spokesperson
Liaising with coaches regarding player performance and utilization
Hiring and firing assistant managers and coaches
Negotiating management staff contracts
Negotiating player contracts, in compliance with the salary cap imposed by the league office
Negotiating and facilitating player trades with other franchises in the league
Balancing the organization's revenue with its financial responsibilities
Attending league meetings with other team managers
Engaging with sports media / maintaining media relations
Organizing and participating in promotional events (such as 'meet-the-players' events) involving season ticket holders, other fans, and the general public
Overseeing ticket sales and distribution
Partnering with promotional businesses, organizing fundraisers, and securing endorsements to bolster the organization's marketing efforts
Overseeing the organization's inner workings and resolving any conflicts that arise between different departments
Managing team travel plans
Helping athletes navigate media and event appearances and interactions
At the college level, working with recruiting teams to find high school talent to bring to the program
Managing the sports facility, including hiring food, service, and maintenance staff
As evidenced by these wide-ranging responsibilities, the job of the sports manager can be very defined and focused or it can be multidimensional, where management, human resources, marketing, public relations, communications, finance, facility management, fundraising, and more can all merge.
What is the workplace of a Sports Manager like?
While the work environment of sports managers varies based on their specific position, they typically spend much of their time in an office, using computers to manage budgets, track expenses, and communicate with partners and stakeholders as well as sports media outlets. At times, sports managers may work normal business hours. But because sports is entertainment, spending nights and weekends on the job, when games and events are usually held, is quite typical. During the sports season, sports managers often travel with their teams for away games. In major leagues, travel can be by chartered aircraft and private jets. In minor leagues, bus travel is the norm.
Sports managers employed by major league teams generally occupy niche roles and collaborate on the job with experts in other areas of sports management. At this level, areas of expertise may include negotiating player contracts and managing league salary caps.
Major and minor league sports teams, however, are not the only employers of sports managers. Sports marketing firms, sports arenas and facilities, sports broadcasting companies, marketing and public relations firms, and universities and colleges also hire them.
Sports Managers are also known as:
Sports Business Manager