What is a Stock Trader?
A stock trader watches the market and manages monetary investments in different stocks. They may work as managers dealing with mutual funds, hedge funds, pension funds or investment funds. These professionals may engage in different types of stock trading; from day trading, momentum trading or market making, to trend following, arbitrage, and trading the news.
A stock trader is a professional, and some stock traders are known as financial advisors if they have clients of their own that they trade for. These types of stock traders also act as an adviser or money manager to their clients. Professional stock traders may work independently, as an employee in the office of a large bank corporation, or on the floor of a trading exchange.
What does a Stock Trader do?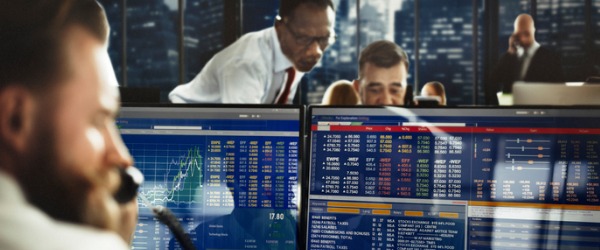 A stock trader works either for themselves or for a firm, buying and selling stocks. They may also buy and sell bonds and other financial instruments. Stock traders typically focus on making profits by taking advantage of price fluctuations on individual stocks in the market. They may buy or sell shares for short-term trades lasting just seconds or longer term trades with a holding period of several weeks.
Other types of stock traders may buy and hold stocks for an extended amount of time, from several months to several years. Stock traders typically work closely with a stockbroker or brokerage firm to get access to the shares that they trade.
One of the responsibilities of the stock trader is researching the stocks they are interested in trading. There are different types and philosophies behind company stock research, known as technical, fundamental and environmental research. Trading professionals may choose to use one or a blend of these types of research methods. The goal of researching stocks is to cut the element of risk and make higher profits from their investments through trading disciplines and insight into the companies as well as external market factors.
Stock traders need to keep emotions at bay in order to make good trading decisions since quick reactions are necessary as well as a good understanding of market situations. Stock traders who do well are typically not afraid of taking risks and have a burning desire to make money.
What is the workplace of a Stock Trader like?
A stock trader can work in a variety of situations from a home office or bank cubicle to a trading floor. The atmosphere is typically fast paced, exciting and pressure-filled.
Some traders prefer to start their own business and work at home. Entrepreneurship is appealing, but getting training and experience as an employee would be helpful before going it alone.
Unlike working in other related banking careers such as corporate finance or mergers and acquisitions, stock traders work as individuals. It helps to be an early bird, because the markets open at 6:00 am eastern time, so traders on the west coast start work at 3:00 a.m. The opening bell rings at 9:30 am EST.
There is no time to run errands, take long coffee breaks, or have flex-time. Traders also work independently, with very little supervision, if they do well. Traders who don't do well are out of a job quickly.
Stock Traders are also known as:
Day Trader Forex Trader Equity Trader Securities Trader