What is a Systems Analyst?
Systems analysts provide technology design solutions by understanding business needs and information technology. They take a look at a company's current computer system and procedures and find a way to have them operate in a more efficient and effective manner.
What does a Systems Analyst do?
The role of a systems analyst is to act like a digital investigator. They document technology systems in order to understand, change, improve, and help rebuild these systems.
This might include finding out why a computer system is failing by using specific software to track applications, systems, databases, and networks.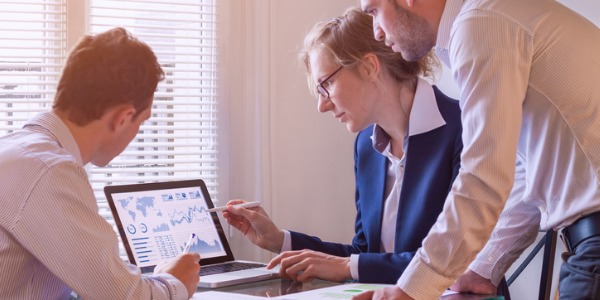 At every stage of a systems development life cycle, systems analysts team up with computer programmers, user experience designers, and quality assurance testers to build computer systems. They also work closely with an organization's chief executives, as well as advise other technology team members to better understand how computer systems can best serve an organization.
They typically specialize in certain types of computer systems that are specific to the industry they work with, such as engineering computer systems or financial computer systems. In some cases, these analysts are called IT project managers, since they keep track of a project's progress to make sure that cost targets, deadlines, and standards are met.
Systems analysts use data modeling to design computer systems (among other techniques), which gives them the opportunity to take a look at the processes and data flows even before any programs have been written.
Once the programs have been written, in-depth tests will be conducted and information will be analyzed in order to pick up any trends in the data that can give a clue as to how to increase a system's performance and efficiency.
Systems analysts also work out requirements for how much memory and speed the computer system needs, prepare flowcharts for engineers or programmers to use when building the system, and are involved in solving problems that come up after the initial system is set up.
They often serve as information brokers, with the documentation prepared by systems analysts often becoming the final say on what a system is or does. In collaboration with technical writers, systems designers, and systems architects, they also document what can be expected in systems that haven't been built yet.
The following are examples of types of systems analysts:
Systems Designers or Systems Architects - specialize in choosing specific types of hardware and software systems, and decipher long-term business goals into technical solutions by developing a plan. They work with management, making sure that systems and technology infrastructures are set up to best serve a company's mission.
Software Quality Assurance (QA) Analysts - make sure that critical system requirements are met by doing in-depth testing and diagnosing of problems. They also communicate to management by writing reports recommending ways to improve the systems.
Programmer Analysts - do more coding and debugging than other types of analysts. They create applications customized to their company's needs, as well as design and update their system's software. They determine what specific needs the applications are meant to address and work closely with management and business analysts to this end.
What is the workplace of a Systems Analyst like?
Systems analysts may work in a range of industries, such as healthcare, private business, and government agencies. They can work directly for a single corporation, or be employed by a computer consulting firm.
Systems analysts generally hold full-time positions, and overtime is quite common to meet deadlines. Much of their workload requires collaboration with other tech professionals. Some travel may be required for particular jobs and projects.
Systems Analysts are also known as:
Computer Systems Analyst IT Project Manager Technology Project Manager