What is a Tour Guide?
A tour guide provides assistance, information, and guidance to individuals or groups of tourists during their travels. Their primary role is to enhance the travel experience by sharing knowledge and insights about the destinations, attractions, and cultural aspects of the places being visited. Tour guides are well-versed in the history, geography, culture, and traditions of the locations they cover, and they use their expertise to educate and entertain the tourists.
Tour guides are responsible for organizing and leading tours, ensuring that the itinerary is followed, and the group stays on schedule. They may work in various settings, including cities, historical sites, natural landscapes, or cultural landmarks. During tours, guides provide commentary, answer questions, and engage with the tourists, creating an interactive and immersive experience. They may also assist with logistical matters, such as arranging transportation, coordinating entry to attractions, and recommending places to eat or shop.
What does a Tour Guide do?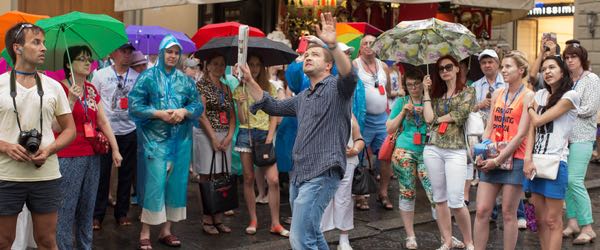 Tour guides bring destinations to life by providing valuable expertise and insights. While guidebooks and online resources can offer information, tour guides offer a unique and personalized experience that cannot be replicated.
Duties and Responsibilities
Tour guides have a range of duties and responsibilities to ensure a smooth and enjoyable travel experience for tourists. Some of the key responsibilities include:
Planning and organizing: Tour guides research and plan tour itineraries, considering factors such as the duration of the tour, the interests of the group, and the availability of attractions. They arrange transportation, accommodation, meals, and any necessary permits or tickets, ensuring that everything is well-coordinated.
Providing information and commentary: A primary role of tour guides is to offer informative and engaging commentary about the destinations being visited. They share historical facts, cultural insights, and interesting anecdotes to educate and entertain tourists. Guides should have a deep understanding of the locations, including their history, architecture, local customs, and traditions.
Leading tours and managing groups: Tour guides are responsible for leading the group throughout the tour. They ensure that the group stays together, follows the itinerary, and adheres to any safety guidelines. Guides should have good organizational and leadership skills to manage groups of varying sizes and diverse backgrounds.
Assisting with logistics: Tour guides handle practical aspects of the tour, such as coordinating transportation between sites, arranging entry to attractions, and managing timing to optimize the itinerary. They provide directions, answer questions, and offer recommendations for meals, shopping, and other activities.
Ensuring safety and security: Guides prioritize the safety and security of the tourists. They inform the group about potential risks or hazards, and they take necessary precautions to prevent accidents or incidents. In emergency situations, guides should be prepared to provide assistance and follow appropriate protocols.
Interacting and engaging with tourists: Tour guides create a welcoming and interactive environment for tourists. They foster a positive and friendly atmosphere, encourage questions, and actively engage with the group. Guides should be approachable and adaptable, catering to the needs and interests of the tourists.
Resolving issues and addressing concerns: Tour guides act as a point of contact for tourists, addressing any concerns or issues that may arise during the tour. They handle complaints, resolve conflicts, and provide assistance or alternative solutions when needed.
Promoting responsible and sustainable tourism: Guides play a crucial role in promoting responsible tourism practices. They educate tourists about local customs and cultural sensitivities, encourage respectful behavior towards local communities and the environment, and advocate for sustainable travel practices.
Types of Tour Guides
There are various types of tour guides, each specializing in different areas and catering to specific types of tours. Here are some common types of tour guides and a brief description of what they do:
City Tour Guides: City tour guides specialize in providing tours within a specific city or urban area. They are well-versed in the history, architecture, landmarks, and culture of the city. Their role is to guide tourists through popular attractions, historical sites, and local neighborhoods, offering insights and commentary along the way.
Cultural Tour Guides: Cultural tour guides focus on highlighting the cultural aspects of a destination. They provide in-depth knowledge about local traditions, customs, festivals, and arts. These guides may accompany tourists to museums, art galleries, cultural events, or religious sites, helping them understand and appreciate the cultural significance of these places.
Ecotourism Guides: Ecotourism guides are responsible for designing and planning itineraries that are environmentally and culturally responsible, researching the destination, developing educational materials, preparing necessary equipment, and coordinating logistics such as transportation, accommodation, and meals.
Adventure Tour Guides: Adventure tour guides lead tours focused on outdoor activities and adventure sports such as hiking, rock climbing, kayaking, or skiing. They possess skills and knowledge in the specific activities offered, ensuring the safety of participants while providing guidance and instruction. Adventure guides may take tourists to remote and challenging locations, coordinating logistics and providing a thrilling experience.
Historical Tour Guides: Historical tour guides specialize in providing detailed insights into the history of a destination. They are knowledgeable about specific historical periods, events, and significant landmarks. These guides often work in historical sites, monuments, or archaeological sites, sharing historical context and stories that bring the past to life for tourists.
Specialized Tour Guides: Specialized tour guides cater to niche interests or specific types of tours. Examples include food tour guides who focus on culinary experiences, wine tour guides who provide expertise on vineyards and wine tasting, or art tour guides who lead tours in museums and art galleries, offering interpretations of artworks.
What is the workplace of a Tour Guide like?
The workplace of a tour guide can be quite diverse and dynamic, offering a mix of indoor and outdoor environments. One aspect of their workplace involves cultural and urban settings. City tour guides, for instance, operate within bustling cities, leading tourists through streets, squares, and iconic landmarks. They may work in vibrant neighborhoods, historic districts, or cosmopolitan areas, immersing tourists in the local culture and urban atmosphere. These guides navigate through crowded streets, interact with locals, and provide insights into the city's history, architecture, and vibrant lifestyle. They may also lead tours in museums, art galleries, or cultural centers, where they can showcase the city's artistic and cultural offerings.
Another significant aspect of a tour guide's workplace is outdoor settings. Nature and wildlife tour guides find themselves working in breathtaking natural landscapes, such as forests, mountains, or coastal areas. These guides lead groups on hikes, nature walks, or wildlife safaris, sharing their knowledge about the local flora, fauna, and ecosystems. Their workplace is characterized by stunning scenery, serene environments, and opportunities for visitors to connect with nature. Adventure tour guides also operate in outdoor settings, taking tourists on thrilling activities like rafting, rock climbing, or skiing. They work in adventurous and often remote locations, ensuring the safety of participants while providing an adrenaline-pumping experience.
Additionally, the workplace of a tour guide can extend to various modes of transportation. They may lead tours on buses, boats, trains, or even walking tours, utilizing different forms of transportation to explore diverse attractions and destinations. This allows guides to provide a comprehensive experience, showcasing various facets of a region while offering comfort and convenience to tourists.
Tour Guides are also known as:
Tourist Guide