CareerExplorer's step-by-step guide on how to become a truck driver.
Step 1
Is becoming a truck driver right for me?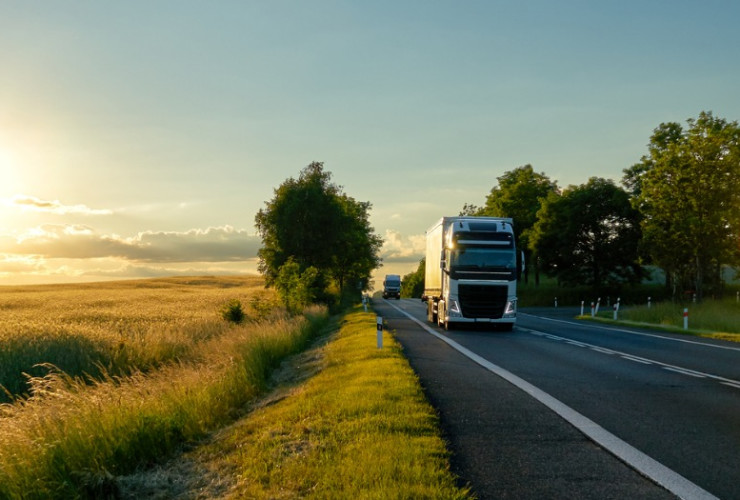 Step 2
Meet the basic requirements
• In most U.S. states, you must be at least 21 years old. You must also be legally eligible to work within the country.
• Take the Department of Transportation (DOT) physical and meet or exceed the medical requirements set forth by the Federal Motor Carrier Safety Administration (FMCSA). Some of the more common medical issues that may concern the DOT include heart issues; high blood pressure; sleep apnea; diabetes and insulin dependence; vision impairment; recent hernia, back injury, or surgery; blood sugar level over 200.
• Submit to a criminal background check. A criminal background (misdemeanor or felony) can be problematic depending on the number of charges, type of charge, and length of time since conviction.
• Submit to an employment history check. Unless it can be sufficiently explained, an unstable employment history, with significant gaps in the last 10 years, can be problematic when seeking employment as a truck driver.
• Submit to a driving history check. Excessive speeding tickets, accidents, and/or DUI/DWI charges can greatly affect whether a trucking company will hire you.
• Many schools prefer that their students have a high school diploma or GED before applying, and some truck driving companies won't hire you without one. On the other hand, many don't care. The roads are full of veteran truckers who never finished high school.
Step 3
Commercial Driver's License (CDL) Training
There are two ways to get CDL training:
Company-sponsored CDL Training
This training option is, of course, available to prospective truckers who get hired before they are actually qualified to drive commercially. It may sound like the perfect scenario, but there are drawbacks to consider. The most significant is that you will have to sign at least a one-year – probably a two-year – contract with the company that trains you. If you decide that the trucking lifestyle is not for you before the contract is fulfilled, you will have to pay back the training costs. On the plus side, if you opt for training that is company-sponsored you will have no upfront costs to earn your CDL.
Here are some factors to think about when considering company-sponsored training:
• Length of contract
• Payback amount if you do not fulfil the contract
• How long you will be away from home during training
• How much you will make per mile versus how much you would make if you were hired with a CDL
Private CDL Training
The key to choosing a reputable school is research. It may be tempting to choose based on proximity or lowest cost, but it is important to find a quality truck driving/CDL school.
When doing your research, look for three key factors:
• No more than three students per truck; two is preferable
• That you have as many opportunities to pass your CDL exam as needed
• That the cost is no more than about $7,000
Some of the advantages of attending a private, freestanding driving school are:
• A wider choice of trucking companies to potentially hire you
• No contracts
• Most companies reimburse tuition fees upon hiring
Regardless of whether your training is company-sponsored or private, be sure that your selected school incorporates the curriculum standards of the U.S. Department of Transportation. The curriculum offered by the Nebraska Safety Center is an example of a program which follows DOT specifications.
Step 4
Obtain your CDL leaner's permit
In most states, the CDL leaner's permit exam consists of a series of written tests on general knowledge of commercial vehicles, combination vehicles, and air brakes.
Step 5
Pass the CDL test and obtain your CDL license
The Commercial Driver's License (CDL) test consists of two parts: a written knowledge test and a skills test.
There are seven knowledge tests in total. One covers general knowledge, five cover specific endorsements (such as hazardous materials, tank vehicle, combination vehicle), and the seventh is an air brakes test. Each knowledge test is scored separately, and most drivers take only three or four. The tests you take depend on what type of commercial vehicle you intend to drive, but all of the knowledge tests must be taken in the state where you reside. Different states may have slightly different regulations, especially for transporting certain substances. Your state's CDL manual will list these regulations. All questions are multiple choice with four answers to choose from.
The skills test is performed in front of an examiner and divided into three parts: a pre-trip vehicle inspection that tests your ability to decide if a truck is safe to drive; basic control skills that test your ability to park, turn, and back up the vehicle; and a road test that gauges your ability to safely drive the vehicle on the road. Anyone wishing to obtain a Commercial Driver's License must take and pass all three parts of the skills test.
Common reasons why people fail the CDL test:
• Rolling backwards
• Hitting curbs
• Rolling your of gear
• Not checking mirrors
• Not following directions
• Shifting through intersections
• Rolling stops
• Improper emergency stop
• Lack of pre-trip knowledge
Step 6
Pass the Federal Motor Carrier Safety Regulations (FMCSR) exam
The FMCSR exam has both a written and a physical component. The written portion covers federal traffic law. The physical portion includes brief hearing and vision tests.
Once you pass the written portion, you'll never have to pass it again. However, you must take and pass the physical portion of the exam every two years.
Step 7
Employment / Orientation / Company Driver Training
Once hired by a trucking company, drivers typically undergo company orientation, generally lasting between one and two weeks.
Orientation commonly includes:
• DOT Medical Exam – You will have to complete this even if your current exam is still valid.
• Company Policy Training – At least a day will be dedicated to learning about the company's policies.
• Road Test – U.S. Federal law requires every trucking company to give a road test to any driver they hire.
• Backing, Turning, and Loading Training – Most trucking companies will provide further training in these areas.
• Flatbed Training – If you will be pulling a flatbed trailer, you will receive extensive training in loading and load securement.
• Safety – Much of the orientation period will be dedicated to driver and road safety.
After you successfully complete orientation you will then be assigned a driver trainer, an experienced trucker that takes inexperienced truck drivers out on the road and trains them.
Your driver trainer will cover:
• How to get fuel
• Truck scales
• Sliding axles and fifth wheel
• Load securement
• Qualcomm – a messaging system with built-in GPS, which allows trucking companies to track where their drivers are, monitor their trucks, and send/receive messages to/from drivers
• Trip planning
• Mountain driving
• How to get a shower on the road
Following the required time on the road with a driver trainer, newly hired truckers are assigned a truck and their first solo load.
Frequently Asked Questions
How long does it take to become a Truck Driver?
On average, a Class 'A' CDL program lasts about seven weeks. This is based on full-time programs than run five days per week. Class 'A' programs tend to last longer than Class 'B' programs, as a Class 'A' license applies to a greater variety of trucks and to transporting larger loads.
Class 'B' training programs, which prepare truckers to drive straight trucks, dump trucks, and other trucks that carry smaller loads, can often be completed in about a week.
What are Truck Drivers like?
Based on our pool of users, truck drivers tend to be predominately investigative people. They tend, almost in equal measure, to be enterprising. Both of these traits reflect perfectly the demands that truck drivers face. They commonly must investigate evolving conditions and circumstances and enterprisingly find ways to literally and figuratively keep going.
Should I become a Truck Driver?
Before attempting to answer this question, perhaps the most important thing to recognize is that trucking is not a job. It is a lifestyle – one that is largely responsible for the high driver turnover rate at large truckload companies.
It has been said that your personality and attitude will make or break you as a truck driver. To be successful in the role, you have to be a self-starter, independent, and extremely patient.
Take some time to consider both the disadvantages and the advantages of this career:
Disadvantages
Time away from family and friends It is not uncommon for an OTR (Over the Road) truck driver to earn only one day of home time for every week out on the road. You will almost never be guaranteed to be home on a specific day, meaning you may miss birthdays, holidays, or other special events.
Irregular sleep patterns* There are many federal regulations that govern when, where, and how much you must sleep in any given 24-hour period. When you get into the trucking industry you will find that these regulations are not always followed to the letter. Even if they are followed, they force your sleep pattern and work schedule. You will find that sometimes you must rest when you're not tired and work when you are tired; and there is nothing you can do about it. Circadian rhythm is often challenged by Department of Transportation regulations concerning hours of service.
Irregular weather patterns You will be crossing the country on a regular basis, warm weather one day and then freezing temperatures and snow packed roads the next. Some people have a hard time with the environmental changes to which you will be exposed on a regular basis. Some have problems with allergies due to the constant climate and environmental variations.
Limited truck parking In most states, there are way more trucks on the road than there are parking spots. This can be very frustrating and sometimes even infuriating, particularly when you are exhausted and short on the hours you can legally drive.
Inconvenience Trucks do not come with a toilet, shower, or kitchen. Being a truck driver means using public restrooms and showers regularly. Most drivers purchase the majority of their meals at truck stops, even though it is possible to do some cooking inside modern trucks.
Stress Deadlines, traffic, accidents, breakdowns, incompetent dispatchers, slow shippers, load issues, living in a very small space, bad weather, and a lack of parking spaces at truck stops and rest areas can really grind your nerves down.
Potential health challenges Staying healthy can be hard when driving a truck for a living. You will spend many hours just sitting and driving with almost no movement. Boredom sets in easily and you tend to snack more than if you had an active job. Those snacks – especially from fast food joints and truck stop vendors – turn into pounds very fast.
Advantages
Truckers are always in demand Today, almost everything is moved by truck. Companies no longer warehouse large amounts of goods due to overhead and storage costs. This means that products are always on wheels and must be delivered in a consistent flow. Job stability, therefore, is one of the great advantages of being a truck driver. Most companies are always hiring.
No boss – for the most part Truckers who adhere to the law, follow safety regulations, and deliver on time rarely hear from their driver manager or anyone else from the trucking company that employs them. For many truck drivers, having no boss telling them what to do and how to do it is particularly appealing.
The open road For some truckers, the lure of the open road calls them to the occupation. While trucking presents its share of challenges, it also provides drivers with the opportunity to see forests, mountains, deserts, plains, grasslands, big cities, and remote hamlets – from the east coast to the west coast.
No experience needed Some trucking companies hire aspiring drivers with no experience. They bear all or part of the cost of training.
For some further insight into the trucking industry, read, below, some excerpts from an interview with a professional truck driver of almost a decade:
Are there common misconceptions about your profession? That all truck drivers are steering wheel holders, and don't do much else, which is not true at all. If you come into trucking thinking you are just going to drive, you will have a rude awakening! Also, a lot of people don't realize the mental capacity it takes to be able to drive for long periods of time, by yourself, in all sorts of road conditions, with all sorts of bad drivers on the road.
What are your favorite aspects of your job? I enjoy working by myself at night, even though I'm working for a company now and not out on my own. It's nice not to have a boss constantly breathing over your shoulder. The health insurance and pay are nice. I also enjoy the interaction with my co-workers; we all get along, and that helps.
What are your least favorite aspects of your job? Not having the weekends off, but the company makes up for that in spades, so you take the good with the bad.
What personality traits do you think would help someone to be successful as a truck driver? Common sense, the ability to be alone with yourself a lot, and the drive. You have to want to be a truck driver.
What personality traits do you think might hinder someone's success as a truck driver? The exact opposite of my last answer. Don't get behind the wheel if you don't have any common sense. Especially an 18-wheeler flying down the freeway at 60 mph!
What advice, or words of caution, would you give to a student who is considering studying to become a truck driver? Well, just know that this is what you want to do, as with any career. And make sure you also at least get an Associate's Degree in some kind of business management, because you won't always be able to throw tarps, strap and load, and unload. Or have the mental capacity anymore. You need to be able to move into the management side of things when you get older. Either that or save really well and retire early!
Steps to becoming a Truck Driver
Aspiring truck drivers must meet certain basic requirements; complete commercial driver training; pass the commercial driver's license test and the Federal safety regulations exam; and upon employment, complete company-specific orientation and further training.
Are Truck Drivers happy?
Truck drivers rank among the least happy careers. Overall they rank in the 11th percentile of careers for satisfaction scores. Please note that this number is derived from the data we have collected from our Sokanu members only.
This notably low happiness quotient among truck drivers could be connected to the demand of the career to opt not just for a job, but for a lifestyle that has potentially significant negative impacts on personal health, relationships, and general work/life balance.
How to become a Truck Driver
The primary qualification to work as a professional truck driver is a commercial driver's license or CDL. To be eligible to apply for a CDL, candidates must be at least 21 years old, the minimum age required to be drive across state lines and operate a vehicle containing hazardous materials. They must also have no prior disqualifying criminal offenses.
Legitimate truck driving schools incorporate the curricular recommendations of the U.S. Department of Transportation. This means that their courses follow the commercial driver's manual and cover all of these subject areas: industry orientation; vehicle systems, inspections, and control maneuvers; speed management; space management; night driving; driving in extreme conditions; hazard recognition; emergency maneuvers; maintenance and malfunction diagnosis; transport of hazardous materials; trip planning; accident scene procedures; security; and public and employer relations. In addition to classroom sessions, students spend considerable time in the driver's seat before taking the CDL exams – a written test and a road skills test.
Each state has its own CDL regulations, but federal guidelines require passing a one-time written test covering federal traffic law and a physical (hearing and sight) exam once every two years.