What is a Bartender?
A bartender is someone who mixes and serves drinks to customers, either directly from patrons at the bar, or through waiters and waitresses who place drink orders for dining room customers. They must know a wide range of drink recipes and be able to mix drinks accurately, quickly, and without waste. Bartenders work in restaurants, bars, clubs, hotels, and other food service establishments.
What does a Bartender do?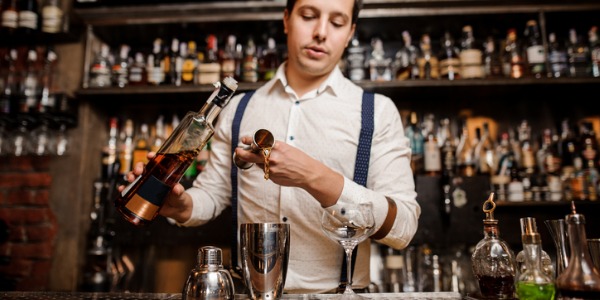 A bartender will typically do the following:
Greet customers, inform them about daily specials, and give them menus
Take drink orders
Pour wine and serve draft or bottled beer and other alcoholic or non-alcoholic drinks
Mix drinks according to recipes
Check identification of customers to ensure they are of legal drinking age
Clean bars, tables, and work areas
Operate cash registers, collect payments from customers, and return change
Manage bar operation and order and maintain liquor and bar supplies
Some establishments, especially busy establishments with many customers, use equipment that automatically measures, pours, and mixes drinks at the push of a button. Bartenders who use this equipment, however, still must work quickly to handle a large quantity of drink orders and be familiar with the ingredients for special drink requests. In some establishments they may also use carbonated beverage dispensers, cocktail shakers or accessories, commercial strainers, mist or trigger sprayers, and ice shaver machines.
In addition to mixing and serving drinks, bartenders stock and prepare garnishes for drinks and maintain an adequate supply of ice and other bar supplies. They also may wash glassware and utensils, and serve food to customers who eat at the bar. They are typically responsible for ordering and maintaining an inventory of liquor, mixers, and other bar supplies.
What is the workplace of a Bartender like?
Bartenders work in restaurants, bars, clubs, hotels, and other food service establishments.
Bartenders are also known as:
Barkeep Mixologist Barman Barmaid