What is a Bartender?
What do a Moscow Mule, Aperol Spritz, Manhattan, Daiquiri, and Whiskey Sour have in common? A bartender, of course!
A bartender is someone who mixes and serves drinks to customers, either directly to customers at the bar, or through waiters and waitresses who place drink orders for dining room customers.
Bartenders have to know a wide range of drink recipes and be able to mix drinks accurately, quickly, and without waste. You'll find them working in restaurants, bars, clubs, hotels, and other food service establishments.
What does a Bartender do?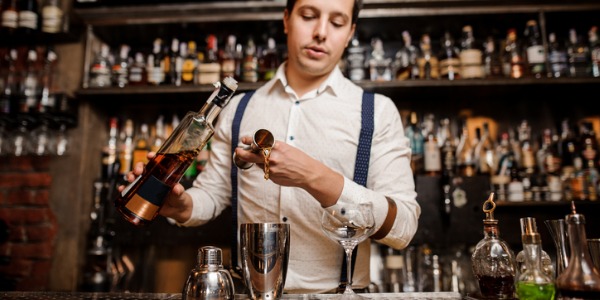 A bartender will typically do the following:
- Greet customers, inform them about daily specials, and give them menus
- Take drink orders
- Pour wine and serve draft or bottled beer and other alcoholic or non-alcoholic drinks
- Mix drinks according to recipes
- Check identification of customers to ensure they are of legal drinking age
- Clean bars, tables, and work areas
- Operate cash registers, collect payments from customers, and return change
- Manage bar operation and order and maintain liquor and bar supplies
Some establishments, especially busy establishments with many customers, use equipment that automatically measures, pours, and mixes drinks at the push of a button. Bartenders who use this equipment, however, still must work quickly to handle a large quantity of drink orders and be familiar with the ingredients for special drink requests.
In some establishments they may also use carbonated beverage dispensers, cocktail shakers or accessories, commercial strainers, mist or trigger sprayers, and ice shaver machines.
In addition to mixing and serving drinks, bartenders stock and prepare garnishes for drinks and maintain an adequate supply of ice and other bar supplies. They also may wash glassware and utensils, and serve food to customers who eat at the bar. They are typically responsible for ordering and maintaining an inventory of liquor, mixers, and other bar supplies.
What is the workplace of a Bartender like?
Bartenders work in restaurants, bars, clubs, hotels, and other food service establishments.
Bartenders work on their feet for long periods of time. Many lift heavy cases of liquor, beer, or other bar supplies. They often fill drink orders for waiters and waitresses who are serving dining room customers. As a result, bartenders must work well with their colleagues to ensure that customers receive prompt service.
Frequently Asked Questions
What are the steps to becoming a Bartender?

There aren't specific steps to becoming a bartender. Some bartenders qualify through work-related experience. They may start as bartender helpers and progress into full-fledged bartenders as they learn basic mixing procedures and recipes. New workers often learn by working with a more experienced bartender.

Some employers teach new workers using self-study programs, online programs, audiovisual presentations, or instructional booklets that explain service skills. Such programs communicate the philosophy of the establishment, help new bartenders build personal rapports with other staff, and instil a desire to work as a team.

Some bartenders learn their skills by attending a school for bartending or by attending bartending classes at a vocational or technical school. These programs include instruction on how to stock a bar, learning popular cocktail recipes, food safety procedures, basic customer service, teamwork, and learning about local laws and regulations. Programs also provide an opportunity to discuss proper ways to handle unruly customers and unpleasant situations. Most courses last a few weeks, with some schools helping their graduates to find jobs.

Advancement for bartenders is usually limited to finding a job in a busier or more expensive restaurant or bar where prospects of earning tips are better. Some bartenders advance to supervisory jobs, such as dining room supervisor, maitre d', assistant manager, or restaurant general manager.
Should I become a Bartender?

Bartending can be a terrific job for some people, yet for others it can be a big mistake. The people who are successful in this career are driven to make their guests happy and take pride in being able to provide an experience for the patrons. Before you choose bartending as a career path (or even as a temporary job), you might want to take the following things into consideration:

It's Not Easy Work
Many people go into bartending thinking they will just hang out at the bar all day. While it's definitely a social job and there are some fun aspects to it, it's also very hard physical work. You're constantly on the go, on your feet for hours on end, and constantly dealing with a lot of people.

Multi-Tasking Skills And Quick Memory Recall Is Needed
Bartenders need to be able to do everything at once. Most bartenders can multi-task, however good bartenders can multi-task while keeping the drinks to a very high standard. The best bartenders can do everything while keeping a smile on their face.

Being Nice To People
Sometimes, no matter how polite or fun you try to be there will be a small percentage of people that are going to be miserable. It's important to be as nice as possible, check your ego and keep smiling so as to not let these people bring down the energy of the space or the staff. If someone is having a bad day sometimes it's best to keep the interactions with them short and sweet, and not give the guest any more fuel to the fire.

Setting Boundaries
There will be times when people will hit on you, and in these situations there is a fine line between being nice and being too nice. Getting romantically involved with customers is usually a bad idea, and you'll need to get very adept at setting social boundaries.

Steady Income Depends On Area
A bartender's salary can range widely, depending on the shifts worked, the location, and the venue. Bartending can be very lucrative in big cities such as Las Vegas, Manhattan, Boston, Seattle, or Miami. In these cities, a bartender can make quite a bit of money working at a nightclub or a fine dining restaurant. Also, bartenders earn more in areas/states that have a more liberal-minded population, while in more conservative areas bartenders earn considerably less.

Risks To Bartending
Serving too many drinks to someone who is already drunk, or to an underaged individual, could potentially get you into legal trouble. You should definitely be aware that you're taking on a lot of responsibility when you become a bartender and it could come back to haunt you.

Choosing A Venue
You can be a bartender at a variety of venues, such as restaurants, sports bars, night clubs, seedy bars, golf clubs, etc. Think carefully about where you apply for a bartending job so as to pick the place that best suits you.

Bartending Hours
On average, bartenders probably do ten to twelve hour shifts, sometimes with no break. There are hours of prep work, hours of clean-up, and hours of catering to the demands of people. Night club shifts are the most demanding (flashing lights, loud music, and almost a constant sense of urgency) - shifts start at approximately 9-10pm, and there is an expectation that you may still be there at 6-8am cleaning up.

Being Around A Lot Of Alcohol
Working as a bartender could be a really high-risk job if you have any sort of drinking problem or you tend to have trouble doing things in moderation. Bartenders constantly have opportunities to drink, and may be enticed by watching everyone else have fun and wanting to participate.

Free Drinks Expectations
Your friends will probably come visit you at the bar and expect free/cheap drinks. This can potentially cause problems with the venue you work at, and can also cost you some misunderstandings with your friends if you're not careful. It's good to know how you will deal with this from the get go.

Bartending Can Be A Superficial Job
There will be many people that you will end up meeting during your time as a bartender (both in front of and behind the bar). Most of these friendships are going to be quite superficial and many people end up feeling jaded about the industry after awhile.

You Need To Know All The Latest Drinks
If you'd like to be a good bartender, you need to make sure that you've got a good memory for a lot of different drinks (new and old). People tend to get irritated very quickly if you don't know how to make certain drinks.

A Temporary Gig
Bartending can be a great job but it's not necessarily the right career for a lot of people, especially long-term. You can bartend for a little while if you want to, and have a bigger goal to work towards as well. In fact, many people work two or three shifts per week while putting themselves through school.
Bartenders are also known as:
Barkeep Mixologist Barman Barmaid