What is a Cargo and Freight Agent?
Cargo and freight agents play a very important role in the economy! How? By helping transport products or raw materials from one point to the next.
A cargo and freight agent coordinates and facilitates incoming and outgoing shipments for transportation industries such as airlines, shipping, and railroad companies.
What does a Cargo and Freight Agent do?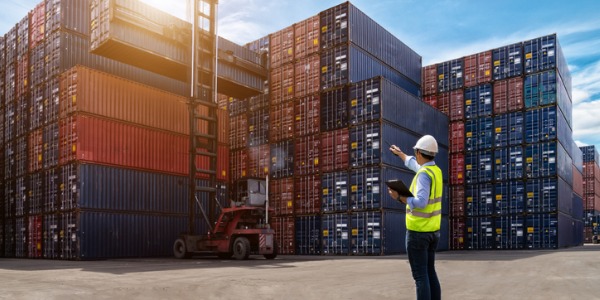 Cargo and freight agents facilitate shipments of goods through airline, shipping, train, and trucking terminals and docks.
Agents ensure that shipments are picked up and delivered on time, paperwork is completed, and fees are collected. For international shipments, agents prepare and verify customs and tariff forms.
Some other duties cargo and freight agents have:
- Determine shipping methods and routes from pick-up location to final destination
- Advise clients on transportation and payment options
- Coordinate transportation and logistics details with shipping and freight companies
- Estimate, negotiate, and determine postal rates, shipment costs, and other charges
- Notify clients of cargo shipments, status en route, and time of delivery
- Prepare bills of lading, invoices, and other required shipping documents
- Record information such as cargo amount, weight, dimensions, time of shipment
- Trace lost shipments as necessary
Cargo and freight agents typically manage shipments for multiple clients at once. They often arrange their clients' cargo and freight by destination, and send out many shipments simultaneously.
Accurate record keeping is essential for tracking shipment updates, inventories, client and payment records, and other information. Agents use computer programs to store records, track inventory, and communicate with clients. They must be familiar with and feel comfortable using various software programs.
What is the workplace of a Cargo and Freight Agent like?
Cargo and freight agents typically work in warehouses, stockrooms, or shipping and receiving stations. They interact frequently with clients, logistics companies, and others in the shipping industry. They must be able to courteously and promptly provide shipment updates, price quotes, and other information upon request.
Cargo and freight agents must make sure that cargo arrives or is picked up at its destination on time and must be able to plan shipments to ensure prompt delivery.
Often, worksites are not temperature-controlled. As a result, some agents spend time working in cold storage facilities or may be exposed to all types of weather on outdoor loading platforms.
Cargo and Freight Agents are also known as:
Cargo Agent Freight Broker Intermodal Dispatcher Load Planner Freight Forwarder Freight Agent