CareerExplorer's step-by-step guide on how to become a carpenter.
Step 1
Is becoming a carpenter right for me?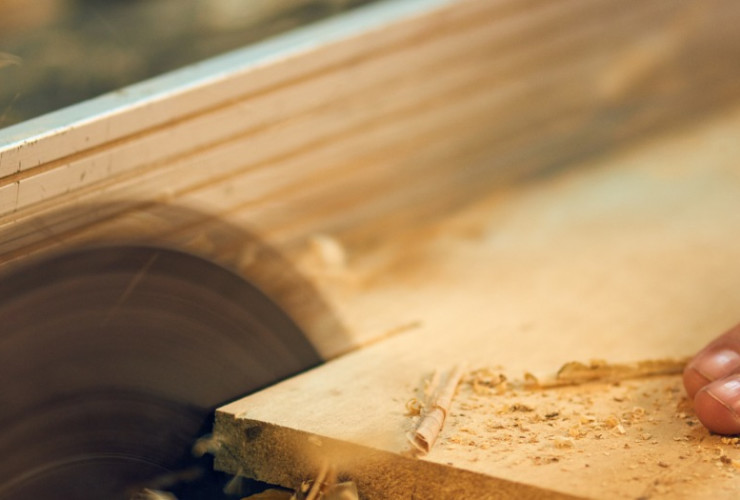 Step 2
High School
Carpentry is one of the trades for which it is relatively easily to gain directly relevant experience while completing high school. Courses in the following subject areas will likely lead to a smoother transition into a carpentry apprenticeship or technical school program:
• Drafting
• Mathematics: algebra and geometry
• Carpentry / Woodworking / 'Shop Class'
• Mechanical Drawing
In addition to taking classes like these, which are pertinent to the everyday work of a carpenter, it is also important to pay attention in English class, as strong communication skills will be helpful in reading blueprints, installation instructions, and safety information. This skill also helps carpenters give clear directions to subordinates and comfortably and effectively interact with both clients and colleagues. Learning a second language, particularly Spanish for aspiring carpenters in the U.S., will also prove to be beneficial in interacting with coworkers for whom English is not their first language.
Outside of the classroom, prospective carpenters can further begin to prepare for an apprenticeship and their future trade by:
• Asking to become a teacher's assistant (TA) in shop class, after having completed the class themselves
• Getting involved in building sets for school drama productions
• Finding part-time or summer work as a carpenter's helper
• Inquiring about free or inexpensive basic carpentry or related classes and workshops offered through local community centers
• Volunteering with programs like Habitat for Humanity
Step 3
An Educational or Apprenticeship Program
Three-to-four-year carpentry apprenticeships are offered by many employers and may be sponsored by unions, contractors, or government employment agencies. Generally, applicants need to be at least 18 years of age and may also need a referral form from a state agency, contractor, or union.
The United States Department of Labor runs an apprenticeship registry. Carpenters are among the top users of the program.
Both apprenticeships and technical school two-year certificate/diploma programs are designed to acquaint students with hand tools and power tools and to develop safety awareness and fundamental skills in handling, measuring, altering, and assembling materials. Programs are often divided into specialties, like general carpentry, cabinetry, or floor covering.
Step 4
Employment & Experience
According to the U.S. Bureau of Labor Statistics, carpenters most commonly work for general contractors, specialty contractors, or for themselves. They may also find employment with manufacturing firms, retailers, and government agencies. A common strategy is to alternate working for a contractor and working independently, as a freelancer. At any given time, about a third of all carpenters are self-employed.
Union membership will likely be required of carpenters who complete a union-affiliated apprenticeship. In some parts of the United States, membership in a labor union can be an advantage when bidding on jobs. Another benefit is that unions typically provide ongoing training to members.
Step 5
Career Advancement, Continuing Education, and Certification
Frequently Asked Questions
How long does it take to become a Carpenter?
The length of time required to become a carpenter depends on the chosen learning track.
An apprenticeship is the most common path and takes between three and four years to complete. Diploma and certificate programs offered by technical and vocational schools generally last one or two years.
What are Carpenters like?
Based on our pool of users, carpenters tend to be predominately investigative people. The general public should, indeed, be pleased with this finding. Carpenters have to interpret blueprints and drawings to determine dimensions and materials required and installation processes to be followed. This detailed and precise work most definitely calls for inquisitive, analytical, inspecting, and investigative minds.
Should I become a Carpenter?
The skill set that carpenters must possess is a blended one of both science and art.
Physical Strength and Stamina
Carpentry is physical work that calls for physical strength.
Eye for Detail
Precision cannot be compromised in carpentry. Installing items properly requires attention to specifications and precise measurements.
Critical Thinking and Troubleshooting Abilities
Carpenters depend on suppliers of wood and other materials, co-workers, and client specifications. They will inevitably encounter delays, crew issues, and unexpected changes made by the client. In these situations carpenters must be able to think quickly, clearly, and critically to come up with workable solutions.
Math Skills
Carpenters use math skills to accurately calculate sizes, distances, and quantities of material, as well as project timelines and costs; to interpret design blueprints; and to complete other project-planning tasks. The field involves a continuous interplay of algebra, geometry, statistics, and calculus.
Mechanical Skills / Hand-Eye Coordination / Manual Dexterity
Carpenters need to be comfortable operating the wide variety of mechanical tools and machines that are used in the trade to shape and cut materials to specific dimensions. These include extension ladders, electronic and laser levels, power sanders, power saws, and framing squares.
Computer Skills
In addition to hand and power tools, carpenters often use computers. Familiarity with word-processing software allows them to effectively communicate with clients and managers about the scope, design, and status of projects. They may use project planning and management software to keep track of project tasks. Those who work for themselves have to be familiar with accounting and job-estimating programs.
Creativity
While it is important to pay attention to the client's wishes and ideas, it is equally important to be able to present alternative creative and innovative ideas.
Communication Skills
A coherent channel of communication between carpenter and client and carpenter and colleagues is essential to the smooth operation of a project.
Before deciding to pursue carpentry, consider an experienced carpenter's response to the question, What is the biggest misconception people have about your job?
I'm not sure what the biggest misconception is. I know I have looked at it from the outside-in myself. I've been in the company of other carpenters and seen the work of other people and have held differing opinions. I think many DIY-minded folk underestimate the skill and capability we good carpenters have developed over decades of repetition and practice. I think there is a sentiment that because HGTV shows a handsome young wannabe-actor swing a sledge-hammer in minute seven, then shows a beautiful (as far as the camera sees) finished project at minute twenty-nine as the credits roll, that any semi-handy fella or lady can do the things that we pros have made a career of.
I often feel that our financial value – our wages or percentage of project costs – is set lower because the threshold to entry into the carpentry trade is fairly low. Almost everyone had a grandpa or an uncle who knew some carpentry, right? How hard can it be? 'Why should we pay you that rate when there are so many other raggedly-dressed, semi-alcoholic, somewhat-boorish guys parked all over the lot at the local Home Depot on any given Saturday morning?'
Long ago I worked with a guy who was a bit more experienced than I was and we were discussing our pay and our hourly rate. He told me, 'Look, I don't get paid for what I do in an hour. I get paid what I get paid for what I CAN do in an hour – any hour, anywhere, on any job.' This has always sat inside my mind and I've tried to express this in my sales meetings and materials as well. I am a professional carpenter and my capabilities come at a certain cost. So, while you may feel you are paying more for my tradework than you may have to pay someone else, the added cost buys you a conscientious, articulate, sane, sober, and trustworthy professional within your home and at your beck-and-call throughout our contract.
To sum up, and to clarify my own thoughts on the question, I guess the biggest misconception I've seen about carpentry is that it is viewed by too many people to be a low-skilled, low-caliber trade not worthy of as much regard as mechanical trades or other skilled trades. The reality is that there are many of us who are consummate professionals…in dusty jeans and sweatshirts.
Steps to becoming a Carpenter
The path to becoming a carpenter starts with taking advantage of early opportunities in high school to lay a foundation for learning carpentry. It progresses with finding the right apprenticeship or technical school program to commit to the trade. And it continues with seeking career-long options for advancement and professional certification.
How to become a Carpenter
While there is no formal, standardized training required to enter the carpentry field, a high school diploma or GED equivalent is preferred by the majority of employers. Entry-level job candidates who have taken high school courses in woodworking, mechanical drawing, or drafting generally have the edge when applying for carpentry apprenticeships.
Several trade unions offer apprenticeship training programs for aspiring carpenters. Applicants must be at least 18 years of age (or 17 years of age, with parental consent) and are selected based on their performance in both oral and written tests. Successful candidates will receive at least 2,000 hours of hands-on training and 144 hours of classroom education. During their apprenticeship, they work closely with master carpenters, learning about structural design, architectural drawings, blueprint reading, framing and finishing systems, building codes, and safety practices and compliance. Some apprenticeships may focus on certain types of projects, such as industrial, commercial, or residential; and provide training in specialized areas like concrete, rigging, and scaffold building.
Prospective carpenters may also opt to receive direct, on-the-job training from contractors. However, those who do so often take much longer to acquire the skills needed to progress in the field. Moreover, they will not earn higher union wages or receive some of the benefits that are exclusive to union members.
Many vocational and technical schools offer Associate level carpentry degrees. In some cases, graduates of these two-year programs – some of which are affiliated with unions – succeed at getting higher-paying entry-level positions.
Carpenters may obtain voluntary certification from national organizations to document specific skills and enhance job prospects. The National Association of the Remodeling Industry, for example, offers nine different certifications.