What is a Delivery Service Driver?
A delivery service driver is responsible for transporting goods or packages from one location to another. Their role revolves around driving a vehicle, typically a van or a truck, to complete deliveries efficiently and on time. They work for various industries, including courier services, logistics companies, e-commerce platforms, and local businesses that offer delivery services.
The primary duty of a delivery service driver is to ensure the safe and timely transportation of packages or goods to their intended destinations. They receive a list of delivery addresses or routes and carefully plan their routes to optimize efficiency and minimize delivery times. Delivery service drivers must have good knowledge of the local area, including street layouts and traffic patterns, to navigate effectively.
What does a Delivery Service Driver do?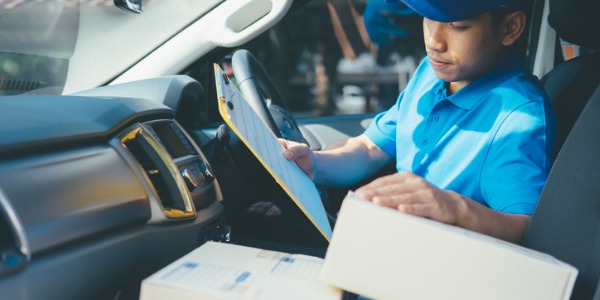 Delivery service drivers play a vital role in the supply chain, ensuring that goods are delivered reliably and efficiently to customers or businesses.
Duties and Responsibilities
The duties and responsibilities of delivery service drivers typically include:
Package Pickup and Loading: Delivery service drivers are responsible for picking up packages or goods from a designated location, such as a warehouse or distribution center. They carefully load the items into their vehicle, ensuring proper handling and securing packages to prevent damage during transit.
Route Planning and Navigation: Delivery drivers plan their routes based on the delivery addresses provided. They utilize maps, GPS systems, or navigation apps to determine the most efficient and timely paths to reach each destination. They consider factors like traffic conditions, road closures, and time constraints to optimize their routes.
Timely Deliveries: Delivery service drivers prioritize prompt and timely deliveries. They aim to meet delivery schedules and deadlines provided by their employer or customers. They manage their time effectively to ensure efficient deliveries while maintaining a high level of customer service.
Safe and Efficient Driving: Delivery drivers are responsible for operating their vehicle safely and adhering to traffic laws and regulations. They practice defensive driving techniques, maintain appropriate speed limits, and follow all road signs and signals. They take precautions to ensure the safety of themselves, other road users, and the packages they are transporting.
Customer Service: Delivery service drivers often have direct contact with customers when delivering packages. They must exhibit professionalism, friendliness, and excellent customer service skills. They may answer questions, provide basic instructions or assistance, and handle any customer concerns or issues that arise during the delivery process.
Package Tracking and Documentation: Delivery drivers may use tracking systems or handheld devices to update the status of packages, scan barcodes, or collect electronic signatures upon delivery. They ensure accurate documentation and maintain records of deliveries, including proof of delivery and any necessary paperwork.
Vehicle Maintenance and Reporting: Delivery drivers are responsible for the upkeep of their delivery vehicles. They perform regular maintenance checks, such as checking tire pressure, fluid levels, and ensuring proper vehicle functioning. They report any vehicle issues or malfunctions promptly to their employer or fleet management.
Adhering to Delivery Policies and Procedures: Delivery service drivers follow specific protocols and guidelines set by their employer or company. They adhere to delivery policies, such as contactless delivery procedures, special handling instructions, or specific package requirements.
Flexibility and Adaptability: Delivery drivers must be flexible and adaptable to changing circumstances. They may encounter unexpected delays, changes in delivery instructions, or unforeseen circumstances during their routes. They need to be able to adjust their plans and problem-solve to ensure successful deliveries.
Safety and Security: Delivery drivers take precautions to ensure the security and integrity of the packages they transport. They follow protocols for handling sensitive or fragile items, ensure the proper handling of hazardous materials if applicable, and take measures to prevent theft, loss, or damage during transit.
Types of Delivery Service Drivers
There are various types of delivery service drivers based on the specific nature of their work and the industries they serve. Here are a few examples:
Package Delivery Drivers: These drivers work for courier companies or delivery services, transporting packages and parcels from distribution centers to residential or business addresses. They may deliver items ranging from small packages to larger shipments.
Food Delivery Drivers: Food delivery drivers work for restaurants, online food delivery platforms, or catering services. They transport prepared meals or food orders from restaurants to customers' homes or workplaces. These drivers often use motorcycles, bicycles, or cars for quick and efficient deliveries.
Freight Truck Drivers: Freight truck drivers operate large commercial vehicles to transport goods over long distances. They may work for freight companies, logistics firms, or shipping companies, delivering large shipments or pallets of goods to warehouses, businesses, or distribution centers.
Medical Supply or Pharmaceutical Delivery Drivers: These drivers specialize in transporting medical supplies, equipment, or pharmaceutical products. They may work for healthcare organizations, pharmacies, or medical supply companies, ensuring the safe and timely delivery of critical items to hospitals, clinics, or patient residences.
Postal Service or Mail Delivery Drivers: Postal service or mail delivery drivers work for government postal agencies or private courier services. They deliver letters, packages, and other mail items to residential and business addresses within designated routes.
Retail or E-commerce Delivery Drivers: These drivers are employed by retail companies or e-commerce platforms to deliver goods directly to customers. They may work for large retailers, online marketplaces, or delivery service providers associated with specific businesses, ensuring timely deliveries of online orders.
Specialty Delivery Drivers: There are specialized delivery drivers who cater to specific industries or types of goods. For example, floral delivery drivers transport flowers and floral arrangements, while grocery delivery drivers focus on delivering groceries and household items directly to customers' doors.
What is the workplace of a Delivery Service Driver like?
Delivery service drivers spend most of their time on the road. They have a physically demanding job; when loading and unloading cargo, drivers do a lot of lifting, carrying, and walking.
Delivery Service Drivers are also known as:
Delivery Truck Driver Delivery Driver Package Delivery Driver Delivery and Courier Service Driver