What is a Truck Driver?
A truck driver is a professional driver who operates a large commercial vehicle, typically a truck or tractor-trailer. These drivers transport goods and materials between locations, often over long distances. They are responsible for loading and unloading cargo, securing loads, and ensuring that their vehicles are in good working condition.
Truck drivers must have a valid commercial driver's license (CDL) and be trained to operate their vehicles safely and efficiently. They must also comply with strict regulations, including hours-of-service rules that limit the amount of time they can spend on the road without taking a break. Truck driving can be a challenging and demanding career, but it can also be rewarding for those who enjoy travel and the independence of the open road.
Get online training through our partner:
What does a Truck Driver do?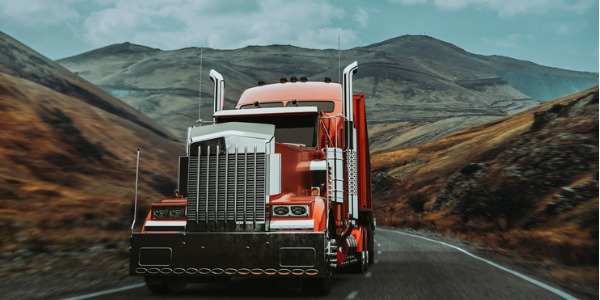 There are several different types of truck drivers, each with their own specific responsibilities and requirements. Each type of truck driving requires specific skills, training, and certifications. Some drivers may specialize in one type of truck driving, while others may have experience in several areas. Here are some of the most common types:
Long-haul truck drivers: These drivers transport goods over long distances, often cross-country. They may be away from home for several days or even weeks at a time.
Local delivery drivers: These drivers transport goods within a specific region or metropolitan area. They may make multiple stops throughout the day and are typically home each night.
Hazmat drivers: These drivers transport hazardous materials, such as chemicals or explosives, that require special handling and safety precautions.
Refrigerated truck drivers: These drivers transport goods that require temperature-controlled environments, such as perishable food or pharmaceuticals.
Flatbed truck drivers: These drivers transport oversized or bulky items, such as construction equipment or building materials, that cannot be carried in a standard trailer.
Tanker truck drivers: These drivers transport liquids, such as fuel or chemicals, in specialized tank trailers.
Owner-operators: These drivers own and operate their own trucks, often working as independent contractors for a variety of companies.
While there are several important traits that can help make a successful truck driver, one of the most essential is responsibility. As a truck driver, you are responsible for operating a large and potentially dangerous vehicle, often carrying valuable or hazardous cargo. You must be able to make safe decisions at all times and follow all traffic laws and regulations.
Responsibility also extends to taking care of your equipment, including performing regular maintenance and inspections to ensure your truck is in good working condition. Additionally, truck drivers must be responsible for their own time management and ensuring that they meet delivery schedules and other job responsibilities.
What is the workplace of a Truck Driver like?
The workplace of a truck driver is primarily their truck, which is their mobile office and home while on the road. The truck cab is equipped with a driver's seat, controls, and a variety of tools and equipment needed to operate and maintain the vehicle. There is also a sleeper berth in the back of the truck cab for resting and sleeping.
While on the road, truck drivers spend most of their time driving and navigating through traffic and various road conditions. They must be aware of their surroundings, follow traffic laws and regulations, and manage their time effectively to meet delivery schedules and other job responsibilities.
Truck drivers often work long hours, including nights, weekends, and holidays. They may spend several days or even weeks away from home, traveling long distances to deliver their cargo. This can lead to feelings of isolation or loneliness, as truck drivers often have limited interaction with other people while on the road.
When not on the road, truck drivers may spend time at truck stops or rest areas, where they can take breaks, get some rest, and eat. They may also spend time at shipping docks or warehouses, where they load and unload cargo and complete paperwork.
Frequently Asked Questions
Are there many Truck Driving jobs?

There are many truck driving jobs available in various industries, making it a stable and in-demand career. According to the Bureau of Labor Statistics (BLS), there were about 2.8 million heavy and tractor-trailer truck drivers employed in the United States in 2020, making it one of the largest occupations in the country.

The demand for truck drivers is expected to continue to grow in the coming years, with the BLS projecting a 2% increase in employment from 2020 to 2030. This growth is due in part to the continued expansion of the transportation and logistics industry, as well as the need to replace retiring truck drivers.

There are a variety of industries that employ truck drivers, including long-haul trucking, local delivery, and construction. Some truck drivers work for large companies, while others may work for small businesses or as independent contractors.

In addition to traditional truck driving jobs, there are also opportunities for specialized truck driving, such as operating tanker trucks or driving oversized loads. Some truck drivers may also choose to become owner-operators, owning and operating their own trucks and working as independent contractors.

Overall, there are many truck driving jobs available in a variety of industries, making it a viable and stable career option for those interested in driving and working in the transportation and logistics industry.
Are Truck Drivers happy?

Truck drivers rank among the least happy careers. Overall they rank in the 11th percentile of careers for satisfaction scores. Please note that this number is derived from the data we have collected from our Sokanu members only.

This notably low happiness quotient among truck drivers could be connected to the demand of the career to opt not just for a job, but for a lifestyle that has potentially significant negative impacts on personal health, relationships, and general work/life balance.
Should I become a Truck Driver?

Before attempting to answer this question, perhaps the most important thing to recognize is that trucking is not a job. It is a lifestyle – one that is largely responsible for the high driver turnover rate at large truckload companies.

It has been said that your personality and attitude will make or break you as a truck driver. To be successful in the role, you have to be a self-starter, independent, and extremely patient.

Take some time to consider both the disadvantages and the advantages of this career:

Disadvantages

Time away from family and friends
It is not uncommon for an OTR (Over the Road) truck driver to earn only one day of home time for every week out on the road. You will almost never be guaranteed to be home on a specific day, meaning you may miss birthdays, holidays, or other special events.

Irregular sleep patterns*
There are many federal regulations that govern when, where, and how much you must sleep in any given 24-hour period. When you get into the trucking industry you will find that these regulations are not always followed to the letter. Even if they are followed, they force your sleep pattern and work schedule. You will find that sometimes you must rest when you're not tired and work when you are tired; and there is nothing you can do about it.

Irregular weather patterns
You will be crossing the country on a regular basis, warm weather one day and then freezing temperatures and snow packed roads the next. Some people have a hard time with the environmental changes to which you will be exposed on a regular basis. Some have problems with allergies due to the constant climate and environmental variations.

Limited truck parking
In most states, there are way more trucks on the road than there are parking spots. This can be very frustrating and sometimes even infuriating, particularly when you are exhausted and short on the hours you can legally drive.

Inconvenience
Trucks do not come with a toilet, shower, or kitchen. Being a truck driver means using public restrooms and showers regularly. Most drivers purchase the majority of their meals at truck stops, even though it is possible to do some cooking inside modern trucks.

Stress
Deadlines, traffic, accidents, breakdowns, incompetent dispatchers, slow shippers, load issues, living in a very small space, bad weather, and a lack of parking spaces at truck stops and rest areas can really grind your nerves down.

Potential health challenges
Staying healthy can be hard when driving a truck for a living. You will spend many hours just sitting and driving with almost no movement. Boredom sets in easily and you tend to snack more than if you had an active job. Those snacks – especially from fast food joints and truck stop vendors – turn into pounds very fast.

Advantages

Truckers are always in demand
Today, almost everything is moved by truck. Companies no longer warehouse large amounts of goods due to overhead and storage costs. This means that products are always on wheels and must be delivered in a consistent flow. Job stability, therefore, is one of the great advantages of being a truck driver. Most companies are always hiring.

No boss – for the most part
Truckers who adhere to the law, follow safety regulations, and deliver on time rarely hear from their driver manager or anyone else from the trucking company that employs them. For many truck drivers, having no boss telling them what to do and how to do it is particularly appealing.

The open road
For some truckers, the lure of the open road calls them to the occupation. While trucking presents its share of challenges, it also provides drivers with the opportunity to see forests, mountains, deserts, plains, grasslands, big cities, and remote hamlets – from the east coast to the west coast.

No experience needed
Some trucking companies hire aspiring drivers with no experience. They bear all or part of the cost of training.
What are Truck Drivers like?

Based on our pool of users, truck drivers tend to be predominately investigative people. They tend, almost in equal measure, to be enterprising. Both of these traits reflect perfectly the demands that truck drivers face. They commonly must investigate evolving conditions and circumstances and enterprisingly find ways to literally and figuratively keep going.
How long does it take to become a Truck Driver?

The amount of time it takes to become a truck driver can vary depending on the specific requirements and training needed for the type of truck driving you wish to pursue. Here are some general guidelines:

CDL training: To become a truck driver, you must first obtain a commercial driver's license (CDL). CDL training programs can vary in length, but typically range from three to eight weeks. These programs can be found at truck driving schools, community colleges, or vocational schools.
On-the-job training: Once you have obtained your CDL, many trucking companies require new drivers to complete additional on-the-job training. This can last anywhere from a few weeks to several months, depending on the company and the type of driving you will be doing.
Specialized training: Some types of truck driving require additional specialized training, such as hazardous materials or tanker endorsements. This training can add additional time to the process.

In total, it can take anywhere from a few weeks to several months to become a truck driver, depending on the specific type of driving you want to pursue, and the time it takes to complete any required training or certifications. It's important to research the specific requirements and training needed for the type of truck driving you are interested in, and to choose a reputable training program or company to work with.
Truck Drivers are also known as:
Line Haul Driver Log Truck Driver Over the Road Driver OTR Driver Semi Truck Driver Tractor Trailer Operator Tractor Trailer Driver Trucker