What is a Dental Hygienist?
A dental hygienist specializes in oral health and hygiene. They work closely with dentists to provide preventive dental care and educate patients about maintaining good oral hygiene practices. Dental hygienists typically perform various tasks such as cleaning and polishing teeth, taking dental X-rays, applying fluoride treatments, and providing oral health assessments. They also play a crucial role in educating patients on proper brushing and flossing techniques, as well as offering advice on nutrition and lifestyle habits that contribute to dental health.
In addition to their clinical responsibilities, dental hygienists often collaborate with dentists in developing treatment plans for patients and documenting their findings. They may also perform screenings for oral diseases such as gum disease and oral cancer, providing early detection and referral for further evaluation and treatment. By working alongside dentists, dental hygienists contribute to the overall oral health of individuals and help prevent dental issues from progressing, ensuring that patients maintain healthy teeth and gums.
Get online training through our partner:
What does a Dental Hygienist do?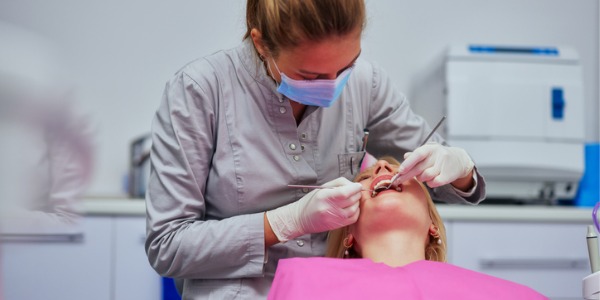 Dental hygienists provide essential preventive care, patient education, and support in maintaining optimal oral health. Their expertise, skills, and dedication significantly contribute to reducing oral diseases, improving patient outcomes, and promoting overall well-being.
Duties and Responsibilities
The duties and responsibilities of a dental hygienist include:
Dental Cleanings: Dental hygienists are responsible for performing thorough teeth cleanings, also known as dental prophylaxis. They remove plaque, tartar, and stains from the teeth using specialized tools and equipment. This process helps prevent tooth decay, gum disease, and other oral health issues.
Patient Education: Dental hygienists play a crucial role in educating patients about proper oral hygiene practices. They teach patients how to brush and floss effectively, provide guidance on using mouth rinses and other dental products, and offer advice on maintaining a healthy diet for optimal oral health. By empowering patients with knowledge, dental hygienists enable them to take proactive steps in caring for their teeth and gums.
Dental Examinations: Dental hygienists often conduct preliminary dental examinations before the dentist's evaluation. They examine patients' teeth and gums, charting any abnormalities or areas of concern. They may take dental X-rays, measure gum pocket depths, and perform screenings for oral diseases, helping to identify potential issues and assist in developing treatment plans.
Treatment Planning: Dental hygienists collaborate with dentists to develop individualized treatment plans for patients. They assist in assessing oral health conditions, determining the need for specific treatments such as fillings or periodontal therapy, and recommending appropriate follow-up care. Their expertise and observations help dentists provide comprehensive dental care to patients.
Oral Health Maintenance: Dental hygienists often perform preventive treatments to help maintain oral health. This may include applying fluoride treatments to strengthen teeth, placing sealants on vulnerable surfaces to prevent cavities, and providing instructions for at-home care. They may also assist with periodontal maintenance, which involves deep cleaning procedures for patients with gum disease to manage and control the condition.
Recordkeeping and Documentation: Dental hygienists maintain detailed patient records and document their findings, treatment plans, and procedures performed. Accurate recordkeeping ensures continuity of care, allows for effective communication with the dental team, and aids in monitoring patient progress over time.
Types of Dental Hygienists
There are several types of dental hygienists, each with their own specialization or area of focus. Some of the common types of dental hygienists include:
Clinical Dental Hygienist: This is the most common type of dental hygienist. Clinical dental hygienists work in dental offices or clinics, providing direct patient care. They perform dental cleanings, conduct oral examinations, take dental X-rays, and provide patient education on oral hygiene practices.
Public Health Dental Hygienist: Public health dental hygienists work outside of traditional dental settings, often in community health centers, schools, or public health programs. They focus on promoting oral health at a population level, working to improve access to dental care, conducting dental screenings, and implementing preventive programs in underserved communities.
Research Dental Hygienist: Research dental hygienists work in academic or research settings, conducting studies and clinical trials related to oral health. They may collect and analyze data, contribute to research publications, and assist in the development of new dental treatments or technologies.
Education/Teaching Dental Hygienist: Education dental hygienists work in dental hygiene programs or schools, teaching aspiring dental hygienists. They educate students on dental hygiene theory and practice, supervise clinical experiences, and provide guidance in preparing for licensure exams.
Corporate/Industry Dental Hygienist: Corporate or industry dental hygienists work for dental product companies, dental equipment manufacturers, or dental insurance companies. They may provide education and training on dental products or equipment to dental professionals, assist with product development, or work in sales and marketing roles.
What is the workplace of a Dental Hygienist like?
The workplace of a dental hygienist can vary depending on the setting in which they work. The most common workplace for dental hygienists is in dental offices or clinics. In these settings, dental hygienists typically work alongside dentists and dental assistants as part of a dental team. The dental office or clinic environment is usually clean, well-lit, and equipped with dental chairs, instruments, and dental technology necessary for providing oral healthcare.
Dental hygienists may also work in alternative settings, such as community health centers, hospitals, or nursing homes. In these environments, they may focus on providing dental care to underserved populations or individuals with special needs. These settings often require dental hygienists to adapt their practices to meet the unique needs and challenges of their patients.
Another workplace option for dental hygienists is in educational institutions, where they may work as instructors in dental hygiene programs. They may teach courses, supervise clinical experiences, and assess students' progress. These settings provide an opportunity for dental hygienists to contribute to the education and training of future dental professionals.
Regardless of the workplace, dental hygienists typically spend a significant portion of their time interacting directly with patients. They perform dental cleanings, conduct oral examinations, take X-rays, and provide patient education on proper oral hygiene practices. This direct patient care aspect of the job requires strong interpersonal and communication skills to effectively interact with patients, address their concerns, and educate them about oral health.
Frequently Asked Questions
Dentistry Related Careers and Degrees
Dental Hygienists are also known as:
Clinical Dental Hygienist