What is a Prosthodontist?
A prosthodontist is a dental specialist who focuses on the restoration and replacement of missing or damaged teeth, as well as the surrounding oral and maxillofacial tissues. Prosthodontists receive extensive training in restorative dentistry, including the use of dental prostheses such as crowns, bridges, dentures, and dental implants. They also have expertise in the treatment of complex dental conditions, such as temporomandibular joint disorder (TMD), sleep apnea, and oral cancer.
To become a prosthodontist, one must complete an additional three years of advanced training beyond dental school, either in a university-based or hospital-based program. During this training, prosthodontists learn advanced techniques for restoring and replacing missing teeth, as well as how to design and fabricate custom dental prostheses. They also develop the skills needed to work closely with other dental specialists, such as oral surgeons, periodontists, and orthodontists, to provide comprehensive dental care to their patients. Prosthodontists often work in private practice, but they may also be employed in academic or research settings, or in hospitals or clinics.
What does a Prosthodontist do?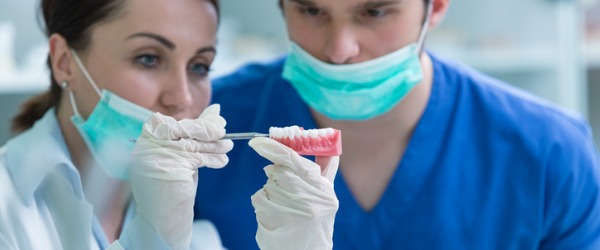 Oral deterioration and loss of teeth are often the result of cavities, gum disease (periodontal disease), teeth grinding, and oral cancer. Any of these issues can leave a patient with difficulty in chewing and with psychological discomfort, which will negatively affect their quality of life. A prosthodontist is the recognized expert when anything needs to be replaced in the mouth, which can range from a single tooth, multiple teeth, or all teeth and gums in the mouth.
Sometimes described as the "oral architect" of the dental team, prosthodontists develop treatment plans and combine other oral treatments with dental/medical specialists and general dentists in order to give full care to patients. They, along with the other specialists, will diagnose and plan a treatment for the patient, such as fillings, dentures, crowns, veneers, implants, bridges, splints, night guards, and cosmetic procedures.
Conditions and Treatments
Every patient is unique, and treatment plans may vary depending on the specific condition and needs of the individual. A prosthodontist will work closely with each patient to develop a personalized treatment plan that addresses their specific concerns and goals.
Restoration of damaged teeth: There are various ways that teeth can get damaged, such as in the case of cavities, teeth grinding, the reduction of salivary flow, exposure of teeth to acid, trauma, and failing restorations. Each patient's concerns are different, and treatment could range from minor to comprehensive treatment. Services can include crowns, veneers, and fillings.
Replacing missing teeth: Various options are available, such as a complete set of dentures, a removable partial denture, implants, a fixed bridge, and other alternatives. Prosthodontists work closely with dental technicians to make sure that each custom-made prosthesis looks good and is comfortable for the patient.
Oral implants: Oral implants are a possible alternative to conventional tooth replacement options. Dental implants offer patients great advantages, and this biotechnology is rapidly becoming the treatment option for individuals who are missing some or all of their teeth.
Aesthetic and cosmetic dentistry: Prosthodontics and cosmetics go hand in hand. Whether it is a single restoration or a more complicated rehabilitation, there is always a common factor: the artificial parts have to combine flawlessly with the surrounding oral environment, as well as be functional and comfortable. Prosthodontists excel in whitening and bonding techniques, color matching, using veneers to reshape teeth, and knowing how to precisely place fixed prostheses such as crowns and bridges.
Complex cases: Included in a prosthodontist's training is an in-depth knowledge when it comes to the relationship between teeth and jaws, and what is necessary for a proper bite. Prosthodontists, along with other specialists, provide treatment for patients with temporomandibular joint disorders (TMD), a cleft palate, and any complicated injuries.
Types of Prosthodontists
There are several types of prosthodontists based on their areas of specialization. It's worth noting that some prosthodontists may have expertise in more than one area of specialization, and may provide a range of prosthodontic treatments to their patients.
Implant Prosthodontists: They specialize in the placement and restoration of dental implants to replace missing teeth. They are trained to surgically place dental implants and to design and fabricate implant-supported restorations.
Removable Prosthodontists: They specialize in the design, fabrication, and fitting of removable dental prostheses, such as dentures and partial dentures.
Maxillofacial Prosthodontists: They specialize in the restoration and replacement of oral and facial structures, such as missing or damaged teeth, jawbones, and soft tissues. They work closely with oral and maxillofacial surgeons and other specialists to provide comprehensive care to patients with congenital or acquired defects, trauma, cancer, or other conditions that affect the oral and facial structures.
Cosmetic Prosthodontists: They specialize in the design and fabrication of aesthetic dental restorations, such as veneers, crowns, bridges, and inlays/onlays, to improve the appearance of teeth and smiles.
Digital Prosthodontists: They specialize in the use of digital technologies, such as computer-aided design and manufacturing (CAD/CAM) systems, 3D printing, and digital imaging, to design and fabricate precise and customized dental restorations.
Day-to-Day Activity
A prosthodontist's typical day involves a mix of patient care, treatment planning, and collaboration with other dental specialists to restore and replace missing teeth and other oral structures. Here's what a prosthodontist might do on a typical day:
Examine patients: Prosthodontists examine patients to diagnose dental problems and determine the best course of treatment. They take into account the patient's overall health, the extent of the damage, and the patient's preferences.
Create treatment plans: Based on the examination, a prosthodontist develops a comprehensive treatment plan that may involve dental implants, bridges, dentures, or other dental prostheses. They explain the plan to the patient and answer any questions they may have.
Place dental implants: Prosthodontists may place dental implants to replace missing teeth. This process involves surgically placing an artificial tooth root into the jawbone, which will eventually fuse with the bone to create a stable base for a dental prosthesis.
Design and fabricate dental prostheses: Prosthodontists may design and fabricate custom dental prostheses such as bridges, dentures, and crowns. They work with dental technicians to create prostheses that fit comfortably and look natural.
Collaborate with other dental specialists: Prosthodontists may work closely with oral surgeons, periodontists, and other dental specialists to develop comprehensive treatment plans for patients with complex dental needs.
Educate patients: Prosthodontists educate patients about proper oral hygiene and care for their dental prostheses. They may also provide guidance on nutrition and lifestyle factors that can affect dental health. Attend continuing education courses: Prosthodontists stay up-to-date with the latest advancements in dental technology and techniques by attending continuing education courses and conferences.
What is the workplace of a Prosthodontist like?
A prosthodontist's place of work can vary depending on their employment status, but most commonly, they work in private practices, hospitals, or dental schools.
In a private practice, a prosthodontist may have their own office or work in a shared clinic. They typically work regular hours, which may include evenings and weekends to accommodate patients' schedules. The practice may have specialized equipment, such as 3D scanners and printers, to help with the design and fabrication of dental prosthetics. Prosthodontists may work with a team of other dental specialists, including general dentists, orthodontists, and oral surgeons, to provide comprehensive care for their patients.
In a hospital setting, prosthodontists may work in a dental clinic or in the oral and maxillofacial surgery department. They may work with patients who have complex medical histories or require advanced prosthetic treatments, such as dental implants or full mouth reconstructions. They may also collaborate with other healthcare providers, such as oncologists or trauma surgeons, to provide multidisciplinary care for patients with cancer or traumatic injuries.
In a dental school, prosthodontists may teach and conduct research in addition to treating patients. They may work with dental students to teach them the principles of prosthodontics and provide clinical instruction. They may also conduct research to advance the field of prosthodontics and develop new materials and techniques for dental prosthetics.
Overall, the workplace of a prosthodontist is typically a clinical environment that is well-equipped with specialized tools and technology to help them diagnose, treat, and manage dental prosthetic cases. They may work with a team of other dental professionals to provide comprehensive care for their patients and may also participate in research and teaching to advance the field of prosthodontics.
Frequently Asked Questions
Comprehensive List of Doctor Specializations and Degrees

Here is a comprehensive list of specializations that a doctor can pursue and a brief summary of each specialization:

Corresponding Degrees
Dentistry Related Careers and Degrees
Prosthodontists are also known as:
Prosthetic Dentist Maxillofacial Prosthodontist