What is a Dental Assistant?
A dental assistant has many tasks in a dental office, and their duties vary by state/province and by the dentists' offices where they work. Typically, a dental assistant will either work to support office operations, work in dental labs, or work under the supervision of a dentist who treats patients.
What does a Dental Assistant do?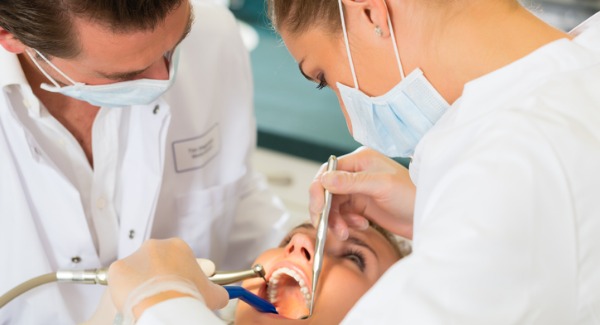 Some responsibilities of a dental assistant include:
Working with patients to make them comfortable in the dental chair and to prepare them for treatments and procedures
Sterilizing dental instruments
Preparing the work area for patient treatment by setting out instruments and materials
Helping dentists by handing them instruments during procedures
Keeping patients' mouths dry by using suction hoses or other equipment
Removing sutures
Instructing patients in proper dental hygiene
Processing x-rays and doing lab tasks under the direction of a dentist
Keeping records of dental treatments
Scheduling patient appointments
Working with patients on billing and payment
All dental assistants do tasks such as helping dentists with procedures and keeping patient records, but there are four regulated tasks that assistants may also be able to do, depending on the state where they work, including:
Coronal Polishing
- removing soft deposits such as plaque, giving teeth a cleaner appearance
Sealant Application
- painting a thin, plastic substance over teeth that seals out food particles and acid-producing bacteria to keep teeth from developing cavities
Fluoride Application
- applying fluoride directly on the teeth as another anti-cavity measure
Topical Anesthetics Application - some dental assistants may be qualified to apply topical anesthetic to an area of the patient's mouth, temporarily numbing the area
What is the workplace of a Dental Assistant like?
Almost all dental assistants work in dentists' offices. Dental assistants work under the supervision of dentists and may work closely with dental hygienists in their day-to-day activities.
Dental Assistants are also known as:
Registered Dental Assistant Certified Dental Assistant Certified Registered Dental Assistant