What is a Dental Assistant?
A dental assistant supports dentists and dental hygienists in providing patient care. Dental assistants perform various tasks in a dental office, both administrative and clinical in nature. On the administrative side, they schedule appointments, maintain patient records, handle billing and insurance processes, and manage the front desk operations. They may also assist with managing inventory and ordering dental supplies.
In the clinical setting, dental assistants work alongside dentists during procedures, ensuring the smooth flow of treatments. They prepare the treatment area, sterilize and arrange instruments, and assist the dentist during examinations, restorative procedures, and surgeries. Dental assistants also take dental impressions, perform preliminary X-rays, and provide post-operative instructions to patients. They play a vital role in maintaining infection control protocols, such as disinfecting instruments and sterilizing equipment.
Get online training through our partner:
What does a Dental Assistant do?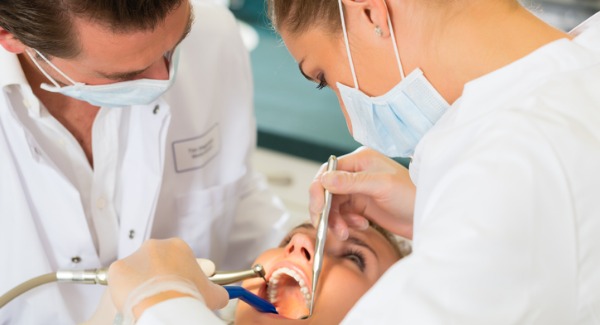 Dental assistants contribute to the efficient operation of a dental practice, providing vital support to both the dental team and patients.
Duties and Responsibilities
The duties and responsibilities of a dental assistant can vary slightly depending on the state and specific dental practice. However, the following are common tasks and responsibilities for dental assistants:
Assisting during dental procedures: Dental assistants work closely with dentists to provide chairside assistance during various dental procedures. This includes passing instruments, suctioning, and ensuring the patient's comfort.
Preparing treatment rooms: Dental assistants are responsible for setting up and preparing treatment rooms before patient visits. This includes sterilizing instruments, arranging dental materials and supplies, and ensuring all necessary equipment is functioning properly.
Taking and developing dental radiographs: Dental assistants are often responsible for taking dental radiographs (X-rays) under the dentist's supervision. They must follow proper safety protocols, position patients correctly, and ensure high-quality images. Some states may require dental assistants to have specific certifications to take radiographs.
Conducting preliminary dental assessments: Dental assistants may perform initial assessments before the dentist examines the patient. This includes taking the patient's medical history, recording vital signs, and documenting any relevant information.
Assisting with dental impressions and models: Dental assistants may assist with taking dental impressions and pouring and trimming dental models. These models are used for various purposes, such as creating crowns, bridges, or other dental prosthetics.
Providing patient education: Dental assistants play a vital role in educating patients about proper oral hygiene practices, explaining post-treatment care instructions, and addressing any concerns or questions patients may have. They may also provide information on dental procedures and treatment options.
Sterilizing and maintaining equipment: Dental assistants are responsible for sterilizing and maintaining dental instruments and equipment. They must follow strict infection control protocols, regularly clean and sterilize instruments, and ensure the dental office meets all safety and sanitation standards.
Managing patient records and appointments: Dental assistants often handle administrative tasks such as managing patient records, scheduling appointments, and coordinating treatment plans. They may also assist with billing and insurance-related tasks.
Assisting with minor dental procedures: Depending on the state regulations and the dentist's supervision, dental assistants may assist with certain minor dental procedures, such as applying sealants, placing dental dams, or applying topical anesthetics.
Maintaining a clean and organized environment: Dental assistants are responsible for maintaining a clean and organized dental office. They ensure that treatment areas and common areas are sanitized, stocked with supplies, and presentable for patients.
Types of Dental Assistants
In the field of dentistry, there are several types of dental assistants who may have different levels of training and responsibilities. Here are some common types of dental assistants:
Entry-Level Dental Assistants: Entry-level dental assistants typically receive on-the-job training or complete a short-term dental assisting program. They perform basic chairside duties, such as assisting the dentist during procedures, sterilizing instruments, taking and developing X-rays, and scheduling appointments.
Certified Dental Assistants (CDA): Certified Dental Assistants have completed a dental assisting program accredited by the Commission on Dental Accreditation (CODA). They must also pass the Dental Assisting National Board (DANB) exam to obtain their certification. CDAs have a broader range of skills and may be responsible for advanced tasks such as taking impressions, fabricating temporary crowns, and performing coronal polishing.
Expanded Functions Dental Assistants (EFDA): EFDA dental assistants have received additional training and certification to perform expanded functions. These functions may include placing and removing dental fillings, placing and removing periodontal dressings, and applying topical fluoride treatments. The specific duties vary by state, as each state has different regulations for EFDA dental assistants.
Dental Anesthesia Assistants: Dental anesthesia assistants have specialized training to assist dentists during the administration of anesthesia. They monitor patients during procedures, assist with IV sedation, and ensure the safe and effective delivery of anesthesia.
Orthodontic Assistants: Orthodontic assistants work primarily in orthodontic practices and focus on assisting orthodontists in the treatment of misaligned teeth and jaws. They have specialized knowledge and skills related to orthodontic procedures, such as placing and adjusting braces, taking orthodontic impressions, and providing patient education on orthodontic care.
Oral Surgery Assistants: Oral surgery assistants work in oral surgery practices and assist oral surgeons during surgical procedures. They have specialized training to handle surgical instruments, assist with oral and maxillofacial surgeries, and provide post-operative care instructions to patients.
Pediatric Dental Assistants: Pediatric dental assistants work in pediatric dental offices and specialize in providing dental care to children. They have knowledge of child behavior management techniques, dental development, and procedures specific to pediatric patients. They may also assist with oral health education for children and parents.
What is the workplace of a Dental Assistant like?
Dental assistants can be found in a variety of settings, including general dental offices, orthodontic practices, oral surgery clinics, and pediatric dental offices. The work environment is typically clean, well-lit, and organized to ensure the safety and comfort of both patients and staff.
In a dental office, dental assistants spend a significant amount of time in the treatment rooms, where they assist the dentist during procedures. They work closely with the dentist, providing the necessary instruments and materials, and ensuring that the procedures run smoothly. They may also assist with taking dental radiographs (X-rays), which requires operating X-ray equipment and ensuring proper safety protocols.
Dental assistants also spend time in the sterilization area, where they clean, disinfect, and sterilize instruments and equipment. They follow strict infection control protocols to maintain a clean and safe environment for patients and staff. Additionally, they may be responsible for stocking treatment rooms with supplies and maintaining inventory.
The administrative tasks of a dental assistant may be performed in a separate area of the office, such as a front desk or an office space. Here, they schedule appointments, manage patient records, and handle billing and insurance-related tasks. They may also interact with patients, both in person and over the phone, to provide information, answer questions, and assist with paperwork.
The workplace of a dental assistant often involves working closely with a team of dental professionals, including dentists, dental hygienists, and administrative staff. Effective communication and collaboration are essential for ensuring efficient patient care. Dental assistants may also have the opportunity to interact with a diverse range of patients, helping to create a welcoming and supportive atmosphere.
Frequently Asked Questions
Dentistry Related Careers and Degrees