CareerExplorer's step-by-step guide on how to become a dermatologist.
Step 1
Is becoming a dermatologist right for me?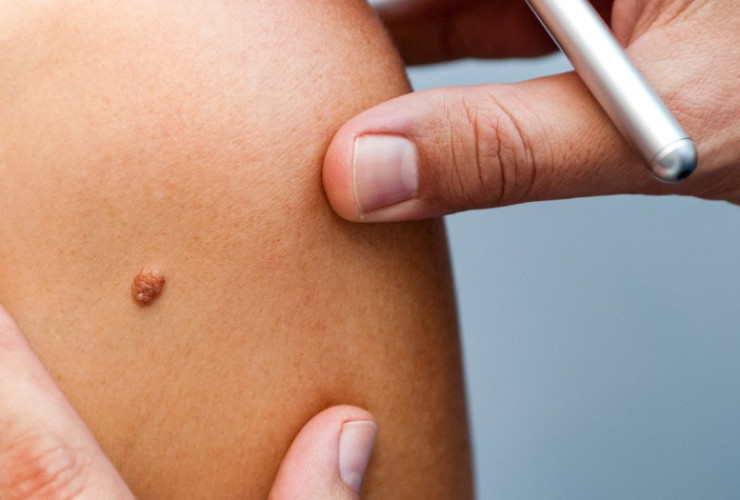 Step 2
Bachelor's Degree
Getting an undergraduate/bachelor's degree from a four-year university is the first step to becoming a dermatologist. This can include pre-med courses in biology, organic chemistry, physics, and general chemistry. Some students must also complete math and biochemistry coursework depending on the medical school they wish to attend.
Step 3
Medical School
After completing an undergraduate/bachelor's degree, aspiring dermatologists need to take and perform well on the Medical College Admissions Test (MCAT). They must then attend a four-year accredited medical school. A high undergraduate GPA is essential, as admission to medical school is extremely competitive.
Step 4
Residency
Following medical school, aspiring dermatologists must complete a dermatology residency. A residency in dermatology involves one year as an intern in either general surgery or internal medicine, followed by three years of clinical residency in dermatology.
Step 5
Fellowship
After the completion of residency, many dermatologists choose to pursue further training in sub-specialized fields such as cosmetic surgery, laser medicine, dermatopathology, phototherapy, immunodermatology, or Moh's micrographic surgery. This is done through a one or two year fellowship.
Step 6
Licensing/Certification
Dermatologists must obtain and keep a current license to practice. After successfully completing medical school and dermatology residency, they are eligible to sit for the Dermatology Board Examination (administered by the American Board of Dermatology (ABD)) and can finally be deemed "board-certified". Dermatologists who have completed a fellowship and passed the general board examination can get further certification and take the appropriate Subspecialty Board Examination through the ABD. To maintain board certification, a dermatologist must re-take and pass the board examination every ten years, and complete continuing medical education (CME) requirements throughout his or her career.
Frequently Asked Questions
How long does it take to become a Dermatologist?
It can take up to 13 years to become a dermatologist. This includes time spent as an undergrad, in medical school, and in residency. Medical school programs take four years to complete and include courses such as cell biology, pathology, anatomy, physiology, genetics, immunology, and pharmacology. Students also learn how to examine, interview, diagnose, and build positive relationships with patients.
The National Resident Matching Program matches prospective dermatologists with a residency (which takes three years to complete). Residents learn how to diagnose conditions of the skin, hair, and nails and learn surgical techniques such as cryotherapy, biopsies, and excisions. Completing a fellowship after residency is available for those who want to pursue specific specialties such as immunodermatology, phototherapy, dermatopathology, cosmetic surgery, laser medicine, or Mohs surgery.
Are Dermatologists happy?
According to Medscape's 2014 Physician Lifestyle Report (a survey of more than 31,000 U.S. physicians) dermatologists emerged as the specialists who are happiest both at home and at work. At 53 percent, dermatologists topped the list by a considerable margin in reporting a high level of happiness at work.
Dermatology is a very good specialty to get into for a lot of reasons. The work schedule is very 'normal' compared to other medical careers (typically 8:30am to 5:00pm Monday through Friday), the salary is excellent, the patients generally aren't in an emergency situation like they are in oncology or medicine, and people are usually happy because they end up looking better and feeling better.
Should I become a Dermatologist?
When you enter into the field of dermatology you can expect to reap rewards such as an extremely good paycheque and a work schedule that doesn't have you tied to a desk for hours on end. However, obtaining a medical degree in dermatology is a very long process and extremely competitive.
If you think you'd love to learn about the diagnosis and treatment of diseases of the skin, hair and nails and would enjoy helping people regain their self-esteem, then dermatology may be a good career to consider. As with any profession, it's important to know what you're getting yourself into before you decide to commit to it.
PROS
In demand career
Exceptional work schedule compared to other medical careers
Salary between $200,000-$500,000 per year
Variety (dermatologists are trained in surgical & non-surgical procedures)
Innovative and ever-changing treatments
Great career for those who are friendly and have a good bedside manner
Good for individuals that have compassion
Flexibility of practice offers balance between career and personal life
Income opportunities available outside of typical patient care
Being able to have significant impact on psychological well-being of patients
Most cases are not emergencies or time sensitive (like other medical careers)
CONS
Length of study ranges from 10-15 years
Cost of undergraduate and medical school can range from $225,000 to $525,000
Difficult/competitive to match with a dermatology residency program
Gruelling schedule through medical school and residency
Pressure to have perfect skin throughout the career
People asking to have their skin problems looked at outside of work
Dermatology viewed as a "lighter" specialty in the physician community
Sometimes the bearer of bad news
How to become a Dermatologist
Skin conditions are often associated with internal conditions and other external factors. Therefore, dermatologists should be knowledgeable in fields such as genetics, oncology, mycology, immunology, histology, bacteriology and others.
Dermatologists must train as a general doctor before undertaking postgraduate education in dermatology, and also do an internship and a residency program. Training positions are generally based in university teaching hospitals with periods at a general hospital. The competition for residency programs is very competitive. In the United States, completing a residency program qualifies a person as a Fellow of the American Academy of Dermatology, and in order to become a Board Certified Dermatologist, an extensive examination must be completed.