What is a Grounds Maintenance Worker?
A grounds maintenance worker provides a pleasant outdoor environment by ensuring that the grounds of houses, businesses, and parks are attractive, orderly, and healthy. Many grounds maintenance jobs are seasonal, available mainly in the spring, summer, and fall.
Get online training through our partner:
What does a Grounds Maintenance Worker do?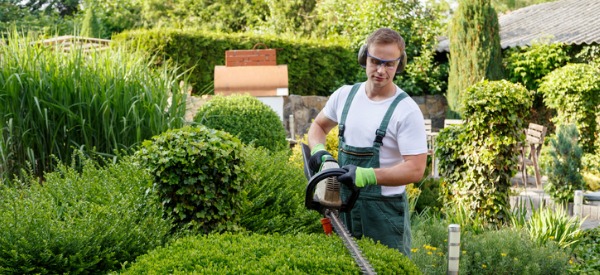 Grounds maintenance workers do a variety of tasks to achieve a pleasant and functional outdoor environment. They also care for indoor gardens and plantings in commercial and public facilities, such as malls, hotels, and botanical gardens.
Grounds maintenance workers typically do the following:
Mow, edge, and fertilize lawns
Weed and mulch landscapes
Trim hedges, shrubs, and small trees
Remove dead, damaged, or unwanted trees
Plant flowers, trees, and shrubs
Water lawns, landscapes, and gardens
Some workers specialize in trimming trees. They cut away dead or excess branches from trees or shrubs to clear utility lines, roads, and sidewalks. Although many workers strive to improve the appearance and health of trees and plants, some specialize in diagnosing and treating plant diseases.
Others specialize in pruning, trimming, and shaping ornamental trees and shrubs. Tree trimmers and pruners use chainsaws, chippers, and stump grinders while on the job. When trimming near power lines, they usually work on truck-mounted lifts and use power pruners.
What is the workplace of a Grounds Maintenance Worker like?
Grounds maintenance workers work outdoors in all kinds of weather. The work can be repetitive and physically demanding, requiring frequent bending, lifting, and shovelling.
Full-time workers experience a rate of injury and illness that is much higher than the national average. Workers who use chemicals, such as pesticides or fertilizers, or dangerous equipment, including lawnmowers and chain saws, must take precautions. Workers who use motorized equipment must protect their hearing.
Grounds Maintenance Workers are also known as:
Groundskeeping Worker Landscape Maintenance Worker