What is a Motorcycle Mechanic?
A motorcycle mechanic is a small engine mechanic who specializes in maintaining and repairing traditional and nontraditional motorcycles, scooters, dirt bikes, and mopeds.
Get online training through our partner:
What does a Motorcycle Mechanic do?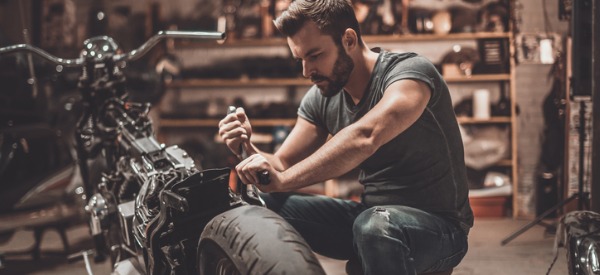 A motorcycle mechanic's main duties are to service, inspect, repair and sometimes build motorcycle engines.
Some duties that a motorcycle mechanic regularly performs include:
running diagnostic tests to determine what is wrong with the motorcycle
checking ignition points on a motorcycle engine
replacing spark plugs
inspecting and replacing brakes
overhauling engines or electrical systems
making major repairs due to an accident or neglect
Often times, motorcycle mechanics will test drive a motorcycle that comes in for repair. This is done to help diagnose motorcycles issues and to decide if the motorcycle has been repaired correctly after all repairs have been made.
What is the workplace of a Motorcycle Mechanic like?
In general, most motorcycle mechanic workplaces are well-ventilated and have extremely good lighting. A great deal of motorcycle repair is done in a shop, but on-site repairs may be an important aspect of this career, which could include being called to an on-site job.
Because of the type of work that motorcycle mechanics do, the workplace can be quite noisy. Often times these workplaces are compared to automobile mechanic workplaces, which can be somewhat accurate, but motorcycle mechanics do not get as dirty as automobile mechanics. Motorcycle mechanics do not have to crawl on the ground or under motorcycles to work on them. Instead, motorcycles can be lifted in the air by hoists, so that a mechanic can stand while working on the bike.
Motorcycles are most popular during the spring and summer months, and motorcycle mechanics are often the busiest during this time. This may result in large amounts of overtime during these months.
Motorcycle Mechanics are also known as:
Certified Motorcycle Mechanic Motorcycle and Power Equipment Mechanic Professional Motorcycle Mechanic Motorcycle Service and Repair Mechanic Motorcycle and Power Equipment Technician