What is an Elevator Mechanic?
An elevator mechanic is trained to install, assemble, maintain, replace and repair elevators, escalators, chairlifts, dumbwaiters, moving walkways, and other similar equipment.
What does an Elevator Mechanic do?
There are several areas to specialize in as an elevator mechanic. There are maintenance elevator mechanics who are given specific routes, where they perform maintenance for the elevators on that route to make sure everything is in working order. There are elevator mechanics who do service work – the bigger and heavier work that requires two men to do. And there are elevator mechanics that modernize elevators or who build brand-new elevators in new buildings.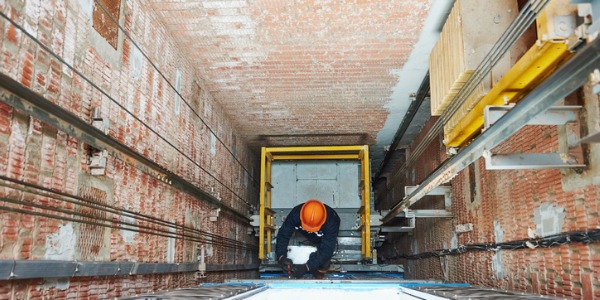 Depending on their specialty, duties may include the following:
reading and interpreting blueprints
installation of elevators, escalators, chairlifts, moving walkways, dumbwaiters etc.
connection of elevator car frames to counterweights and assembling elevator cars
installation and wiring of electric and electronic control systems
installation, testing, and adjusting of safety control devices for effective function
taking care of electrical or mechanical system failures
repairing or replacing parts
testing equipment with meters and gauges
oiling and greasing moving parts
rolling out preventive maintenance programs
making sure equipment is clean
Elevator mechanics regularly test equipment to make sure it runs efficiently. They also take care of electrical problems by using diagnostic instruments, such as voltmeters and ammeters. They are responsible for making sure that elevator machinery conforms to building safety codes and equipment safety regulations.
Using a variety of equipment and tools, elevator mechanics often have to replace cables, machine bearings, and elevator doors. Some elevator mechanics work on cabled elevators, or on elevators where the car sits on a pump driven hydraulic plunger. Some perform maintenance and repairs to escalators, fixing the motors and electrical wiring.
What is the workplace of an Elevator Mechanic like?
Elevator mechanics are employed by elevator manufacturers, and elevator installation and maintenance companies. They may work on a team or alone — an installation or major repair would require working on a team while one would work alone when troubleshooting a small problem.
The standard work week for elevator mechanics is 40 hours, and there are peak periods that will require some overtime. If one is working in maintenance or repair, they may be asked to be on 24-hour call for set periods of time. The work is typically indoors and with a team of other construction professionals. Most elevator mechanics work in the city where multi-story buildings are common.
Elevator Mechanics are also known as:
Elevator Installer Elevator Repairer Elevator Technician