What is a Physiotherapist?
A physiotherapist is a health care professional who helps patients achieve maximum range of movement and physical ability, either by developing it in the first place, or restoring it after loss of physical ability due to illness, injury, or aging.
Physiotherapists use a holistic approach that is based on the manual treatment of soft tissue, for example, tendons, ligaments, muscles, and fascia. They use electrotherapy, medical acupuncture and dry needling, manipulation, mobilization, massage, and prescriptive exercise to help their patients.
Note: In the U.S., the terms physiotherapist and physical therapist are used interchangeably.
What does a Physiotherapist do?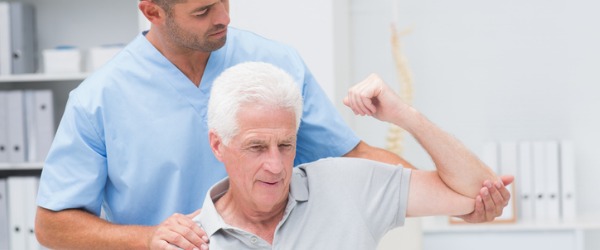 When taking on a new patient, a physiotherapist will take the patient's history and perform a physical examination, and will then develop a treatment plan tailored to the patient's needs.
Some of the treatments that physiotherapists use are as follows:
Massage to ease soft tissue pain
Mobilization or manipulation of joints
Exercises to strengthen weak areas
Cold to reduce inflammation
Heat to increase circulation
Ultrasound therapy to ease muscle spasms
Electrical stimulation to help muscles contract that cannot do so effectively on their own
Physiotherapists can be found working in various specialties:
Cardiopulmonary Physiotherapists - help their patients gain endurance in the face of cardiac (heart) or pulmonary (lung) illnesses or after surgery. Sometimes, especially for heart attack patients, the therapist will give advice on health and nutrition. They may also use manual therapies to help clear the lungs in patients with certain lung diseases, such as cystic fibrosis.
Clinical Electrophysiotherapists - use electrical stimulation and other tactics to promote healing in stubborn wounds such as burns, sores on diabetics, or post-amputation wounds.
Geriatric Physiotherapists - are prepared to deal with the special needs of the elderly and help them continue to maintain as active a lifestyle as possible.
Neurological Physiotherapists - specialize in patients that could have any one of many neurological illnesses or injuries. This includes Multiple Sclerosis, Parkinson's disease, Alzheimer's disease, Charcot-Marie-Tooth disease (CMT), stroke, or injury to the brain or spinal cord. These patients need help with things like coordination, balance, ambulation, muscle strength, or daily living skills.
Orthopaedic Physiotherapists - are probably what most people think of when they think of physiotherapy. They treat problems with the musculoskeletal system, most often after an injury or orthopaedic surgery. Common therapies include massage, joint manipulation, exercises, heat or cold application, and electrical stimulation.
Pediatric Physiotherapists - are specially trained to meet the needs of children. They treat children with developmental delays, congenital problems, injuries, or illness.
Sport Physiotherapists - specialize in working with athletes and their unique needs. The sports therapist helps athletes function at their peak, aids in preventing injuries, and helps athletes return to maximum performance after an injury. Major sports teams usually employ their own physiotherapists.
Women's Health Physiotherapists - specialize in women's health. This specialty helps women recover from such issues as incontinence (usually resulting from pregnancy and childbirth), pelvic pain, or sexual dysfunction that is due to a physical problem.
The above eight specialties are board-certifiable by the American Board of Physical Therapy Specialties; however physiotherapists certainly are not limited to those eight areas. A physiotherapist may choose to focus on a particular passion or interest and build his or her practice from that point.
For example, a therapist with a passion for horseback riding may choose to pursue education in sports therapy, and then focus their efforts on gaining clients who are also equestrians. The therapist will be able to use his/her own knowledge and expertise in the field to help the clients in a way that a therapist who doesn't ride might not be able to do.
There are even some physiotherapists who focus on helping musicians, who may develop repetitive use injuries from practicing several hours per day. Any orthopaedic physiotherapist could give the musician exercises and provide treatment for carpal tunnel syndrome or tendonitis, but only one who is also a trained musician could properly advise the client how to modify his playing to avoid further injury. This is just one more example of how a physiotherapist can use his or her areas of expertise and meld that with a career in physiotherapy.
What is the workplace of a Physiotherapist like?
Physiotherapists have a wide variety of employment opportunities. They may work in hospitals, nursing homes, rehabilitation facilities, private practices, or with a sports team.
They may also work for the government, in research, or they may even teach at physical therapy schools.
Frequently Asked Questions
What is the difference between a chiropractor and a physiotherapist?

A chiropractor has extensive experience and practice at using manipulation of the spine as a treatment technique. Some chiropractors also use muscle release techniques like A.R.T. (Active Release or Trigenics).

Similar to a chiropractor, a physiotherapist has the ability to manipulate the spine and perform muscle release techniques. In addition, they can also use acupuncture, help the client work on posture and balance, teach core stability exercises, and help prevent the problem from arising again by showing the client rehabilitative exercises they can do at home.
Physiotherapists are also known as:
Cardiopulmonary Physiotherapist Clinical Electrophysiotherapist Geriatric Physiotherapist Neurological Physiotherapist Orthopaedic Physiotherapist Pediatric Physiotherapist Sport Physiotherapist Chartered Physiotherapist