What is a Printing Worker?
A printing worker is a person who operates printing presses and related equipment to produce printed materials such as books, newspapers, packaging materials, and promotional items. They may also be involved in preparing and proofreading the materials to be printed, adjusting the printing machinery to produce high-quality results, and monitoring the printing process to ensure that it runs smoothly and efficiently.
What does a Printing Worker do?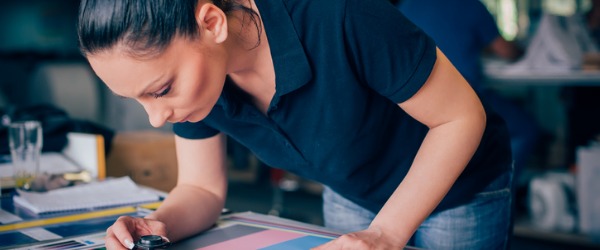 Printing workers produce printed material in three stages: prepress, press, and binding/finishing. They are responsible for operating printing equipment to produce high-quality printed materials, such as books, brochures, packaging, labels, and promotional items.
This can involve preparing printing presses and proofing systems, loading paper and ink, and monitoring the printing process to ensure that quality standards are met. Printing workers may also perform maintenance and repair on the equipment, as well as keep accurate records of production runs and inventory.
A day in the life of a printing worker may vary depending on the type of printing they are involved in and their specific role in the process. However, a typical day may involve:
Preparing printing equipment, including loading paper and ink
Arranging pages so that materials can be printed
Operating laser plate-making equipment that converts electronic data to plates
Reviewing job orders to determine quantities to be printed, paper specifications, colors, and special printing instructions
Feeding paper through press cylinders and adjusting equipment controls
Collecting and inspecting random samples during print runs to identify any needed adjustments
Operating printing presses and monitoring production processes
Binding new books, using hand tools such as bone folders, knives, hammers, or brass binding tools
Cutting material to specified dimensions, fitting and gluing material to binder boards by hand or machine
Compressing sewed or glued sets of pages, called 'signatures', using hand presses or smashing machines
Maintaining and troubleshooting equipment
Keepinging track of materials, supplies, and production schedules
Communicating with team members, supervisors, and clients
Cleaning and maintaining the work area
What is the workplace of a Printing Worker like?
Printing workers typically work in printing and publishing industries, such as print shops, commercial printing companies, newspapers, magazines, and book publishers. They may also work in in-house printing facilities within larger organizations, such as government agencies, schools, and corporations.
The work environment for printing workers can be physically demanding and may involve working with hazardous materials, such as inks and solvents. Printing workers may also be required to work long or irregular hours, including weekends and evenings, to meet production deadlines.
Printing Workers are also known as:
Printing Press Operator Printing Pressman Prepress Technician Print Binding and Finishing Worker