What is a Psychiatric Aide?
A psychiatric aide is someone who provides help to mentally or emotionally impaired individuals. At times, life is simply too much to manage for these individuals; daily tasks like eating, bathing and getting dressed may be impossible to do on their own. Psychiatric aides help with personal hygiene, meals, recreation, transportation, and socialization. They also assist in medical care under the supervision of nurses or psychiatric technicians.
Note: Psychiatric aides help patients in their daily activities and ensure a safe, clean environment. Psychiatric technicians typically provide therapeutic care and monitor their patients' conditions.
What does a Psychiatric Aide do?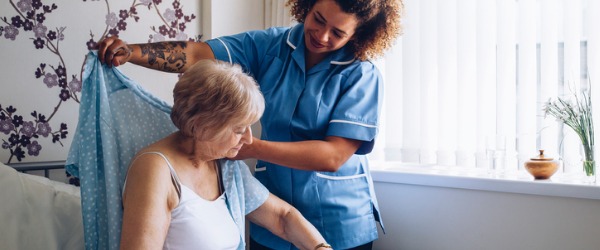 A psychiatric aide is part of a clinical staff that provides care to mentally or emotionally disturbed individuals that cannot care for themselves. They work under a team that may include psychiatrists, psychologists, psychiatric nurses, social workers and therapists. They are the first line of care for patients, and adhere to the treatment outlined by the attending psychiatrist. Along with helping patients eat, drink, bathe, and get dressed, psychiatric aides help with housekeeping duties such as changing bed linens and bedpans, cleaning rooms and bathrooms, and ensuring the facility is clean, organized, and safe. They also participate in recreational group activities that promote patient growth, such as organizing a game night for patients, or chaperoning field trips into the community.
At times, patients can become unruly or violent. Psychiatric aides must know how to calm patients down and diffuse the situation. If the situation becomes violent, psychiatric aides need to utilize their training and restrain patients so that they are not a danger to other people in the facility or to themselves.
Working as a psychiatric aide can be emotionally draining. One must be patient, able to communicate clearly, and willing to follow directions. The biggest reward for psychiatric aides will be the knowledge that they have helped improve the lives of people who desperately need help.
Psychiatric aides typically have the following responsibilities:
Oversee patients' behaviour and location
Help patients with their daily living activities
Serve food and help patients eat
Keep facilities clean
Participate in group activities
Help transport patients
Restrain patients when physically violent
What is the workplace of a Psychiatric Aide like?
Psychiatric aides can work in a variety of places, such as psychiatric and substance abuse hospitals or medical facilities with a psychiatric wing, residential treatment facilities, outpatient care centres, doctor's offices, or for community vocational services that provide in-home care to mentally disturbed individuals. Most psychiatric aides are expected to work hours that are not in a traditional workday such as nights and weekends.
Psychiatric Aides are also known as:
Psychiatric Nursing Assistant Mental Health Aide Mental Health Assistant