What is a Receptionist?
Receptionists work for companies and organizations to help them run smoothly. They are often the first employee that a customer or the public comes in contact with, and are therefore responsible for making a good first impression.
What does a Receptionist do?
Receptionists perform various administrative tasks, such as greeting visitors, answering telephones, taking messages, scheduling appointments, filing and maintaining documents, providing information to various people, making travel arrangements, and running errands.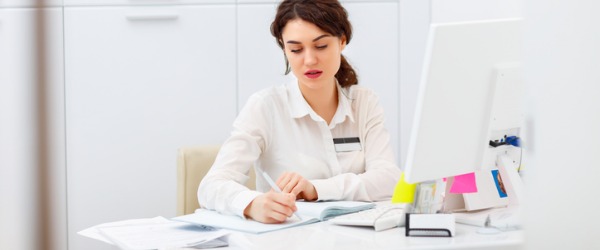 Interacting and communicating with staff, clients, customers, delivery drivers, and various other people throughout the day can be challenging at times. Therefore, maintaining a calm and professional demeanour throughout the day and during all interactions shows excellent customer service and problem solving skills which is of utmost importance to be successful as a receptionist.
Receptionists typically do the following:
Answer, screen, and forward telephone calls
Greet walk-in customers and other visitors and escort them to specific destinations
Contribute to the security of the office by helping to monitor access to visitors
Obtain or send information or documents using a computer or mail
Perform other administrative support tasks, such as keeping appointment calendars
Copy, file, and maintain documents and records
Collect, sort, distribute, and prepare mail and courier deliveries
Process and prepare travel arrangements and travel documents
Specific responsibilities can vary depending on the place of work. For example, receptionists in hospitals and in doctor's offices may gather personal and insurance information and direct patients to waiting rooms. In corporate headquarters, they may greet visitors and manage the scheduling of the boardroom or common conference area.
In spas or hair salons, they arrange appointments, direct clients to the various spa areas or specific hairstylist and may also handle payments. Those working for transportation companies respond to passenger inquiries about departures, arrivals, transfers, and other related matters.
What is the workplace of a Receptionist like?
Although receptionists work in almost every industry, many are concentrated in tourism, healthcare, and social assistance, including hotels, physician's offices, hospitals, and nursing homes.
Receptionists who greet customers and visitors usually work in areas that are highly visible, clean, well-lit, and relatively quiet. Most work in a comfortable office setting.
The work that some receptionists do may be tiring, repetitious, and stressful as they may spend all day answering continually ringing telephones and sometimes encounter difficult or irate callers. Some receptionists, including those who work in hotels, hospitals, and nursing homes, may have to work evenings and weekends.
Receptionists are also known as:
Office Receptionist