What is a Recreational Therapist?
The recreational therapy profession can be traced back to the 1850's when Florence Nightingale suggested that recreational experiences could improve the human condition.
Using recreational modalities such as arts and crafts, drama, music, dance, sports, games, swimming, and community outings, recreational therapists help to improve a patient's physical, social, and emotional well-being. Incorporating the client's interests as well as the client's family and/or community makes the therapy process even more meaningful and relevant.
What does a Recreational Therapist do?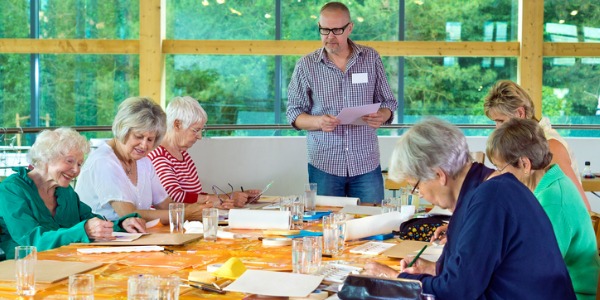 A recreational therapist organizes treatment programs for people with disabilities, injuries, or illnesses in order to improve their function and independence. They work with geriatric, mental health, addictions, general medicine, physical medicine and rehabilitation, developmental disabilities and pediatric clients. Recreational therapists often work in conjunction with physicians or surgeons, registered nurses, psychologists, social workers, physical therapists, occupational therapists, or teachers.
A recreational therapist uses a wide range of techniques to improve the physical, cognitive, emotional, and social needs of their clients. They work with the client and their family members, and individualize the therapy to each person's past, present and future interests and lifestyle in order to develop skills, knowledge and behaviours for daily living and community involvement.
Recreational therapists help people deal with depression, stress, and anxiety; build confidence; and recover basic physical and mental abilities. They combine the concept of healthy living into their treatment in order to improve function and promote independence in all aspects of life.
Recreational therapists typically do the following:
Evaluate the patients' needs through observations, tests, and medical records
Discuss and create treatment plans in conjunction with other healthcare professionals
Create programs that meet the patients' needs and interests
Incorporate the patient's family and community, and individualize treatment
Plan interventions to prevent harm to a patient
Engage patients in activities, such as exercise, games, and community outings
Help patients learn social skills
Teach patients about ways to cope with stress, anxiety, or depression
Record a patient's progress
What is the workplace of a Recreational Therapist like?
Recreational therapists can be employed by health care agencies or work in traditional inpatient hospitals or health facilities. An increasing number are being employed in residential facilities, community mental health centres, adult day care programs, substance abuse centres, hospice care, community centres and in school systems. There is also a growing trend for recreational therapists to work in private practice providing services in the home and community.
Recreational Therapists are also known as:
Certified Therapeutic Recreation Specialist Recreation Therapist Therapeutic Recreation Specialist Activities Therapist CTRS