What is a Respiratory Therapist?
A respiratory therapist is someone who cares for patients that have trouble breathing; for example, from a chronic respiratory disease, such as asthma or emphysema. They also provide emergency care to patients suffering from heart attacks, stroke, drowning, or shock. Most respiratory therapists work in hospitals. Others may work in nursing care facilities or travel to patients' homes.
What does a Respiratory Therapist do?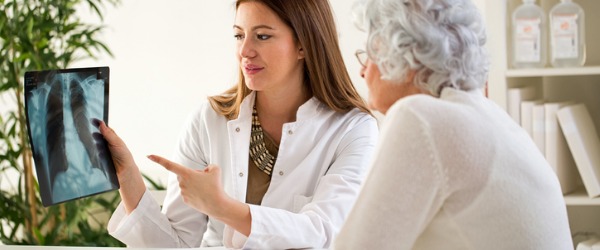 Patients receiving care from a respiratory therapist range in age from the premature infant to the eldest of the elderly. A respiratory therapist typically does the following:
Interviews and examines patients with breathing or cardiopulmonary disorders
Consults with physicians to develop patient treatment plans
Performs diagnostic tests such as measuring lung capacity
Treats patients, using a variety of methods, including chest physiotherapy and aerosol medications
Monitors and records the progress of treatment
Supervises respiratory therapy technicians during tests and evaluates the findings of the tests
Teaches patients how to use treatments
Respiratory therapists use various tests to evaluate patients. For example, they test lung capacity by having patients breathe into an instrument that measures the volume and flow of oxygen when they inhale and exhale. They may also take blood samples and use a blood gas analyzer to test the oxygen and carbon dioxide levels present.
Respiratory therapists perform chest physiotherapy on patients to remove mucus from their lungs and make it easier for them to breathe. Removing mucus is necessary for patients suffering from lung diseases, such as cystic fibrosis, and involves the therapist vibrating the patient's rib cage, often by tapping the patient's chest and encouraging him or her to cough. Respiratory therapists may connect patients who cannot breathe on their own to ventilators to deliver oxygen to the lungs. They insert a tube into the patient's windpipe (trachea) and connect the tube to ventilator equipment. They set and monitor the equipment to ensure that the patient is receiving the correct amount of oxygen at the correct rate.
Respiratory therapists who work in home care teach patients and their families to use ventilators and other life-support systems in their homes. During these visits, they may inspect and clean equipment, check the home for environmental hazards, and ensure that patients know how to use their medications. Therapists also make emergency home visits when necessary.
In some hospitals, respiratory therapists are involved in related areas, such as counselling people on how to stop smoking and diagnosing breathing problems for people with sleep apnea.
What is the workplace of a Respiratory Therapist like?
Most respiratory therapists work in hospitals. Others may work in nursing care facilities or travel to patients' homes. They are on their feet for long periods and may need to lift or turn disabled patients. Like other healthcare workers, they may be exposed to infectious diseases.
Most respiratory therapists work full time. Because they may work in medical facilities such as hospitals that are always open, some work evening, night, or weekend hours.
Frequently Asked Questions
Should I become a Respiratory Therapist?

Once you determine if the medical and technical aspects of being a respiratory therapist are suited to you, consider whether or not you possess the personality traits that these professionals commonly have:

Compassion Patients with breathing issues and their families need emotional support and understanding.

Attention to detail & Organizational skills By closely monitoring your patients and maintaining organized, comprehensive records of their conditions, you ensure that they receive proper treatment and correct medication.

Interpersonal skills Working with doctors and other medical professionals, as well as with patients, in team environments, requires that respiratory therapists know how to listen, collaborate, and give clear instructions.

Critical thinking skills The ability to effectively evaluate patient symptoms and test results is fundamental in this role.

Patience Working long hours in a hospital and providing specialized care for patients of all ages demand considerable patience and dedication.

Ability to manage risk and pressure As an RT, you will sometimes be put in the position of saving a life. Mistakes and unpreparedness can be the difference between life and death. Even under pressure, you must be able to calmly determine the best course of action.

Confidence There will be times in this job when you will be the only person in proximity who knows how to operate a breathing machine, knows the side effects of a particular medication, or can draw an arterial blood sample. Confidence in the face of chaos is the mark of a great respiratory therapist.
How long does it take to become a Respiratory Therapist?

Respiratory therapists complete either a two-year Associate's degree or a four-year Bachelor's degree. Upon graduation, they qualify to sit for a national exam to become a Certified Respiratory Therapist (CRT). After passing this exam, they are eligible to sit for two additional exams to earn the Registered Respiratory Therapist (RRT) credential.
Steps to becoming a Respiratory Therapist

The journey to becoming a respiratory therapist can begin in high school and extends through post-secondary education to multiple certifications and career-long learning.
What are Respiratory Therapists like?

Based on our pool of users, respiratory therapists tend to be predominately investigative people. Looking at a day in the life of a respiratory therapist, this is not surprising. Almost every facet of an RT's work – patient assessment, determining patient treatment, emergency response, ventilator checks and adjustments – involves some degree of inquiry, analysis, examination, exploration, and investigation.
Respiratory Therapists are also known as:
Registered Respiratory Therapist Certified Respiratory Therapist Respiratory Care Practitioner Licensed Registered Respiratory Therapist