What is a Childcare Worker?
Do you love children and taking care of them? You may be the perfect candidate for being a childcare worker.
A childcare worker cares for children when parents and other family members are unavailable. They are responsible for the safety of infants, toddlers, and younger children. They are also responsible for their well-being which includes feeding meals, supervising playtime, calming children down, and offering nap times.
What does a Childcare Worker do?
A childcare worker cares for the basic needs of infants and toddlers, changing their diapers and preparing their meals. They also maintain the children's schedules, such as play, nap, and meal times.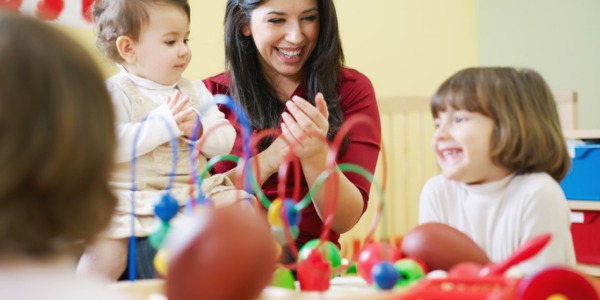 Others things they do include:
Supervise and monitor the safety of children in their care
Prepare meals and organize mealtimes and snacks for children
Help children keep good hygiene
Organize activities
Teach children about the world and explore interests
Develop schedules and routines
Ensure that children have enough physical activity, rest, and playtime
Watch for signs of emotional or developmental problems
Bring any problems to the attention of parents
Keep records of children's progress, routines, and interest
A childcare worker introduces babies and toddlers to basic concepts by reading to them and playing with them. For example, they teach young children how to share and take turns by playing games with other children.
They often help preschool-aged children prepare for kindergarten. They use children's play to improve the children's language (for example, through storytelling and acting games), and their social skills (for example, through having them build something together in the sandbox). They may involve the children in creative activities, such as art, dance, and music.
Childcare workers often watch school-aged children before and after school. They help these children with homework and ensure that they attend after-school activities, such as athletic practices and club meetings. During the summer, when children are out of school, childcare workers may watch older children as well as younger ones for the entire day while the parents are at work.
The following are examples of types of childcare workers:
Childcare Centre Workers - work in teams in formal childcare centres, including Head Start and Early Head Start programs. They often work with preschool teachers and teacher assistants to teach children through a structured curriculum. They prepare daily and long-term schedules of activities to stimulate and educate the children in their care. They also monitor and keep records of children's progress.
Family Childcare Providers - care for children in the provider's own home during traditional working hours. They need to ensure that their homes and all staff they employ meet the regulations for family childcare centres. After the children go home, the providers often have more responsibilities, such as shopping for food or supplies, doing accounting, keeping records, and cleaning. In addition, family childcare providers frequently must spend some of their time marketing their services to prospective families.
Nannies - work in the homes of the children they care for and the parents that employ them. Most often, they work full time for one family. They may be responsible for driving children to school, appointments, or after school activities. Some live in the homes of the families that employ them.
Babysitters - like nannies, work in the homes of the children in their care. However, they work for many families instead of just one. In addition, they generally do not work full time, but rather take care of the children on occasional nights and weekends when parents have other obligations.
What is the workplace of a Childcare Worker like?
Childcare workers are employed in childcare centres, preschools, public schools, and private homes.
Some childcare providers have a business in their own home. They typically convert a portion of their living space into a dedicated space for the children. Nannies and babysitters usually work in their employers' homes. Some live in the home of their employer and generally are provided with their own bedroom and bathroom.
Carrying children, bending to lift children, and kneeling to be at eye level with children can be physically tiring.
Childcare Workers are also known as:
Child Care Provider Child Caregiver Daycare Worker Childcare Centre Worker Family Childcare Provider Babysitter