What is a Preschool Teacher?
A preschool teacher is a professional who works with young children, typically between the ages of two and five years of age, in a preschool setting. The main goal of a preschool teacher is to support the development of young children and prepare them for school.
Preschool teachers help young children prepare for kindergarten through play, interactive activities, and games. Language skills, vocabulary skills, social skills and basic mathematical and scientific concepts are developed by having small-group lessons, or even one-on-one instruction.
Preschool teachers encourage discussion and problem solving from the children. Rhyming, storytelling, music, art, dance, and acting games are also part of a less structured approach to teaching at this level.
What does a Preschool Teacher do?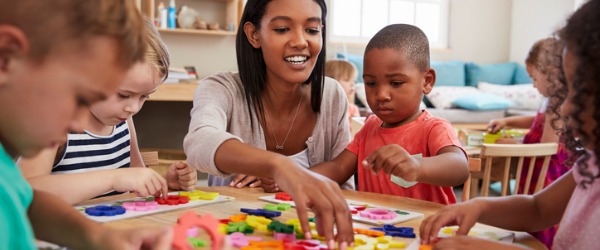 A preschool teacher is responsible for teaching toddlers basic learning skills, keeping order in the classroom, and making sure that the children are safe. Ultimately, preparing these toddlers for kindergarten is the main goal of the teacher.
Preschool teachers follow a formal curriculum, and teach the lessons in an upbeat, positive, and encouraging manner. Effective communication skills are extremely important, as children may be at different stages of learning. Being tuned in to the different needs of each child, as well as recognizing even the smallest amount of progress made by each child, is the mark of an excellent preschool teacher.
Using a child's natural curiosity to help growth and development is something a preschool teacher taps into. They are active participants in helping a child make developmental steps with their skills and abilities. They do this by creating an atmosphere where children can make discoveries and learn how to express themselves verbally, mentally and physically.
The responsibilities of a preschool teacher may include:
Creating and implementing a curriculum that fosters physical, emotional, social, and intellectual development in young children
Planning and leading activities that engage and challenge young children, such as play, games, songs, and storytelling
Observing and tracking children's development and progress, and adjusting the curriculum accordingly
Communicating with parents and caregivers to keep them informed about their child's progress and to discuss any concerns
Ensuring a safe and healthy environment for young children, including supervising play and outdoor activities, and following hygiene and safety procedures
Managing the classroom and materials, including organizing learning centers, preparing materials, and cleaning up after activities
Developing positive relationships with children and creating a supportive and nurturing classroom community
Encouraging and supporting the children in their exploration and discovery, and providing guidance and support when needed
A day in the life of a preschool teacher can vary depending on the specific setting, but here is a general idea of what a typical day might look like:
Arriving at the preschool and preparing the classroom and materials for the day
Greeting the children and their families as they arrive and helping them settle into the classroom
Planning and leading activities that foster physical, emotional, social, and intellectual development, such as play, games, songs, and storytelling
Observing the children and tracking their progress, making notes and adjustments to the curriculum as needed
Assisting children with personal care needs, such as eating, toileting, and changing diapers
Engaging with the children in play, conversation, and other activities, helping to build positive relationships and create a supportive and nurturing classroom community
Communicating with parents and caregivers to keep them informed about their child's progress and to discuss any concerns
Cleaning up the classroom and preparing materials for the next day
Attending meetings and professional development opportunities to continue to learn and grow as a teacher
What is the workplace of a Preschool Teacher like?
The role of a preschool teacher can be physically and emotionally demanding, as it requires a great deal of patience, energy, and creativity. However, it can also be rewarding and fulfilling, as it allows for the opportunity to make a positive impact on the lives of young children and their families.
The workplace of a preschool teacher can vary depending on the setting, but here are a few common types of environments:
Traditional Preschools: This type of setting is typically a standalone center that focuses on providing early childhood education for young children
Childcare Centers: This type of setting is often a larger center that provides care for children from infancy to pre-kindergarten age, with a separate area for preschool-aged children
Head Start and Other Government-Funded Programs: These programs are designed to provide educational and support services for low-income families and their children
Private Homes: Some preschool teachers work in a family's home, providing care and education for children in a more intimate and personalized setting
Regardless of the setting, the workplace of a preschool teacher is typically a busy and bustling environment. There may be multiple classrooms, play areas, and storage spaces, as well as administrative and support staff. The teacher's work area is typically well-equipped with toys, books, and other learning materials, as well as age-appropriate furniture and equipment.
The most important aspect of a preschool teacher's workplace is creating a safe and nurturing environment for young children. This requires organization, cleanliness, and attention to detail, as well as a commitment to following safety and hygiene procedures. A preschool teacher must also be able to create a positive and engaging learning environment that encourages exploration and discovery, fosters positive relationships, and provides opportunities for children to grow and develop.
Frequently Asked Questions
Should I become a Preschool Teacher?

Preschool is one of the only educational environments where the focus is on play and creativity, rather than on intense curricular standards. In no way, however, does this make the career an easy one. Anyone who believes that the role is simple, uncomplicated, and without challenge is hugely mistaken.

Preschool teachers are charged with the considerable mission of effectively using playtime and story time to teach language, reasoning, and problem-solving skills; encourage social development; and hone fine motor skills. Their objective is to use children's natural curiosity to develop learning plans that are developmentally appropriate and to create an atmosphere where risks can be taken and discoveries can be made. This is no small task. Quite to the contrary, it is work that is demanding, foundational, and life-building.

This important work calls for a diverse set of characteristics, skills, and talents:

Trustworthiness and Nurturing Demeanour
Preschool teachers are trusted to care for and nurture people's children at a point when they may be entering the public world for the first time

Patience
Young children learn at different rates. They can be loud, emotional, unruly, and irrational. Preschool teachers must be patient with young children who have a tough time expressing themselves or need lots of help learning new skills.

Creativity and Flexibility
Keeping young children's attention demands creativity. Preschool teachers consistently need to think of new and innovative ways to engage children to learn,

Empathy and Communication Skills
Preschool teachers must be empathetic to children's emotions and parents' concerns. They must be able to communicate difficult concepts to children in a way they understand.

If you feel that you have the appropriate temperament and aptitude to be a preschool teacher, consider this further advice about entering the role:

Be prepared for anything
Yes, working with kids often means fun and excitement, but it also means skinned knees, upset stomachs, and sometimes unpleasant encounters with parents. If you are not prepared for surprises, unexpected emergencies, or the occasional deviation from your plans, you should probably reconsider becoming a preschool teacher.

Know how to play
Playtime is essential to child development. It allows children to explore and use their imagination to foster their creativity. Preparing to teach preschool begins with knowing how to play, how to be curious, how to be awed by small things like spiders and caterpillars. It begins with not being worried about getting messy with glue or arts and craft paint. Preschool teachers who know how to play naturally encourage their students' ideas and curiosities.

Remember that you are in charge
When your students are being rowdy and not listening, it can be tough to get them to quiet down and follow instructions. With practice and time, though, your class will see you as the authoritative figure in the room. And while it is appropriate to listen to parents' concerns and know that they mean well, you must convey that you are ultimately the educational leader in the classroom.

Remember that each child is an individual
Although you will be teaching a classroom full of kids, you will also need to focus on each one as an individual. Preschoolers follow their own developmental patterns and they change every day. Get to know your students and their needs so that you can accommodate their leaning styles. Adjust activities as needed so that everyone can participate.

Remember that making a difference never gets old
Rambunctious morning greetings. The proud look on a child's face after they have mastered a new skill. A hug. A smile. These are the rewards for the long hours of dealing with rowdy kids and the time spent talking to upset parents. Being a preschool teacher may at times seem thankless, but it can be gratifying beyond imagination.
How long does it take to become a Preschool Teacher?

Becoming a preschool teacher is about commitment to your own education. Being a preschool teacher is about commitment to the education of our youngest children.

The education track for preschool teachers is not as straightforward or structured as that for primary or secondary school teachers. This is because preschool programs fall within the scope of different state regulatory agencies, from the state's Board of Education to its Department of Health and Human Services.

Because preschool teachers may work in public and private programs, for school districts, or in federally funded programs, requirements often vary from one employer to the next. What is universal, however, is that regardless of the setting in which they work, preschool teachers must bring a certain level of education or training to the job.

Education options:

Vocational School Certificate in Early Childhood Education – as little as six weeks
Associate Degree in Early Childhood Education – two years
Bachelor's Degree in Early Childhood Education – four years

Preschool teachers in public schools are generally expected to hold a Bachelor's Degree in Early Childhood Education, while private preschool teachers or those found in childcare settings may only be required to have an associate degree. Degree programs typically include classes in early childhood development and literacy, child psychology, strategies for teaching young children, children's literature, and basic courses in math and science.

In most public and private preschools, lead teachers, supervisors, or administrators are required to hold a bachelor's or even a master's degree in early childhood education (ECE) or a closely related field.

The Council for Professional Recognition offers the Childhood Development Associate (CDA) credential. The Council's programs are available to applicants with a high school diploma or equivalency, as well as junior and senior students enrolled in a high school vocational program in early childhood education. The nationally transferable CDA credential is based on a core set of competency standards, which guide early care practitioners as they work toward becoming qualified teachers of young children. The CDA credential, however, may also be pursued by working preschool teachers seeking a national certification.

The National Early Childhood Program Accreditation (NECPA) Commission awards the Certified Childcare Professional (CCP) credential, which is designed especially for teachers who have not completed a college degree or whose degree is in another field.

Many states stipulate that preschool and childcare center teachers be licensed. Some states recognize and accept the CDA or CCP credential for licensure. In most cases, the licensing process also requires that applicants submit immunization records and undergo background checks.
Are Preschool Teachers happy?

Preschool teachers rank as moderately happy among careers. Overall they rank in the 50th percentile of careers for satisfaction scores. Please note that this number is derived from the data we have collected from our Sokanu members only.

While we have no hard data to explain this only moderate satisfaction/happiness quotient among preschool teachers, it may be rooted in their relatively low pay scale vis-à-vis the significant responsibility of the position.
What are Preschool Teachers like?

Based on our pool of users, preschool teachers tend to be predominately social people. This finding is both expected and encouraging, given the responsibility of these teachers. They are charged with providing their young students with foundations for academic success, creative expression, and participation in social groups, organizations, communities, and society at large.
Preschool Teachers are also known as:
Early Childhood Teacher Pre-Kindergarten Teacher Pre-K Teacher