What is a Preschool Teacher?
A preschool teacher is someone who helps young children prepare for kindergarten through play, interactive activities, and games. Language skills, vocabulary skills, social skills and basic mathematical and scientific concepts are developed by having small-group lessons, or even one-on-one instruction. The preschool teacher will encourage lots of discussion and problem solving from the children. Rhyming, storytelling, music, art, dance, and acting games are also part of a less structured approach to teaching at this level.
What does a Preschool Teacher do?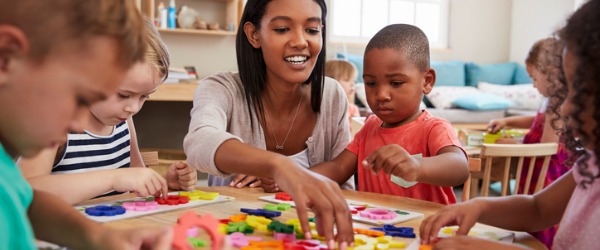 A preschool teacher is responsible for teaching toddlers basic learning skills, keeping order in the classroom, and making sure that the children are safe. Ultimately, preparing these toddlers for kindergarten is the main goal of the teacher. He or she will follow a formal curriculum, and teach the lessons in an upbeat, positive and encouraging manner. Effective communication skills are extremely important, as children may be at different stages of learning. Being tuned in to the different needs of each child, as well as recognizing even the smallest amount of progress made by each child is the mark of an excellent preschool teacher.
Using a child's natural curiosity to help growth and development is something a preschool teacher taps into. They are active participants in helping a child make developmental steps with their skills and abilities. They do this by creating an atmosphere where children can make discoveries and learn how to express themselves verbally, mentally and physically.
Duties of a preschool teacher:
teach basic skills such as social skills, personal hygiene, number & letter recognition, shapes, and colours
help children explore and try things out by using imaginative play and learning activities
establish rules and procedures that enforce good behaviour and order in the classroom
read books and stories to the class
promote mental, social, and physical development by organizing and leading activities such as arts and crafts, field trips, games, and music
What is the workplace of a Preschool Teacher like?
A preschool teacher may work in a public school, a childcare centre, or a Head Start program. Most positions are for a typical ten month school year, and yet other may be year round. Working with small children can be tiring and demanding, requiring a great deal of patience.
Preschool Teachers are also known as:
Early Childhood Teacher Pre-Kindergarten Teacher Pre-K Teacher