What is a Teacher?
A teacher not only teaches, but inspires and encourages students to be their best. School is not only a place of academic learning, but of social learning as well, and will have an effect on how students interact with others in the future.
Whether teaching kindergarten, music, physical education or special education, a teacher is someone that students look up to, and aspire to be like. Some of our most influential and life-changing role models are teachers.
What does a Teacher do?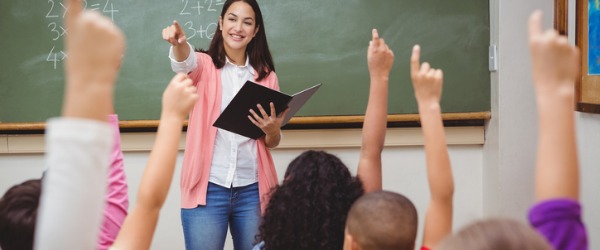 A day in the life of a teacher varies greatly depending on the subject they teach, and the age level of the students. If teaching kindergarten or elementary students, a teacher may cover a broad range of subjects. On the other hand, a high school teacher will typically specialize in a particular subject, such as math, english, music, or science.
A teacher especially needs to be an effective communicator and motivator, as it is irrelevant how much knowledge a teacher has if that knowledge cannot be shared and conveyed to the students in an interesting and understandable way.
The following are various types of teachers. Click on each type to learn what they do.
Preschool Teacher
- is responsible for helping toddlers prepare for kindergarten through play, interactive activities, and games
Kindergarten Teacher
- is responsible for integrating young children into the world of learning
Elementary School Teacher
- is trained to educate children from pre-kindergarten to fifth grade
High School Teacher
- is trained to educate children from grade nine to twelve (or six to twelve in some countries) and typically specializes in one particular subject
Special Education Teacher
- works with children and youths who have a variety of learning disabilities
Teacher Assistant
- works under a teacher's supervision to give students additional attention and instruction
Physical Education Teacher
- is responsible for the education of primary and secondary school students in physical activity and psychomotor learning
Music Teacher
- teaches people how to play an instrument (for example the piano, guitar or violin) or gives singing and voice lessons
Art Teacher
- educates their students about the creation of art, art history, as well as art theory
Health Educator
- develops programs and materials to encourage children and adults to make healthy decisions
Professor
- instructs students in a wide variety of academic and vocational subjects beyond the high school level
Graduate Teaching Assistant
- helps a professor teach an especially large class, grades papers, and runs classroom related errands
What is the workplace of a Teacher like?
You can find teachers in schools, colleges, universities, schoolyards, on computers, in offices, in classrooms, and at home grading papers.