What is a Kindergarten Teacher?
A kindergarten teacher is responsible for integrating young children into the world of learning by teaching them social skills, personal hygiene, basic reading skills, art, and music.
Kindergarten teachers prepare children for the higher grades of elementary school, as well as certain aspects of life outside of the educational system.
What does a Kindergarten Teacher do?
It is safe to say that kindergarten teachers are one of the most important educators a child will have during their school years, as kindergarten is the bridge between early childhood care and elementary school.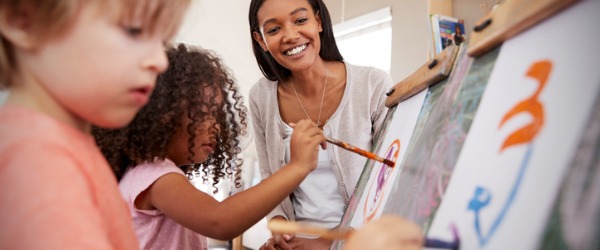 Kindergarten teachers have a lot of the same responsibilities as other teachers but also have to take into account that most of their students will be experiencing school for the first time.
They teach students basic skills in reading and writing in addition to showing them how to behave in the classroom and play nicely with others, whether it's in a group setting or doing artwork quietly on their own. The teacher's methods of educating can change according to the needs of each individual student.
A kindergarten teacher is responsible for planning the curriculum for each day and for the collective school year. They allow the children to observe an activity while also giving them the opportunity to ask questions and look for the answers.
Instructions need to be very precise, yet easy to understand. By using hands-on lessons and creative play, they lay the foundation for future learning. Different shapes and colours are taught, as well as how to recognize different letters of the alphabet and basic numbers. This prepares the class for grade one and further grades in elementary school, where they learn advanced concepts within these areas.
Kindergarten teachers are also responsible for grading papers and conducting parent-teacher conferences as well. They report to parents the areas in which their child is succeeding as well as where the child could use more help.
After there are areas where the child needs help, kindergarten teachers will work with parents to come up with a plan that will bring the child to the same level as the rest of the class. If a child has developmental or emotional problems, they help the parents put together a plan of action to ensure their child is given the same educational opportunities as other children.
What is the workplace of a Kindergarten Teacher like?
The classroom environment can be a wonderful place. In this workplace, kindergarten teachers get to express their creativity and mold young minds to want to learn and love the learning process.
A fun environment with bright, vibrant colours and other mentally stimulating components are typical of a kindergarten classroom. One of the most fun aspects of the kindergarten classroom environment for teachers is the ability to design their own classroom and incorporate pieces of their own personality into the setting.
Some kindergarten teachers have the same class of students the entire day if it's a full-day program while others have one class in the morning and another class in the afternoon for half-day programs.
Frequently Asked Questions
How long does it take to become a Kindergarten Teacher?

While each step toward the goal of becoming a kindergarten teacher demands its own focus and commitment, the constant throughout the journey to this career is dedication to laying unshakeable foundations for learning.

The time required to become a kindergarten teacher is between four and a half and five years. A state kindergarten teaching license is granted to individuals who pass state-issued exams after they earn an appropriate four-year Bachelor's Degree in Education, Elementary Education, or Early Childhood Education and complete a student teaching practicum of one or two semesters.
Are Kindergarten Teachers happy?

Kindergarten teachers rank among the least happy careers. Overall they rank in the 38th percentile of careers for satisfaction scores. Please note that this number is derived from the data we have collected from our Sokanu members only.

If one is looking for at least a partial explanation of this low happiness quotient, it may lie in some of the fallacies that have surrounded the profession. Some prospective kindergarten teachers may themselves have succumbed to one or more of the beliefs held by a portion of the general public, and subsequently been disappointed when those beliefs proved to be myths (see our 'Should I become a Kindergarten Teacher?' section).
What are Kindergarten Teachers like?

Based on our pool of users, kindergarten teachers tend to be predominately social people. That this character trait is typical in the profession is not surprising. Teaching five- and six-year-olds everyday requires a love for children; an appreciation for their spontaneity and honesty; and a dedication to imbuing each child, across a wide spectrum of skill levels and personalities, with the essential skills of socializing, discipline, and basic learning.
Should I become a Kindergarten Teacher?

The mission of a kindergarten teacher is to cultivate in children the appropriate foundation needed to develop lifelong learning skills. Throughout this formidable mission, teachers encounter a range of personalities, quirks, levels of apprehension, sensitivity, and enthusiasm. The decision to enter the field and assume such responsibilities should not be taken lightly.

The truth about teaching kindergarten is perhaps best articulated by responding to comments often made about the profession by people who have never been exposed to it:

'Oh, you teach kindergarten – that must be pretty easy.'
Teaching kindergarten is not easy. Many seasoned educators will quickly tell you that kindergarten is the most challenging level to teach. A kindergarten teacher is charged with unlocking the keys to literacy and math in students who generally enter the classroom without knowing any letters or any numbers. This involves much more than simple ABCs and 123s.

The current standards for what kindergarteners need to learn include fluently adding and subtracting within 5, decomposing numbers to 10; and reading three-letter consonant-vowel-consonant (CVC) words, other high-frequency words, and much more. And this is just the academic component of kindergarten education.

Add to this, the necessity to instill basic manners and social skills around lining up, going to the bathroom, sitting down, putting things away, taking turns, conversing with peers, not getting your way, and managing emotions. These things must be taught and fostered every day in kindergarten. They do not just happen, especially in a classroom full of students needing different degrees of support in different areas. They also are not easy to teach.

'It must be fun to play with kids all day'... 'Don't you want something a bit more challenging?'
The concept of 'play' in kindergarten is vastly misunderstood. When children are engaging with books, blocks, and Lego, they are not just playing. They are reading, doing math, learning to share, becoming inquirers, recognizing patterns, making connections, and working on fine motor skills.

Unless they are reading a story or working with a small group, kindergarten teachers are in constant motion. They are helping, observing, evaluating, nurturing. They are teaching sometimes tired, cranky, crying, tantrum-throwing five- and six-year-olds how to navigate this new world of school.

Now that some misconceptions about the career are cleared up, ask yourself if you have what it takes to become a great kindergarten teacher.

Passion
Teachers who love what they do and feel like they are making a difference will feel a sense of accomplishment that will sustain and motivate them during challenging times.

Patience
Small children are unpredictable, easily distracted, and sometimes disruptive. Not all children learn at the same pace, which can be frustrating when trying to complete a lesson. Interaction with parents can also require significant patience.

Creativity
Most teachers have great ideas when it comes to classroom instruction. When limited resources present obstacles, however, they have to find ways to be imaginative and inventive with the resources available to them. They have to keep children stimulated and engaged.

Flexibility
The ability to monitor circumstances and adjust lessons is crucial. Rain can cause a planned outdoor lesson to be canceled. One child having a bad day can easily turn into many having a bad day. These are just two instances that may call for an impromptu change to a lesson plan.

Respect
Treating each student and family as an important member of the learning community will foster communication and mutual respect. Students will flourish in this kind of environment and they will learn to treat one another with respect as well.

High Energy
This may have more to do with a teacher's disposition, but it is definitely beneficial to kindergarten teachers to match their students' energy and enthusiasm for learning. Young children come to school excited to learn new things, and when the teacher is animated and fun, they respond favorably.

Perhaps an appropriate way to close this is by citing the title of Robert Fulghum's book, All I Really Need to Know I Learned in Kindergarten. No statement could better articulate the importance of the job of kindergarten teacher.
Kindergarten Teachers are also known as:
Public School Kindergarten Teacher Private School Kindergarten Teacher