CareerExplorer's step-by-step guide on how to become a chiropractor.
Step 1
Is becoming a chiropractor right for me?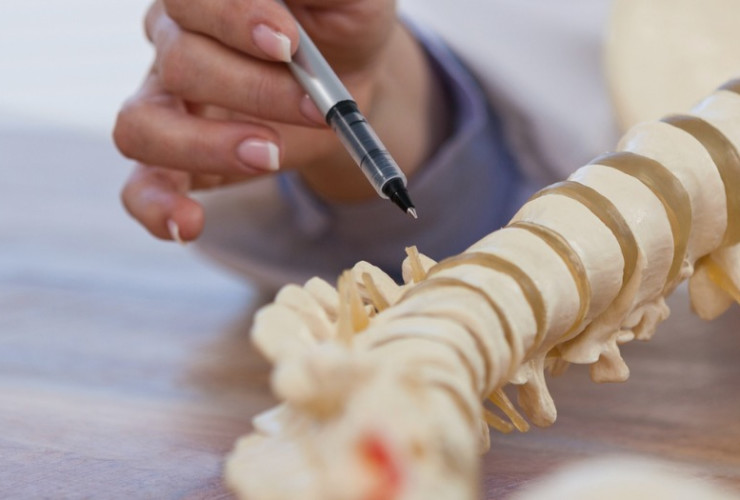 Step 2
Bachelor's Degree
Chiropractic candidates must first complete at least 90 credits of undergraduate coursework before attending a chiropractic college, however, there are a few states that don't require a bachelor's degree, so individuals should check with the state board they wish to practice in. Students should choose courses in chemistry, biology or physics to meet chiropractic college prerequisites, and should also take courses in communication, sociology, or interpersonal relations since so much of this career requires close personal contact with patients.
Step 3
Chiropractic College
There are only a handful of schools in the United States that offer a four-year degree program in which future chiropractors can earn a Doctor of Chiropractic (DC) degree. Most programs include an internship where students can practice their skills under the supervision of a licensed chiropractor.
Step 4
License
Certification and licensure of chiropractors is governed by the National Board of Chiropractic Examiners (NBCE). Chiropractors must pass a board exam and then obtain a license in the state in which they wish to practice. Chiropractors must meet yearly continuing educational requirements to maintain their licensure. The National Board of Chiropractic Examiners offers a three-part exam (with an optional fourth section) that is accepted by most states, while some states have their own exam.
Step 5
Maintaining Licensure
Many state licensing boards require continuing education for annual licensure. Chiropractors often attend workshops or classes to learn about developments in chiropractic medicine. Many chiropractors may also study naturopathy, massage or alternative medicine to add to their practice.
Frequently Asked Questions
Are Chiropractors happy?
Chiropractors see patients of all ages, and in recent years, more parents have sought out chiropractic care for their children. It's very gratifying for a chiropractor when patients come to see them in pain and they are able to get them out of it, especially when individuals have already tried many other approaches that haven't worked. One of the main reasons to choose a chiropractic career is to make a difference in people's lives by offering gentle, drug-free treatments that alleviate a variety of conditions.
Should I become a Chiropractor?
Individuals wanting to become a chiropractor really need to want to go into this field because they are passionate about providing healing care for patients above all else, and not for the prestige of being called a doctor (or for the money).
When considering the chiropractic profession, it is recommended that individuals ask questions and communicate directly with a chiropractor, and not base their decision only on information reviewed on the Internet. Even a visit to a chiropractic office will provide a much more realistic insight into the profession. Career handbooks and literature often come from chiropractic organizations themselves, and tend to only speak favourably about the profession. Encountering no negative information creates an unrealistic view of what it's like to be a chiropractic student and graduate.
The following are a few pros and cons to consider if you are thinking of becoming a chiropractor:
CONS
Cost
One of the most significant concerns for a prospective chiropractic student is the amount of money it will cost to pursue the necessary training and education. In the United States, the average tuition cost for four years at a chiropractic school is approximately $120,000. Beyond that tuition, students must also pay for other expenses, such as room and board, transportation, personal living expenses, books, lab fees, equipment, activity fees, insurance for clinical work experience, and technology fees. Many graduates end up with a debt burden that may exceed $200,000.
Time
Chiropractors undergo four to five years of postgraduate education in order to obtain a Doctor of Chiropractic (DC), and qualify to become licensed to practice in the United States. Completion of three years of undergraduate education is the minimum requirement needed to apply to chiropractic school, which means graduates are expected to have completed at least seven years of education before earning the proper credentials of a chiropractor.
Physical Limitations
One of the toughest parts of being a chiropractor is one's physical limitations when seeing a lot of patients. It's a big burden to the body - especially for the lower back, shoulders and wrists. The more patients chiropractors see, the more money they make, however it could have a negative impact on their body.
PROS
Promoting a Healthy Lifestyle
Being a chiropractor is really about improving health in general so patients can lead the type of active lives they want to lead instead of being limited by what their bodies allow. The knowledge gained during school regarding lifestyle and the ways to eat, move and think is invaluable not only to the patients that are treated but on a personal level for the chiropractor as well.
A Rewarding Career
Chiropractic work can be very rewarding, and seeing a patient experience improved quality of life is worth all the difficulty in becoming a chiropractor. Having the ability to help patients sometimes avoid surgery or seeing them come off of addictive pain medication is very gratifying. There is a lot of satisfaction if you can help reduce or eliminate someone's pain, or help patients lead a healthier and more active lifestyle.
Becoming a Business Owner
Some chiropractors work for others, but a large percentage will open their own practice. Chiropractors have the opportunity to live and work in any U.S. state and in many foreign countries. While owning a business can be hard at times, the lure of being your own boss is what draws many to the profession. You can set your own hours of service, and control every aspect of your practice.
Specialization
There are a wide range of possibilities in chiropractic practice; specialty areas include sports, pediatric, or animal chiropractic. Other chiropractors focus on chiropractic research or radiology, and some complement their practice with acupuncture or nutrition.
How to become a Chiropractor
Chiropractors must enjoy working with and helping people, as it is a very hands-on medical profession. They need to be good listeners and observers to help them diagnose their patients. Good communication skills are also important so that they can effectively explain their patient's conditions and treatments to them.
The educational path to becoming a chiropractor is similar to becoming a doctor. The student must take undergraduate courses in science. While requirements to attend colleges of chiropractic medicine vary between schools and countries, many aspiring chiropractors earn a bachelor's degree before applying to chiropractic school. This may eventually become the universal requirement for admission.
A Doctor of Chiropractic (DC) degree is a four-year graduate degree. There are actually more classroom and supervised clinical hours required to earn a DC than for a medical degree. Like medical school, the first two years of chiropractic school consist of mostly classroom learning and lab work in subjects such as biochemistry, microbiology, pathology, anatomy, physiology, and other science courses. In the second two years, students begin clinical work and learn to evaluate, diagnose, and treat patients. This is when they will learn to use diagnostic equipment as well, such as x-rays. Some chiropractic colleges follow a traditional school calendar with summers off while others are in session all year long so that the program can be completed in a shorter amount of time.
Before being able to practice as a chiropractor, the student must pass national board exams. In the US, he or she will also need to pass their state's licensing exam.